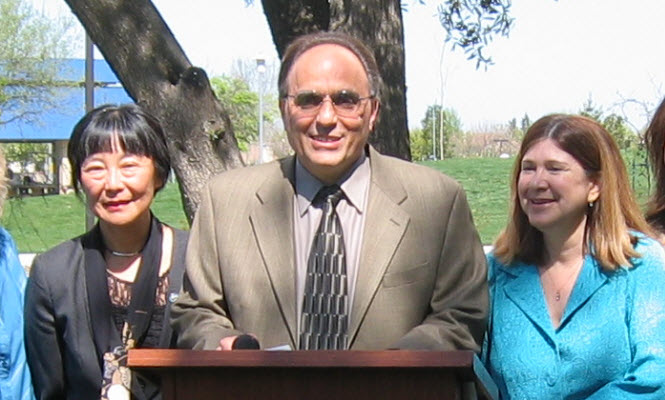 In what could be another defining moment in the burgeoning Fourth District Assembly race, Yolo County Supervisor Jim Provenza, himself at one point considered a frontrunner, announced today that he has endorsed Davis Mayor Pro Tem Dan Wolk for State Assembly.
According to a release from the Wolk campaign, "Provenza joins a growing list of more than 60 local elected officials in the 4th Assembly District who have already endorsed Wolk."
"I have worked closely with Dan Wolk, and I know he has the experience and the skills to bring people together to represent us effectively in the State Assembly," said Supervisor Provenza. "Dan is firmly committed to restoring our public education system and making our community and state a better place for our children and grandchildren."
Jim Provenza was first elected to the Yolo County Board of Supervisors in 2008 after previously serving on the Davis Joint Unified Board of Education. As Supervisor, according to the release, "he has established a reputation for building coalitions and promoting collaboration, even among those with different points of view than his own."
The Wolk release lists supporters including former State Superintendent of Public Instruction Delaine Eastin, Former Assemblymember and Yolo County Supervisor Helen Thomson, Solano County Supervisor Linda Seifert, Solano County Sheriff Tom Ferrara, Yolo County Sheriff Ed Prieto, Yolo County Superintendent of Schools Dr. Jorge Ayala, and Napa Vice Mayor Peter Mott.  Yolo County DA Jeff Reisig is also listed as an endorser on Mr. Wolk's website.
Assembly District 4 consists of Napa and Lake Counties and most of Yolo County, as well as portions of Sonoma, Solano and Colusa Counties.
In May, Assemblymember Mariko Yamada told the Vanguard in a statement, "It was widely known that Yolo County Supervisor Jim Provenza was Yamada's choice to succeed her.  With her candidate out, she's indicated the race is 'wide open' and won't be making any early endorsements."
However, just under three months later, Assemblymember Yamada apparently changed her mind and endorsed Matt Pope.  Interestingly now, Jim Provenza has gone in a different direction.
"After meeting with each of the candidates running for my seat, there is only one who I believe has what it takes to fairly represent the expansive 4th Assembly District, and that candidate is Napa County Planning Commissioner Matt Pope," Mariko Yamada said last month.
She would add, "I am proudly endorsing Matt because his background, energy, temperament and life experience have prepared him for the grueling race ahead and to lead courageously and with integrity once elected. He has served his country, he has served his community, and he now wants to serve you. His Democratic values are deeply-rooted and will guide him in the Assembly."
Matt Pope said he is honored to be campaigning with Mariko Yamada over the next year.
"Assemblymember Yamada is a true champion of working families, seniors, environmental justice and the disadvantaged," Mr. Pope said. "These are exactly my priorities and I look forward to campaigning with her and learning from her leadership in the Assembly over the past six years."
Meanwhile, Davis Mayor Joe Krovoza put himself into contention early with the early edge in money.
The Krovoza campaign amassed $118,161.62 in contributions from the January 1 to June 30 period.  Davis Mayor Pro Tem Dan Wolk was second with $49,856.62.  Napa County Planning Commission and District Representative to Noreen Evans, Matt Pope, amassed about $20,000 and neither Bill Dodd nor Anthony Farrington reported any contributions.
"I am humbled and heartened by the hundreds of supporters who have responded so quickly and enthusiastically to my candidacy," said Mr. Krovoza. "This early support sets a solid foundation for my campaign as we move forward."
Joe Krovoza raised over $100,000 from over 300 individual contributors from mid-May to the end of June.
"Krovoza has a long history of public service and volunteerism, beginning with his role as a community college trustee while a student and including seven years on the California Student Aid Commission.  Krovoza first moved to Davis in 1991 to attend law school at UC Davis and raise his family," said a release.
"He has served on the Davis City Council since 2010 and as mayor for the past two and a half years.  Krovoza has led major moves toward long-term fiscal sustainability and reexaminations of how the city can best deliver services to its citizens. Krovoza works at the UC Davis Institute of Transportation Studies and Energy Efficiency Center where he is Senior Director for Development and External Relations," the statement continued.
Will Arnold, Dan Wolk's campaign manager, told the Vanguard in late July, "Dan launched his campaign for Assembly on June 15 and, in the following two weeks, he raised an impressive $50,000. We have been amazed by the level of support the campaign has received thus far, evidenced both by the funds Dan was able to raise in such a short time, and by his growing list of campaign endorsers from throughout the district. This is exactly the start we hoped for."
—David M. Greenwald reporting