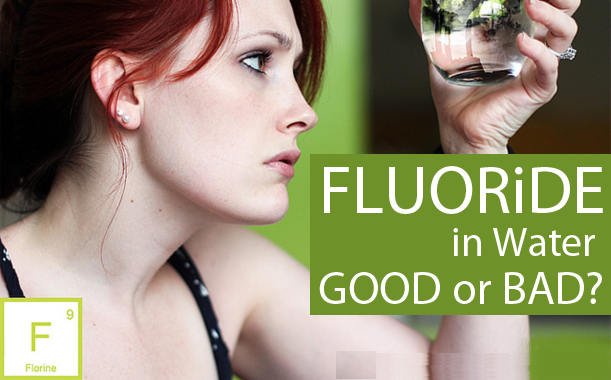 It has become one of the more contentious issues in the city of Davis with a contingent of supporters in the heatlh community solidly behind the idea of adding fluoride to the city's water supply, while another group of activists is strongly against the proposal, calling the use of fluoride in the water supply inefficient, ineffective and quite possibly hazardous to other aspects of one's health.
An item on the city's agenda this week asks for the council to determine not whether to add fluoride to the water supply but rather the timing of when that decision should be determined.
Staff states that they "feel" that "it would be appropriate to move Council consideration of whether to add fluoridation until after the DWWSP is constructed and has been operating at least a year. This will allow the Council to accurately assess the initial and ongoing cost for fluoridation that would be borne by the ratepayers."
On June 27, 2013, the City of Davis Water Advisory Committee (WAC) voted to recommend to the City Council to add fluoride to the drinking water. As staff notes, during the course of the WAC deliberation, information regarding the range of potential capital, operations and maintenance cost were discussed.
Staff writes, "The estimations of capital cost to add fluoride to the City's deep wells varies greatly depending on each well site and the type of chemical that is used to achieve fluoridation."
As staff noted at the time, "In order to evaluate the cost of adding fluoride, two sources of information were used. One was 2009 cost estimates from Sacramento County and the other was a cost estimate for two of our deep wells, completed on June 18, 2013."
Based on that, staff calculated, "The cost to add fluoride to our deep wells is estimated to be between $92,000 and $454,900 per well site. So to equip all six deep wells, the total cost would be between $837,000 and $2,067,400."
Staff estimates the cost of adding fluoride to the water treatment plant would be $602,000 for both cities, which would put Davis' portion at  40%, or approximately $240,800.
The Water Treatment Plant cost, added to the cost for the wells, results in a range of capital cost from $1,077,800 to $2,368,400 for the addition of fluoride.  These would be one-time costs.
Then they factor in ongoing costs.  Staff wrote in July, "Affinity Engineering used our two deep wells and estimated an average annual operational cost for a deep well is $29,800 for the fluoride saturator and $30,100 for fluorosilicic acid. For all six wells, this would approximately be $178,800 for the fluoride saturator and $180,700 for fluorosilicic acid."
They add, "The annual O&M cost to provide fluoride at the Water Treatment Plant is estimated to be $50,000 and $60,000 per year. Combined with the O&M cost at the wells, this is a total annual cost of between $228,800 and $240,700 per year. This works out to be roughly $1.15 to $1.21 per customer per month."
Staff did not discuss in the staff report whether this would be sufficient to trigger a new Prop 218 or whether it could be absorbed into the current capital costs.
"The current WAC was asked by Council to provide a recommendation on fluoridation prior to conclusion of their work. Because the Council will be re-forming the committee as a rate advisory committee at the end of this calendar year, the current WAC action needed to take place this year," staff notes.
However, the actual timing would occur once the water supply project is on line, since "once a decision is made to add fluoride, every water source the city draws from has to be equipped to ensure proper dosing."  As staff explains, "We cannot add it to some wells and not others."
They add, "The recent promulgation of a maximum contaminant level (MCL) for Chromium 6 has the potential to render at least one of the existing deep wells unsuitable for potable use unless some form of removal or treatment is installed. Twelve of our intermediate wells would require treatment if they were to remain on-line."
The city adds, "It may be a number of years before there is a determination of which wells will remain on line after adoption of the Chromium 6 MCL. If the City wanted to implement immediately, that would mean adding fluoride, at a cost up to $454,900 per well, to all of our existing intermediate and deep wells."
The city further argues, "Until the DWWSP is complete and operational, the anticipated cost for initial installation and ongoing operations could vary greatly. Cost estimates to date are based on preliminary design and not an actual operational plant. Until the Water Treatment plant is completed, any capital and operational cost estimates are speculative."
This pragmatism by staff may, however, run into politics.
A new surface water initiative circulated may tap into the fluoridation debate if the prospect of fluoridation continues to loom for several years.
Mayor Pro Tem Dan Wolk became the first Davis City Councilmember to publicly endorse the idea of fluoridated water.  Given that he is running for State Assembly, that is likely to inject politics into the fight.
In a piece that appeared in the Davis Enterprise and was co-authored by Julie Gallelo, the executive director of First 5 Yolo, and Art Pimentel, the former mayor of Woodland, Mr. Wolk and others argued, "Since the mid-20th century, community water fluoridation – the careful adjustment of naturally occurring fluoride levels in water to strengthen tooth enamel and reduce dental decay – has proved to be an effective preventative public health measure, reducing tooth decay by about 25 percent over a lifetime, per the American Dental Association."
"Across the nation, more than 70 percent of people utilize community fluoridation, according to the Centers for Disease Control," they write. "In California, fluoridation is mandated by state law, if funds are available. And, right next door, the citizens of West Sacramento, Vacaville and Sacramento, to name a few, enjoy the benefits of fluoridated water every day. Pediatricians in Davis prescribe fluoride drops to parents to give to their children."
"Today, Yolo County's public health community – dentists, pediatricians, public health officials and every major, local health care provider – is united in support of community water fluoridation in Davis and Woodland," they continue. "These are the folks who are on the front lines of combating dental disease. They know what policies work and what do not."
They argue, as well, that "cost should not be a reason to reject fluoridation."
While Dan Wolk became the first Davis City Councilmember to back fluoridation, Brett Lee, in early July on the Vanguard, put forth an alternative proposal.
He noted that, while he was "impressed by the arguments and information put forward by both sides" of the fluoridation issue in their presentations to the WAC, "it does seem that adding fluoride to the drinking water supply would improve the dental health of many in our community."
"What was interesting though was that many countries around the world have been able to achieve the same or better dental health without water fluoridation," he wrote.  "These countries appear to have more robust early childhood dental care programs than we currently do."
The question remains as to whether either side in this political argument will accept the delay in the decision on fluoride.
—David M. Greenwald reporting