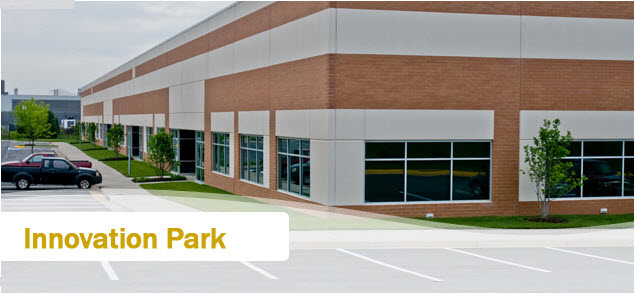 In his dissent last Tuesday, Mayor Joe Krovoza pushed back against a 391-acre or larger business park that some have been pushing on the Leland Ranch property east of Mace Blvd.
"I will not support the motion on the floor," he said.  "I am completely puzzled.  For the three years I have served on this council, we've been considering straight up in public forums the option of a wonderful open space easement that we've been using our open space funds to acquire."
"We concurrently embarked upon the Innovation Park Task Force study to look for lands around the city that we can open up for economic development," he noted.  "We constructed a process with city council members, planning commission members, and business and economic and economic development commission members to serve on that (task force)."
"Many of you in this audience attended those meetings," he said.  "You participated in those meetings.  That process resulted in the identification of by my estimation of approximately 450 acres around Davis, California, that can be opened up for economic development and business park.  And for that entire process, this land use easement was considered to be surrounding one of the major parcels of that recommendation."
"That's one reason why we recommended the 200 acres outside the Mace Curve because it had this wonderful land conservation potential around it," he added.
While the mayor was out-voted 4-1 on whether to have a full discussion of the Leland Ranch/Mace 391 property, it is important to look at the question of how large a business park needs to be – both to be viable and to achieve the city's fiscal and economic development goals.
We start with the Studio 30 report from the UCD Extension land use program, which analyzed successful innovation centers and host cities.  They found, "Most innovation centers averaged around 200 acres in size, had a variety of different-sized parcels, and provided ownership opportunities allowing for successful companies to stay in the community as they grow. Many also provided a variety of flexible space size, types, and lease terms and physical and virtual business support service."
They argued, "The City should include an incubator space, as well as larger spaces for expanding companies in its innovation center strategy."
Later in their report, they noted, "The current isolated and dispersed sites that are available and appropriately zoned are not adequate in terms of size, location, or configuration (and related constraints) to address the emerging market need of an Innovation Center. With available reasonably priced land and effective marketing to innovative high tech companies, Studio 30 estimates Davis could absorb up to 10 percent or around 100,000 square feet of the 1-1.5 million industrial/office square footage absorbed annually in the Sacramento region."
They conclude, "Because of this, Studio 30 estimates Davis needs at least 200 acres for business development and expansion over a 20 +/- year time horizon."
The question then becomes where.  They note, "The Gateway or Nishi site offers the best opportunity for the close-in/incubator."  That site will require university partnership and participation.
However, while it is the initial close-in site, making "this site best for implementing the desired attributes for start-ups, small firms, and University research-oriented businesses," it is "not sufficient to meet needs of midsized businesses; it could serve as a catalyst for establishment of early phase companies and promote downtown business development."
To get that you have to move to the west or the east.  They write, "The East site seems preferred at this time because it offers a readily available agricultural mitigation strategy, and may have less neighborhood development concern."
However, "The West site has recently gone through additional land planning studies, and may also offer successful agricultural mitigation. The West site is slightly favorable in terms of University and downtown/ proximity. Both sites offer interesting opportunities for innovative agricultural related research, urban farming elements, and sustainable/green site and building design opportunities; both sites should be pursued for now."
In 2012, the Innovation Park Task Force report had the objective "to make a recommendation on how, where and whether the City should pursue construction of a future business/innovation park able to primarily accommodate space needs of medium sized companies (150 +/- employees) on land peripheral to existing City boundaries".
The key was "to provide a readily available supply of larger sites for purchase.  The task force identified two initial sites: "the Mace-I-80 site (85 acres), and the Parlin site west and northwest of Sutter Hospital (137 acre portion of site)."
The innovation park task force then revised the size of the east and west sites to 185 and 207 acres in part to take into account the Studio 30 analysis of 200 acres as the idealized size of the site.
The question is whether 200 acres is sufficient for the city's needs.  At the time of the Studio 30 report, there were several issues that were not yet on the table.  We had not lost Bayer-AgraQuest to West Sacramento.  However, even the move by AgraQuest was to a 164,000 square foot facility with an additional 10 acres being acquired somewhere in the region for a greenhouse facility.
In other words, a 200-acre business park facility would easily have accommodated all of AgraQuest's needs.  We have also seen pressure from Schilling Robotics for space to expand.
When the Mace 391 issue came up in June, city staff did not evaluate needs for a business park.  As they wrote in their staff report, "The decision before the City Council is whether or not to move forward with the NRCS grant. Moving forward would permit the Yolo Land Trust to secure agricultural conservation easements on the First Bank of NW Arkansas Property. Alternatively, declining the grant would retain opportunities to explore options to leverage the property for additional or alternative urban agriculture transition area acquisitions, and potential furtherance of local economic development strategies."
Staff's recommendation to decline the NRCS Grant and explore alternatives was mainly due to the fact that "placing an agricultural conservation easement on the property at this time would narrow the scope of potential opportunities to leverage this land for multiple long term City objectives, including larger and/or alternative urban agriculture transition areas that provide a better 'lock' adjacent to the City. Furthermore, leveraging the land could result in potential innovation park uses and related agricultural research facilities consistent with the City Council direction to pursue a Dispersed Innovation Strategy."
But size of the needed business park was not analyzed by staff at that time.  We have seen proposals for up to 500 acres of land, but have not seen either fiscal or other analysis to back up the needs.
Others have suggested that the actual need is a lot smaller than these proposals.  We have seen the midrange figure of about 300 acres that would be needed to both retain existing facilities and provide the land for future startups and growth.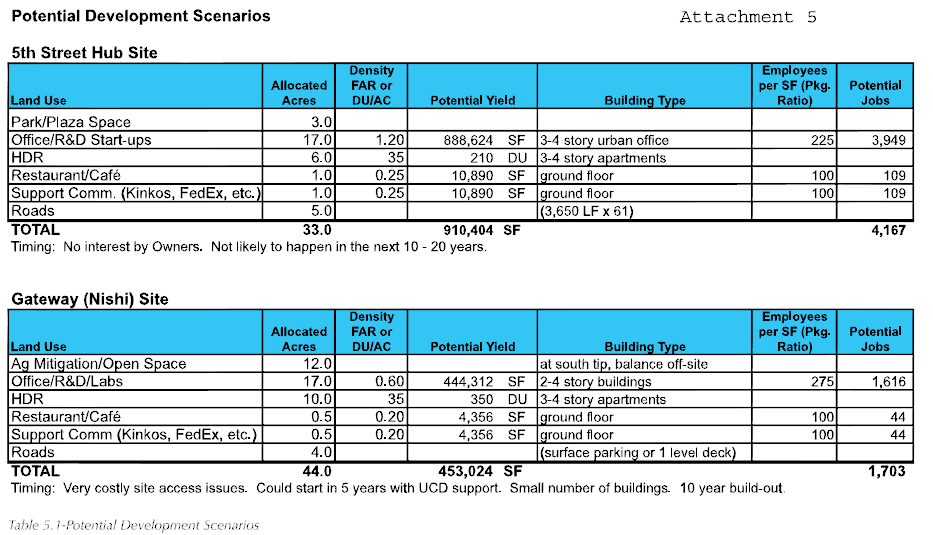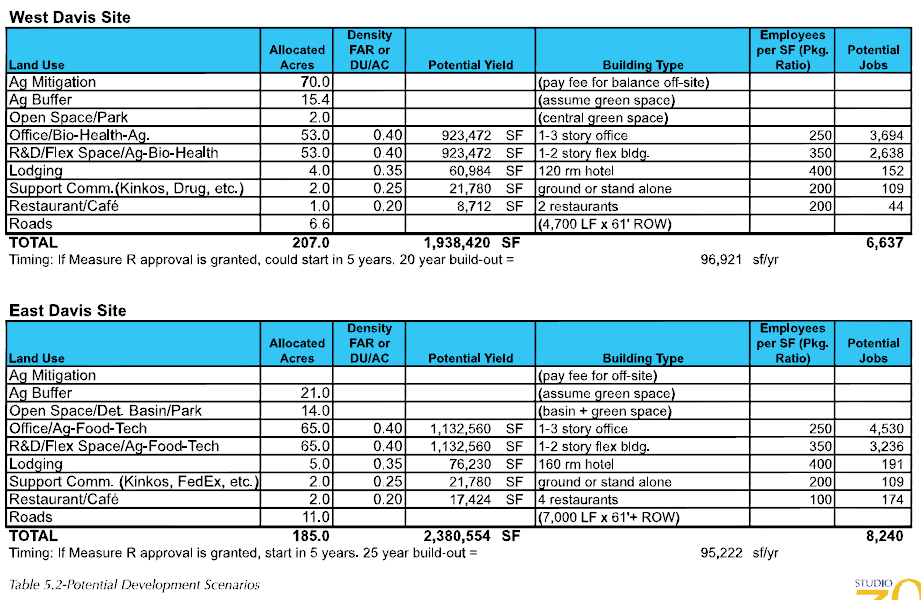 The other point, and the one raised by Mayor Krovoza, is that the Innovation Park Task Force – which reconvenes this evening at the Davis Senior Center at 5:30, identified 33 acres at a potential site on 5th Street, 44 acres at Nishi, 207 acres in West Davis, and another 185 acres in East Davis.  None of that apparently would require Mace 391 and all of that would be sufficient for business park needs.
As this discussion advances, one of the key analyses that must be addressed is how much do we need, and whether it has to be all in one spot or whether the businesses could be dispersed east and west with a smaller amount in the infill sites.
—David M. Greenwald reporting