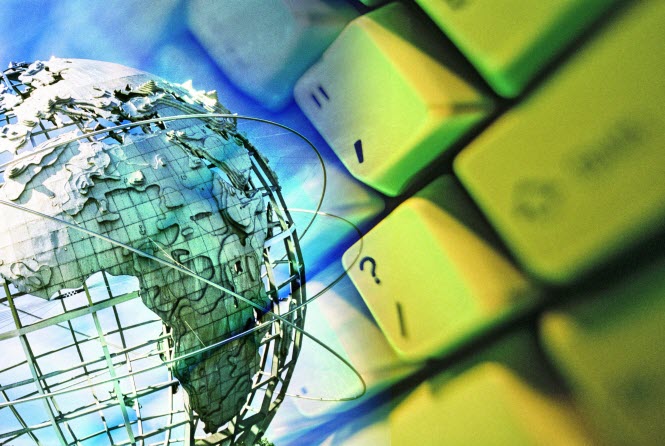 Yesterday we laid out for the public, in the Vanguard's Sunday Commentary, the notion that Davis' most important discussion is its economic development picture.
At that time, we closed by writing, if we want to preserve the great things about this community, if we want the community to thrive, not just survive, then we need to have this full discussion and we need to have it soon.
Growth and housing will always be an issue for Davis, but fiscal sustainability and economic development are at the core of the future of this community.
While we can have reasonable debates as to whether or not Davis can or even should become the Silicon Valley of the next wave of economic and high-tech university spinoffs, we need to better situate this debate.
This is not a field of dreams moment where we have to build it in order for them to come.  Instead, this is a moment where we have to decide whether or not to build it in order for them to stay.
The companies are already here.  Two weeks ago, in Matt Williams' article, we posted the slide from Sarta, where Meg Arnold at a DSIDE (Designing a Sustainable and Innovative Davis Economy) meeting presented information on the current presence of technology companies in Davis.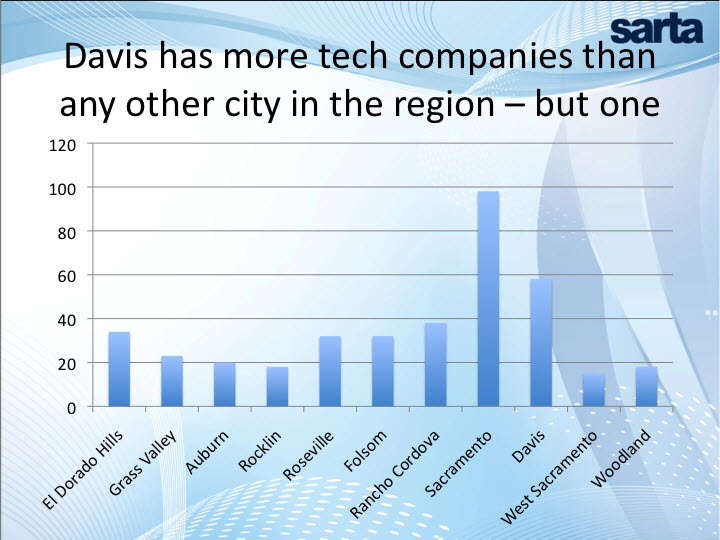 Think about that, without any kind of economic development strategy, Davis is already leading the way in high tech companies.  Only Sacramento, far larger than Davis has more.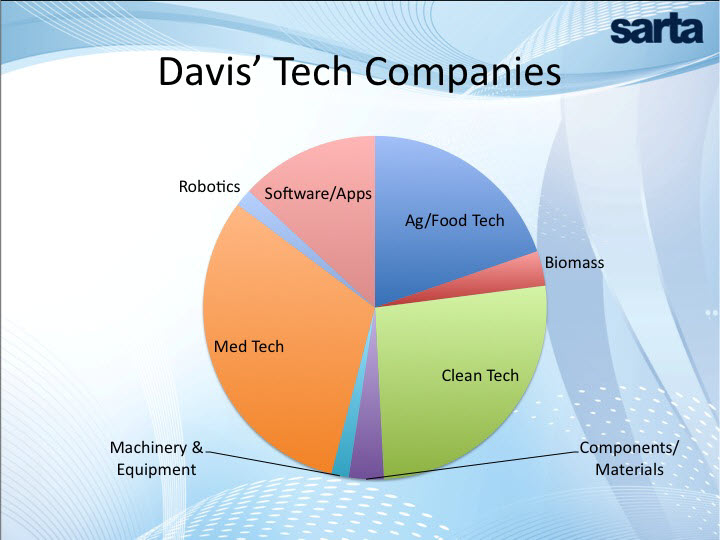 In this slide we see not only the present but the future – Clean Tech, Ag Tech, and Med Tech.
None of this should be surprising.  As Matt Williams wrote, "Most of us know that the UC Davis School of medicine is one of the best in the US, so it is no surprise that approximately a third of Davis' Tech companies are in the Med Tech sector.  Nor is it a surprise that approximately a quarter of them are in Ag Tech.  Both of those sectors build on UCD's core competencies, and with the increased commitment of UCD to transferring technology for the public benefit through InnovationAccess, we can expect both the Med Tech and Ag/Food Tech presence in Davis to grow."
But it is worth emphasizing this point – by expanding our economic development, we would be enhancing the community not changing it.  We already have a top medical school, we already have a stake in the emerging ag tech field and we are a community built to be a pioneer into environmentally friendly technology.
We do not have to build a business park for this business to come, we have to build this business park so that businesses that are already here can stay and new businesses can rise up to take their place as the next wave of start ups.
It is ironic, but the loss of Bayer-AgraQuest may end up being the best thing to have happened for this community, because it is indeed a wakeup call.  Here was a company that was born in Davis, grew in Davis, wanted to stay in Davis, but could not find the land to make it happen.
While we are recovering from that blow, the threat to the next loss is already visible on the horizon.  In August, we learned that Bayer is not the only potential loss – another critical Davis company wants to expand, wants to stay in Davis, and has no place available to move.  They need 40 acres – 500,000 square feet under a single roof, in a single story.
No place in Davis that exists right now accommodates those needs.  Can Davis save this company or will they too move to West Sacramento?
We now know that this is Shilling Robotics.  As Tyler Schilling told the council in early October, "We're going to approach 300 employees here shortly and we're going to need a bigger facility probably within two years."
He moved here at four years old in 1963 and said, "I really enjoy the quality of life here and it helps us attract and retain the kinds of employees that we really want in our business.  I must say that customers that visit us mainly from oversees really always comment on what a wonderful community it is that we have here."
He wants to see Davis have options so that his company can stay in Davis and build a new and larger facility.
Or maybe the next company will be Cedaron.
As company representative Karen Bond noted in a letter to the city in support of Cannery, Cedaron was founded in 1990, and "our main goal has been to merge the cutting-edge vision and technical reliability you expect from a much larger company with a small company's dedication to personalized, responsive customer service.  Cedaron is a marriage of entrepreneurial, medical, technological and marketing expertise headquartered in Davis."
She added, "Cedaron currently has 30 highly paid employees and we plan to grow to over a 100 employees in the next five years as we are growing rapidly.  We are in Davis because there was available start-up space in south Davis and we could attract both young professionals just starting their careers as well as highly-trained people to meet our company's needs to be successful."
"Davis needs highly flexible space for office uses to fulfill a portion of Davis' needs," she writes.
They can envision their needs to be met within the mixed-use portion of the Cannery Project.
The Vanguard is calling for a community conversation.  It is worth noting that these stories about opportunity are running alongside stories about the continued need for the city to get its economic house in order.
It is worth noting that in our other story, the factfinders and the city analysts all agree that "is not in desperate financial straits like many other governmental entities in California" but they have "not much margin for error."
While we believe that DCEA (Davis City Employees Association) should accept the current round of concessions like the other bargaining units, it is also worth noting that the membership of DCEA are not people making $150 to $200 thousand per year in total compensation.  These are people of modest means and their sacrifice – needed at this time – will cause them a good amount of pain.
Until the city of Davis can develop its own industrial and retail base, we are going to be living with no margin for error.  That means that the next shock to the system could push us into a crippling direction.
We are a community blessed with great city services that allow for parks, recreation, and community events, but if staff needs to be cut, if programs need to be slashed, if we cannot afford to pay for continued emergency services, where do we end up?
And what people really need to understand is that if things get bad enough – if we move toward bankruptcy, if we have to slash more programs, more employees, more services – at some point the people of this community will panic.
Panic does not produce smart policies – it produces quick solutions and knee-jerk responses.
We have the opportunity to avoid that with a series of smart moves that enhance and preserve the core values of this community.
The best part is, we don't have to build it and hope that the business will come.  The business is here, we just have to give them the space to grow so that they will stay here.
—David M. Greenwald reporting