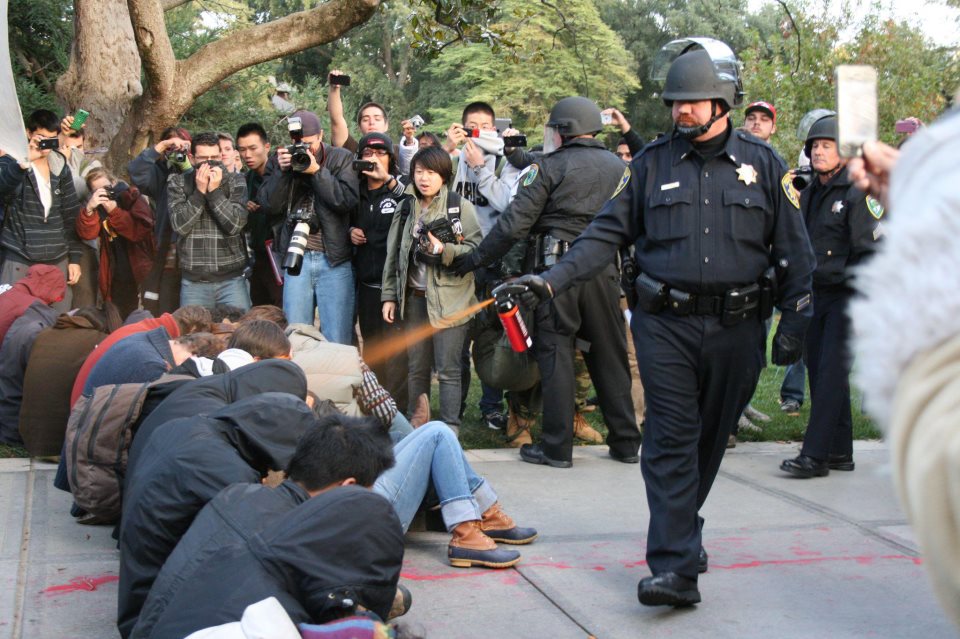 Apparently an administrative law judge has taken the old adage – this hurts me more than it hurts you – to a new a level when deciding to award Lt. John Pike 38,056 dollars.  Lt. Pike filed a worker's compensation claim in which he claimed depression and anxiety brought on by threats and criticism he and his family received following the infamous November 18, 2011, incident on the UC Davis Quad.
On the other hand, 21 students settled their claims against the university, related to Lt. Pike's decision to pepper spray protesters on that November 18 day, for a mere $30,000 each.  The university admitted to no wrongdoing in that dispute.  They deny and "continue to deny each and all of the claims alleged by Plaintiffs in the Litigation. Defendants contend that they acted reasonably and in good faith."
Lt. John Pike, following several public and internal investigations, was fired by UC Davis Police Chief Matthew Carmichael, who rejected the findings of an internal report that found "Lieutenant Pike's deployment of pepper spray was reasonable under the circumstances," and instead wrote in a letter to Pike that "the needs of the department do not justify your continued employment."
On the other hand, the board was critical of his actions that "were not reasonable and prudent under the circumstances in view of his rank and responsibilities at the time."
Notably, they found that Lt. Pike "had 'multiple opportunities' to minimize the escalation of tensions and that 'serious errors of judgment and deficiencies of leadership' required that he face discipline ranging from a demotion to a suspension of at least two weeks."
The Sacramento Bee, which gained access to internal documents, wrote, "Carmichael concluded that Pike had assumed the role of de facto commander of the operation 'but performed it poorly' and that the 'manner in which you used the pepper spray showed poor judgment' given the direction that minimal force was to be used."
Chief Carmichael wrote: "Knowing this information, you stated when interviewed that there is nothing you would do differently. Faced with the same circumstances, you would still have deployed the pepper spray."
During the worker's compensation hearings, Richard Lieberman evaluated Mr. Pike and determined that his disability was "moderate" and that he suffered "continuing and significant internal and external stress with respect to resolving and solving the significant emotional upheavals that have occurred," and showed no evidence that these conditions were improving.
Unfortunately, these findings make a mockery of the system, as John Pike now receives more money from the university than the students he pepper sprayed.
The impact on this community remains from that day.
Ironically, the ruling comes just after the university implemented a police oversight system to regain the public trust in the UC Davis Police Department – in the aftermath of the pepper-spray incident.
The message sent here is uncanny and is captured by a quote from Bernie Goldsmith, a local activist and attorney, who said the settlement "sends a clear message to the next officer nervously facing off with a group of passive, unarmed students: Go on ahead. Brutalize them. Trample their rights. You will be well taken care of."
Accounts from several of the students pepper sprayed demonstrate they suffered physical and mental impacts at least as severe as those of John Pike.
"We were sitting down as a symbolic gesture of protest and it was an act of solidarity with my friends who were arrested," David Buscho, one of those pepper sprayed, told the Vanguard last September when the settlement was agreed upon.
When students remained seated to continue their demonstration, a UC Davis police officer repeatedly sprayed the line of protesters with pepper spray at point-blank range, while scores of other officers looked on.
"I was pepper sprayed repeatedly in the face," described Mr.  Buscho, a Mechanical Engineering student.
Another officer sprayed the demonstrators from behind. The seated students posed no physical threat to the officers. Pepper spray has excruciating effects that can last for days.
"It's really the most noxious and painful substance," Mr. Buscho said as he described the agonizing moments following being bathed in pepper spray.
"My face was totally coated because I couldn't cover my face," he continued.  "I kept inhaling pepper spray which is really bad.  When you inhale pepper spray it's so painful that your entire chest contracts so it actually feels like you're suffocating because I couldn't force myself to breathe."
He described repeatedly vomiting.  Those who tried to help by pouring water on him made it worse because it simply spread the agent throughout his body.
"I was just covered in pepper spray," he said.
"I want to make sure that nothing like this happens again. That's the best thing that could come from this. Since November 18 students have been afraid of the police. The University still needs to work to rebuild students' trust and this settlement is a step in the right direction," said Fatima Sbeih, who had just graduated with an International Studies degree. Sbeih was one of those pepper sprayed on the Quad. She had panic attacks and frequent nightmares for months after the incident, and often woke up screaming.
"I want the University and the police to understand what they did wrong. Police should be accountable to students," said Ian Lee. Lee was less than two months into college when he was pepper sprayed. "I was demonstrating because of rising tuition hikes and privatization of the University. Then we faced police brutality in response. I felt like the University silenced me." After the incident, Lee experienced panic attacks and was afraid to participate in protests.
To many, it will send the message that the worker's compensation system is broken.  It was a series of mistakes, as highlighted in the Kroll and Reynoso reports – many made by Lt. Pike himself – that brought on this situation.
In April 2012, the independent investigations led by the Kroll Team and the Reynoso Task Force concluded: "The pepper spraying incident that took place on November 18, 2011 should and could have been prevented."
Kroll wrote: "The actual deployment of pepper spray by Lieutenant Pike and by [Officer Alexander Lee] at Pike's direction was flawed and unnecessary."
The task force found, along with Kroll, "The decision to use [pepper spray] was not supported by objective evidence and was not authorized by policy," as the pepper spray that was used was not an authorized weapon for use by the UCDPD.
The task force found, "Lt. Pike bears primary responsibility for the objectively unreasonable decision to use pepper spray on the students sitting in a line and for the manner in which the pepper spray was used."
They found that the pepper spray used was unauthorized under UCDPD General Order No.559, which "provides that pepper spray can be used, but specifically refers to the MK-4 (a smaller canister)."
The task force added, "Furthermore, the investigation found no evidence that any UCDPD officer had been trained in the use of the larger MK-9."
Kroll supported their conclusion that use of pepper spray was not reasonable use of force, by stating, "This conclusion is buttressed by the facts that the MK-9 was not an authorized weapon under UCDPD guidelines and that UCDPD officers were not trained in its use."
Given those findings, it does not seem reasonable that John Pike could then claim that he was the victim of this process.  Granted, Kroll spread the blame around, starting with the mismanagement of the crisis by the upper administration.  However, John Pike on the scene helped to escalate the situation.
—David M. Greenwald reporting