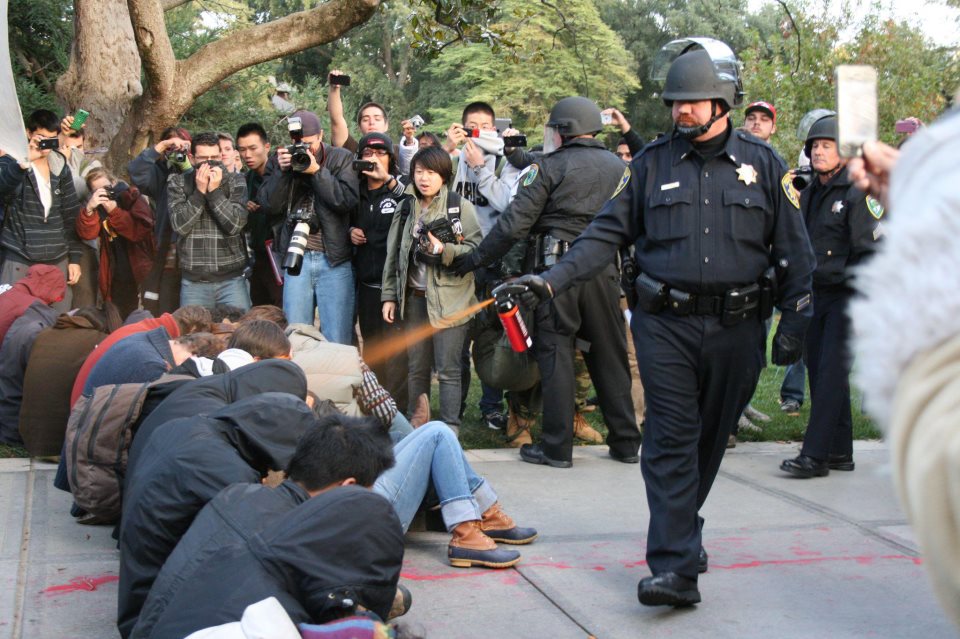 When former UC Davis Police Lieutenant John Pike received a workers' compensation award that was greater than the payout to his victims, the Vanguard wrote that the payout makes both a mockery of the system and the incident.
The Vanguard was not alone in its indignation.
In a scathing editorial, the Sacramento Bee called the payment "another black eye for workers' comp system."  They write, "Something is wrong when the police officer who pepper-sprayed UC Davis students collects more in workers' compensation for a wounded 'psyche' than his victims did in the courts."
"Yet, that's the situation. Former Lt. John Pike will receive $33,350 [after attorneys' fees], while the 21 students who sued over the November 2011 incident received $30,000 each," they continue.
Mr. Pike says "that after a video of the incident went viral and his name became public, he became the target of about 27,000 texts and emails, some of them vicious."
However, "What about the physical and mental anguish of the students who had a painful chemical sprayed in their faces? Didn't Pike bring the scorn upon himself by completely overreacting to a peaceful protest? And wasn't most of the stress after he was suspended?" the Bee asks.  "The university says it had no choice in the matter once the state Workers' Compensation Appeals Board ruled."
The Bee notes, "Under California law, psychiatric injury and job-related mental stress can be cause for compensation, including permanent disability benefits. The amount depends on the level of disability, which is determined by the medical diagnosis and what the injured worker and other witnesses say, according to the state Department of Industrial Relations, which runs workers' compensation."
The Bee also notes, "Workers' compensation has a troubled history in California. The complicated, costly system came to symbolize what was wrong with state government. Injured workers received some of the nation's lowest benefits and employers paid skyrocketing premiums, while lawyers, doctors and others worked the system to rake in the cash. Arnold Schwarzenegger tried to fix the problems as governor in 2004 with measures to rein in doctor shopping and other abuses."
"The Legislature took another crack at reform last year with a bill designed to reduce costs for businesses while increasing benefits for permanently disabled workers by limiting lawsuits and making the system more efficient," the Bee writes.  "Recent changes in the law tightened eligibility and raised the level of proof needed in psychological-stress cases. The payment to Pike, however, again sprays disrepute on California's workers' comp system."
The Woodland Daily Democrat opines, "If we needed any further proof that students were badly burned in the November 2011 pepper-spraying by former UC Davis Police Lt. John Pike, it came with word that Pike was getting $38,350 in workers compensation."
"What's wrong with that you ask? Well, the 21 people he pepper-sprayed got $30,000 in restitution," the paper continues.  "Something is seriously out of order with the state's workers' compensation system when a person guilty of hurting others can collect more (than) they can because his 'psyche' was damaged."
The Daily Democrat goes on to note just how much the university has paid out:
$250,000 to the attorneys.
$320,000 to the Munger, Tolles & Olson law firm in San Francisco for work on a systemwide review of how UC campuses should respond to demonstrations. Another $88,686 in salaries and other fees to UC Berkeley officials who worked on that review.
$119,714 to Marsh Risk and Insurance Services of San Francisco to provide "real time crisis management support for UC Davis."
$445,879 to the Kroll consulting firm for an independent probe that reported its findings to a panel headed by former state Supreme Court Justice Cruz Reynoso. Kroll's billing included more than $10,707 in airfare, $3,181 in ground transportation and $8,800 in hotel charges.
$230,256 paid for an internal affairs investigation into the actions of Pike.
Those figures do not include the payout to the victims of over $1 million.
Over the nearly two years since the incident, we have had a number of people write or opine elsewhere about the limited impact of pepper spraying.  First, it would be interesting to note, at least, that the military grade of pepper spray may or may not matter.  But the physical impact of the pepper spray probably pales in comparison with the psychological impact.
Last week we noted a few accounts, and we add those here as well.
Accounts from several of the students pepper sprayed demonstrate they suffered physical and mental impacts at least as severe as those of John Pike.
"We were sitting down as a symbolic gesture of protest and it was an act of solidarity with my friends who were arrested," David Buscho, one of those pepper sprayed, told the Vanguard last September when the settlement was agreed upon.
When students remained seated to continue their demonstration, a UC Davis police officer repeatedly sprayed the line of protesters with pepper spray at point-blank range, while scores of other officers looked on.
"I was pepper sprayed repeatedly in the face," described Mr. Buscho, a Mechanical Engineering student.
Another officer sprayed the demonstrators from behind. The seated students posed no physical threat to the officers. Pepper spray has excruciating effects that can last for days.
"It's really the most noxious and painful substance," Mr. Buscho said as he described the agonizing moments following being bathed in pepper spray.
"My face was totally coated because I couldn't cover my face," he continued.  "I kept inhaling pepper spray which is really bad.  When you inhale pepper spray it's so painful that your entire chest contracts so it actually feels like you're suffocating because I couldn't force myself to breathe."
He described repeatedly vomiting.  Those who tried to help by pouring water on him made it worse because it simply spread the agent throughout his body.
"I was just covered in pepper spray," he said.
"I want to make sure that nothing like this happens again. That's the best thing that could come from this. Since November 18 students have been afraid of the police. The University still needs to work to rebuild students' trust and this settlement is a step in the right direction," said Fatima Sbeih, who had just graduated with an International Studies degree. Sbeih was one of those pepper sprayed on the Quad. She had panic attacks and frequent nightmares for months after the incident, and often woke up screaming.
"I want the University and the police to understand what they did wrong. Police should be accountable to students," said Ian Lee. Lee was less than two months into college when he was pepper sprayed. "I was demonstrating because of rising tuition hikes and privatization of the University. Then we faced police brutality in response. I felt like the University silenced me." After the incident, Lee experienced panic attacks and was afraid to participate in protests.
As the Press Democrat notes, "The image is as unforgettable as it is disturbing: A helmeted police officer spraying a stream of caustic pepper spray into the eyes of student demonstrators protesting tuition increases at UC Davis. It wasn't surprising that the students sued and received settlements from the University of California. But this is surprising: A larger amount is being paid to John Pike, the former UC police lieutenant who sprayed the students.
"UC officials acknowledged last week that Pike will be paid $38,000 to settle a worker's comp claim for damage to his 'psyche' from the incident and the outpouring of public disgust that followed. Each of the 21 students received $30,000. Something seems backwards here."
—David M. Greenwald reporting