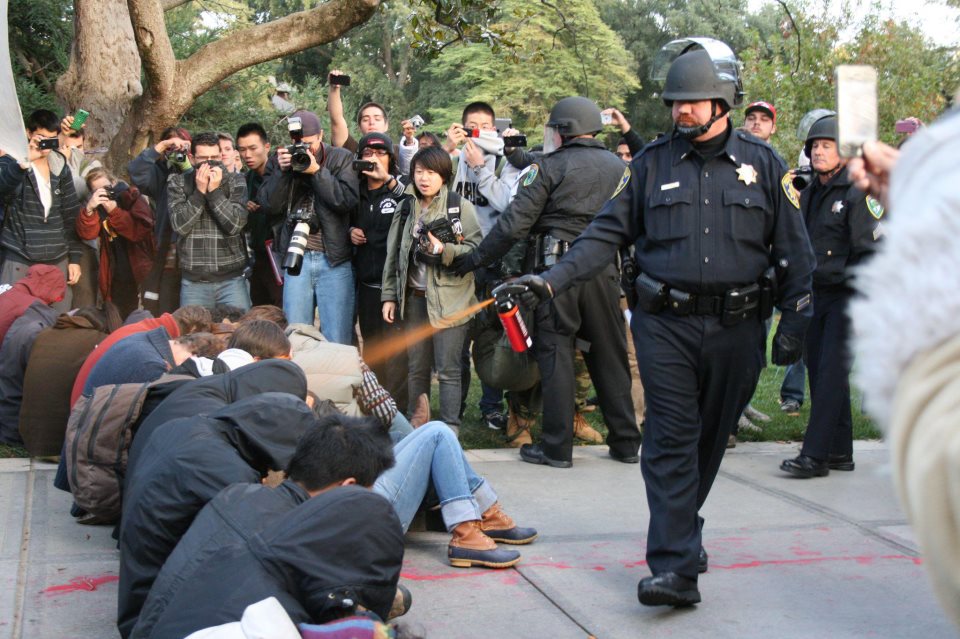 It is interesting that this month saw both the culmination of the worker's compensation process for former UC Davis Police Lieutenant John Pike, as well as the presentations last week of the UC Davis Police Oversight Plan, which are part of the outgrowth of the pepper-spray incident that has its dubious second-year anniversary coming up in just under one month.
"At UC Davis there has been a serious breach of trust between the UCDPD and the campus community," the report on the oversight plan indicates.  "The establishment of oversight is an important step in working to build a bridge to restore trust between the police and the campus community. To have credibility, oversight must be visible and must be a strong, effective model."
The irony, at least for me, is that the model UC Davis chose is very similar to the model that my wife proposed for the city of Davis seven years ago – and was publicly vilified for.  The proposal mocked and distorted in public would have had a body civilians along with an investigator.
The model UC Davis is proposing:
1. The UC Davis Police Accountability Board (UCDPAB) will consist of seven members, selected through an application process, to include students, faculty, and representatives from both campuses. The board members will receive training and will have the authority to review and approve findings of misconduct investigations and policy recommendations. The board will convene public meetings at least once per quarter.
2. The Independent Investigative Division (UCDIID) will be staffed by: a full-time Executive Director/Investigator who has significant experience in law, oversight or a related field; and an administrative staff person. The UCDIID will have a two-fold function, to conduct investigations of police misconduct complaints and to serve as staff to the Police Accountability Board. In addition, the UCDPAO (Police Accountability Office) will have authority to conduct outreach, provide transparency through annual reports, provide an alternative to the UCDPD as a place for complaints to be filed, provide policy analysis, and will respond to the scene of and review reports of investigations of critical incidents.
Critics immediately leaped into Cruz Reynoso's private body of citizens that looked in the 2009 shooting of Luis Gutierrez  in 2010.  But the better model might be another body by Cruz Reynoso, his task force looking into the pepper-spray incident.
The pepper-spray investigation process is probably much closer to how police oversight would work.  The university really had three parallel investigations – the internal report that was conducted privately and subject to the rules of the police officers' bill of rights, the investigation by Kroll, and then the public task force.
Kroll conducted the investigation for the public and then the task force took that and recommended a course of action – some of which is playing out as we speak.
One commenter argued, "The problem with starting a review board after a high profile incident is you end up with agenda base individuals …  trying get be involved. The board's findings will be very predictable."
Another commenter wrote, "It is hard for me to imagine anyone wanting to serve on a board like that unless they 1. Hate cops or 2. Are related to cops and want to defend them from a board that will most likely be full of people that hate cops."
Why is that the case?
Again, I think the task force is instructive.  While they had a 13-member body rather than a seven member body, the membership there included students, faculty and administration.
So you had people like Peter Blando, the Business Services Manager from the Office of the Vice Provost, Dan Dooley, Senior Vice President from External Relations, Penney Herbert, Director of Strategic Planning for the UCD Health System, Carolyn Penny, Director of International Law Programs, and Judy Sakaki, Vice President for Student Affairs.
These are all high-ranking administrative officials.  None of these people are cop haters.
Add to that distinguished professors like UC Davis Law Professor Alan Brownstein and History Professor Eric Rauchway.
Then you had undergraduates Tatiana Bush and ASUCD President Rebecca Sterling and graduate student Katheryn Kolesar.
The task force was chaired by Cruz Reynoso.  In the end, you had five administrators unanimously agreeing with the rest of the members of the task force to write a report condemning the actions of John Pike, and also the entire UC Davis administration.
Those who believe this is about hatred for the police miss the point.
In my seven years of doing the Vanguard, I have gotten to know a lot of police officers across the county.  What I have found is that most police officers are honest individuals trying to do their best to protect the public.  Many complaints are actually either misunderstandings between two people or misunderstandings by the complainer about the law and their rights under it.
There are times when mistakes occur and what we have seen in Davis over the last seven years is the sincere effort to fix those problems.  That has led to, at times, reprimands for officers either being rude or making mistakes and, at times, it has led to some officers being let go.
For instance, the above-mentioned Tatiana Bush was involved in a tasering incident that led to the officer being terminated by the city.
Most officers are good people who are doing their best under difficult circumstances.  Most errors are unintentional.  But when things go wrong, you need to have processes in place to ensure to the public that wrongdoers who operate under the color of law are dealt with appropriately.
The Peace Officers Bill of Rights in California makes that more difficult, as it shields from the public internal investigations and personnel disciplinary procedures.
At the end of the day, I do not believe that you will see a group of police haters on the citizen review portion of the panel.  Instead, you will have the type of mix that you had with the Pepper Spray Task Force.  And people on these bodies tend to work together to get to consensus.
Police Chief Carmichael has supported this and there is no way he is going to allow it to become a witch hunt against his officers.  It needs to be balanced and impartial, and needs to weigh each case fairly.
It is just as important to exonerate complaints that are unfounded as it is to sustain complaints that are founded.
I view police oversight like I do all layers of government oversight.  We need to have as open and transparent a process as possible.  We need to ask tough questions.  And those who did nothing wrong should have absolutely nothing to fear by scrutiny and probing questions.
Only then can we restore the trust that was breached that day in November, 2011.
—David M. Greenwald reporting