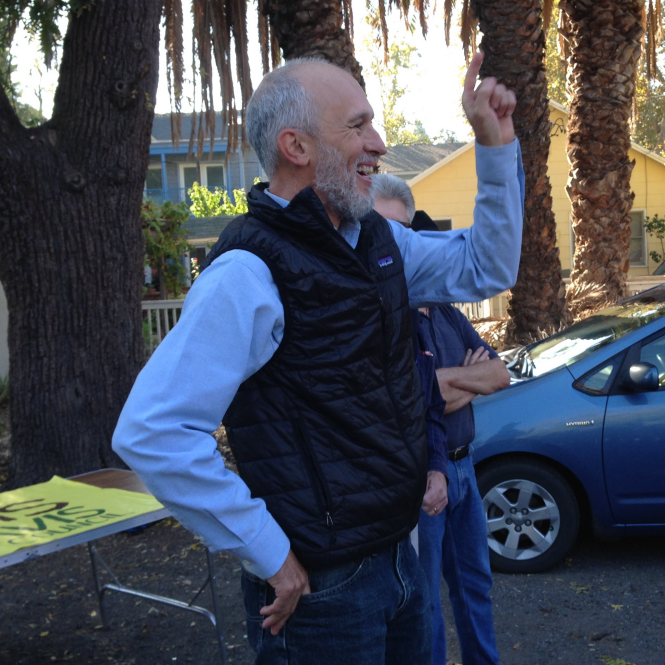 Robb Davis formally announced his candidacy in front of about 70 supporters early on Saturday at the southeast corner of 5th and D, at the location of the the Davis Community Meals Cold Weather Shelter and the STEAC Resource Center where he has been a longtime volunteer.
"I am running because I want Davis to be a socially, environmentally, and economically healthy city. Davis faces challenges and opportunities in protecting and sustaining community health," he said.
"We need elected officials who can weigh alternatives, analyze tradeoffs and make informed and transparent decisions," he continued.
Mr. Davis, a public health professional with over 25 years of experience working in the field of food security, child nutrition and maternal and child health, primarily in French-speaking West Africa, has focused in recent years on bringing the principles and practices of restorative justice to Yolo County and dealing with the challenges of homelessness and addiction in Davis.
He continues to work in child health as a consultant in curriculum design, program design, and program monitoring and evaluation.
"I will bring my experience working in many communities around the world and the following strengths to the process," he said.  "I am a good listener, able to ask relevant questions and probe to go deeper."
"I am a tireless worker who prepares for the task before me.  I am able to take complex topics and articulate them in ways that citizens can understand," he continued.  "I am respectful of others and value team work to solve problems. Most importantly I am willing to learn and go on learning to improve my ability to make informed decisions."
He would add, "I am a forward-looking person. As I learn about the city, its problems and its potential, I will work with citizens to identify our values, assure that our policies are consistent with them, and seek creative ways to implement these policies. I will listen, learn and respectfully walk with my neighbors to chart our collective future."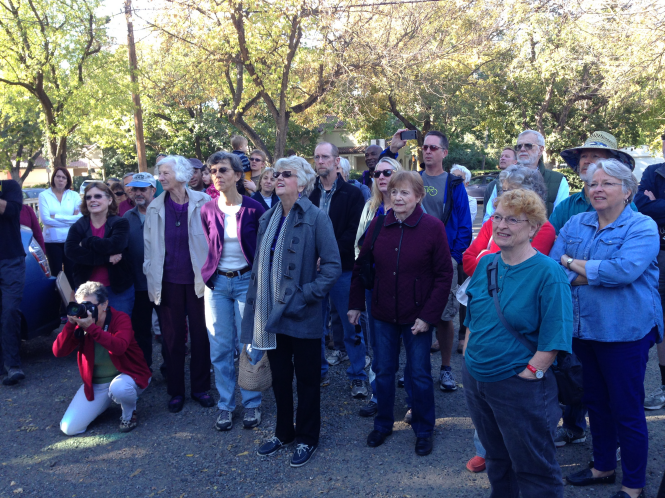 Robb Davis laid out some of his issue positions as well.
He said one of his chief goals is to "assure prime agriculture land is safeguarded, and development on it is non-residential and community-determined."
"We live in one of the most productive agricultural zones on the planet. We must nurture and sustain this resource for our benefit and that of future generations," he explained. "I support Measure J/R as a tool for assuring that any ag land conversion is community-approved."
"I believe that economic development on the periphery of the City is possible on non-prime land or on land for which agricultural uses are severely constrained, as is the case with the Nishi property," he added. "Peripheral development on such land should foster economic development and job creation. It should not be used for housing."
He also believes in growing "a diversified revenue base to face our fiscal challenges and to protect vital community amenities."
"We must produce balanced budgets that account for all future liabilities and infrastructure maintenance," he said. "We must squarely face our need for new revenue by re-examining our current tax structure and fee schedule. I believe that we must immediately deal with our fiscal imbalances."
He added: "This means we must find a combination of short-term revenue enhancements and longer-term solutions that generate revenue from new business development."
He also pushed for fiscal responsibility.
"We must also keep City expenditures in check by negotiating fair but realistic agreements with all employee groups," he said. "Agreements must assure the City's ability to pay for growing retiree health benefit costs and pensions in a sustainable way."
Robb Davis talked about the need for denser housing options, in particular rental housing as a means to "accommodate the housing needs of students, young professionals and retirees who desire to live in our community."
"Our housing needs will grow as the University grows and there is evidence that we currently lack sufficient rental housing to meet demand," he said. "If we are to preserve farmland and meet the needs of all members of our community we must have more and denser rental housing on existing city land-including the downtown."
He added, "Denser housing within walking distance of transit and shopping encourages the use of alternatives to automobile use. This is a critical means of absorbing population growth without creating traffic congestion and without increasing carbon emissions."
Another goal of Robb Davis is to increase walking, biking, and transit use.  He argued, "We must create safe streets, use education on safe cycling and encourage the use of transit as a normal means of transportation for all residents. Doing so will reduce congestion, create healthier citizens and reduce carbon emissions."
Mr. Davis argued that we must develop and promote the downtown "as a premier shopping, entertainment, art and restaurant center of the region."
"Our downtown is a thriving public space that exudes energy and offers a real sense of 'place' for citizens in Davis and beyond. I believe we must maintain it as a welcoming space and encourage further development and redevelopment that will make it a place where people come, relax, walk, eat and enjoy entertainment and one another's company," he said.
Finally, as one of the innovators of the neighborhood court program, he pushed for the promotion of restorative and reconciling practice in order to productively transform community conflict.
He said, "We must reinforce the social fabric of our community by enabling constructive dialogue and problem solving that honors differences and restores relationships when disagreements arise."
"The practice of restorative justice offers an alternative to the traditional retributive justice system that enables those committing crimes to acknowledge harms to victims and the community and to make things as right as possible," he said.
"I believe we are on the cusp of developing restorative practices to deal with school discipline and for juvenile and adult non-violent offenders. This will require the development of public/private/school district partnerships-some of which are already underway," he continued.
He would add, "Beyond restorative justice, we must evolve more robust community-based programs that enable citizens with disputes to deal with them in carefully facilitated 'conferences' that offer safety and the possibility of resolving conflicts outside the formal court system."
Robb Davis is the first officially announced candidate, although Councilmember Rochelle Swanson has indicated her intention to seek reelection.  There is a vacated seat as Joe Krovoza, the Mayor of Davis, is running for state assembly.  School Board Member Sheila Allen is widely believed to be entering the race, as well.
The election will take place in June 2014.
—David M. Greenwald reporting