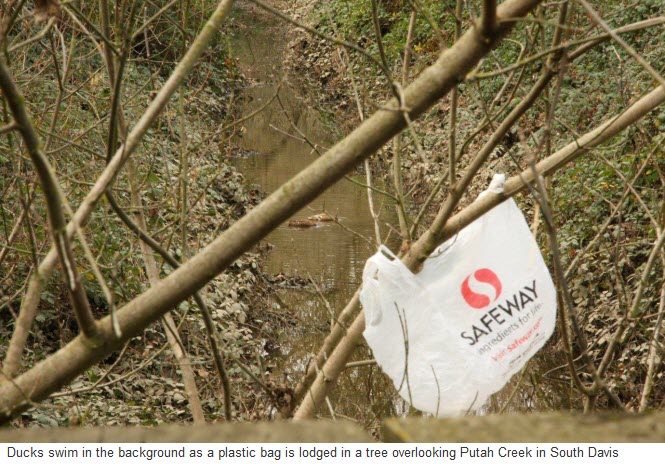 Gadfly Attorney Threatens to Sue Over Restaurant Provision – After some discussion about a potential lawsuit, the Davis City Council unanimously approved the first reading of the single-use plastic bag ordinance that was originally passed on September 10, 2013.
The ordinance applies to all retail business in Davis and there is a 10-cent bag charge for paper bags and plastic bags that meet the specification of a reusuable bag.  The ordinance would be adopted on October 22, upon council approval, and would be effective on July 1, 2014. Staff would conduct business outreach efforts during the first quarter of 2014 to provide notice of the impending ordinance to affected businesses and to assist customers with compliance on an as-needed basis.
Stephen Joseph, representing the Save the Bag Coalition, sent a letter to the city asserting that the city is preempted from regulating restaurants.
"We do not believe that to be," City Attorney Harriet Steiner told the council on Tuesday.  "We think that when we looked at the cases cited by Mr. Joseph, they do not stand for that proposition.  We are not aware of a reason at this point why the city would have to preempt restaurants as opposed to the other organizations that do food servicing with carry-out foods such as grocery stores."
She noted that the San Francisco plastic bag case has already said that plastic bag bans are environmental regulations and therefore not preempted by the health and safety code.
The issue will continue to be litigated by the organization, but to date they have yet to prevail in any court of law.
"Mr. Joseph has threatened a lawsuit against the city, and every other city who would adopt such an ordinance," Ms. Steiner said.  Mr. Joseph is lead attorney for the Save the Bag Coalition which is the plaintiff in most of the cases that have been filed around the state.
Ms. Steiner stated that she believed the ordinance would survive any legal challenge.
"It's very hard to say exactly how much a lawsuit will cost. Depending on how this lawsuit would move forward, if it was filed, I would estimate that it would cost somewhere between $20 and $40 thousand to get through the trial court, but that could be wildly off in either direction."
Mark Murray, from Californians Against Waste, also a Davis resident, stated that Mr. Joseph has been filing these lawsuits for years: "His strategy has been one of harassment and intimidation.  Ultimately, he has lost every suit that he has filed."
However, Mr. Murray indicated that Mr. Joseph "did succeed in intimidating Carpenteria and a couple of other communities in pulling the restaurant provision from the ordinances."
"I would hate to see you intimidated by this bully of an attorney who has misrepresented the facts and misrepresented the law in his letter to you," Mr. Murray continued.  "In his letter to you, he cites the San Francisco case, he neglects to mention that he lost that case.  The Superior Court has already ruled in that case, and they ruled against him."
Councilmember Brett Lee expressed some concern, "I don't feel like I'm being intimidated necessarily, I think that if we just go ahead and enact an ordinance and have to deal with this sort of lawsuit, it's sort of this piecemeal approach – every city is left to defend themselves against this entity out there doing this harassing lawsuit."
Councilmember Lee suggested perhaps pausing the ordinance to see if an organization like CalPIRG would step in.  However, that suggestion did not gain traction and it seems likely that CalPIRG (California Public Interest Research Group) is well aware of these activities, as Mr. Joseph has filed suits across the state.
Councilmember Lucas Frerichs, however, suggested that there needs to be action at some point.  "We've taken an action, and now we want to hit the pause button," he said.  "I respectfully disagree that we're going to get an attorney with 'deep pockets' to take a break, take a rest on going after individual jurisdictions in the hopes that we can in the meantime get CalPIRG or some other grassroots organizations or individuals to sound the alarm or help stop his organization from going after individual jurisdictions, I just don't think that's going to be effective.  I think we should be moving forward."
Councilmember Frerichs then moved the item and Mayor Joe Krovoza seconded it.
The mayor stated, "This is a very very slippery slope to receive one letter after a fantastic ordinance has been drafted and brought to us.  If we're going to let people intimidate us out of a possible decision here, that sets an incredibly low bar to be able to slow us down on issues, especially in a case where the person bringing these suits is losing."
"If they want to spend more money to battle our excellent city attorney on a well-crafted ordinance that other cities have approved, then they can throw their money away doing that," he said.  "But I don't want this council to be seen as a place where you can send one letter and threaten a lawsuit and we back off something that we know is right and is legally solid."
Brett Lee would ultimately join with his colleagues on a 5-0 vote in support of the ordinance.  The ordinance will now go to a second reading on October 22 and will go into effect at the start of the next fiscal year on July 1, 2014.
—David M. Greenwald reporting