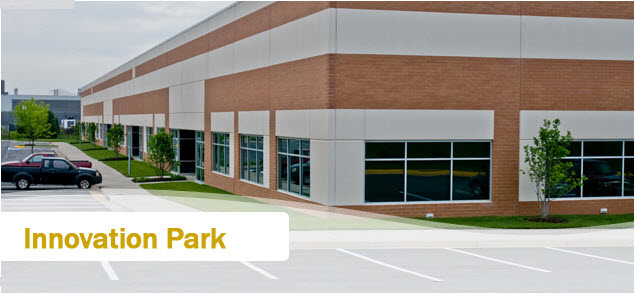 It was a good beginning to a conversation on Tuesday night, as the first Innovation Park Community Forum featured a very engaging discussion. Six sector experts in the business and technology fields gave presentations that were followed by a smaller community discussion.
There were certainly some strengths of the meeting, as listening to the voices within our community like Meg Arnold, Mary Kimball, Bob Medearis, John Buckel, Dushyant Pathak, and Mike Rizzo was worthwhile by itself.   For those who missed this event, later today, we will (hopefully) post YouTube videos of the six presenters.
From the city's perspective, the inclusion of Sarah Worley from Economic Development, Davis Chief Innovation Officer Rob White, Mike Webb who heads up Community Development and Mitch Sears who heads up the city's open space program, shows the clear need for the city to view these issues not as siloed issues for commissions and departments to examine in isolation, and to move the discussion more broadly.
One of the more interesting moments was when Mary Kimball, who is the Executive Director of the Center for Land Based Learning and a member of the Yolo Land Trust board, acknowledged the need for a business park to help develop ag-industrial needs.
At the same time, she defended Measure R.  But that leads me to my concern.  The meeting was heavily representative of business and tech interests.  However, at the same time, there seemed a strong sentiment pushing back against Measure R.
The meeting itself seemed notable for being one side of the room in Davis – that more pro-economic development, pro-development wing.
What was missing, for example, is that there was no one in the room who helped to work on either Measure J or Measure R.  We had Mitch Sears there, but no one from the Open Space and Habitat Commission.  Moreover, as people criticized Measure J and Measure R, missing were people like Mark Spencer, Pam Nieberg, and former Mayor Ken Wagstaff who had worked on and helped develop these land use policies.
If we are going to move forward as a community, these broader communities have to be included.  After all, it was just three and a half years ago that Measure R was approved, extending Measure J protections for another ten years.  76% of Davis residents supported Measure J's renewal.
Measure J's renewal came just months after the second Measure J vote resulted in about 75% of Davis residents opposing the development at Wild Horse Ranch.  Four years earlier, about 60% of residents opposed Covell Village.
Another community that was underrepresented in the room had some forceful advocacy by Chris Granger of Cool Davis.  She pushed the discussion to acknowledge the need for sustainability features in whatever future development that we did.
For the past several months, the Vanguard has been pushing for community discussion.  As Rob White noted early on in the discussion, this was not going to be a discussion about Mace 391.  As we have noted in previous discussions, the Innovation Park Task Force looked at Nishi as one early site that could focus on an innovation center, and areas to the west of Sutter-Davis Hospital and east of Mace Blvd. as potential medium range sites.
If this simply becomes a discussion by the more pro-development forces in town – including business people and real estate developers, then any Measure J/Measure R vote at the end will be unsuccessful.
The only way that the bulk of the town, the majority who opposed Covell Village and Wild Horse Ranch and the majority who overwhelmingly renewed Measure J through Measure R, will be able to support a business park is if they are included in the conversation, if their concerns are not only listened to but addressed in the discussion.
This cannot be window dressing and the attitude I heard on Tuesday night might have to change.  This cannot be about belittling the concerns of others, dismissing them as fears.  No one legitimately fears that Davis is going to extend to the levee or over to Dixon or to Woodland.
What people may legitimately fear is that the community that they have fought hard to preserve can be diminished by lack of smart planning.
On the other hand, I don't disagree with the concerns raised by others in the room.  Concerns that the Davis City Government is facing an increased budget deficit over the next five years, that it has cut more than 100 positions, that the pension system continues to drain resources that could go to vital city services, and that the city continues to bleed money due to a lack of agreement with city bargaining units.
There are concerns that what we have is slipping away because of the lack of revenue and the lack of available jobs and housing.
That is the discussion we need to have, but we need more groups in the room to have that discussion.
I want to make it very clear that what I support is not an outcome, but a process.  Two of the recent proposals, that would open up some land for development, at the same time seek to lock down critical land for preservation and conservation.
That is the kind of discussion we need.
We may or may not like the proposal from David Morris, but in his latest iteration, he is proposing a sizable amount of land be locked into easement and open space in exchange for the business park land.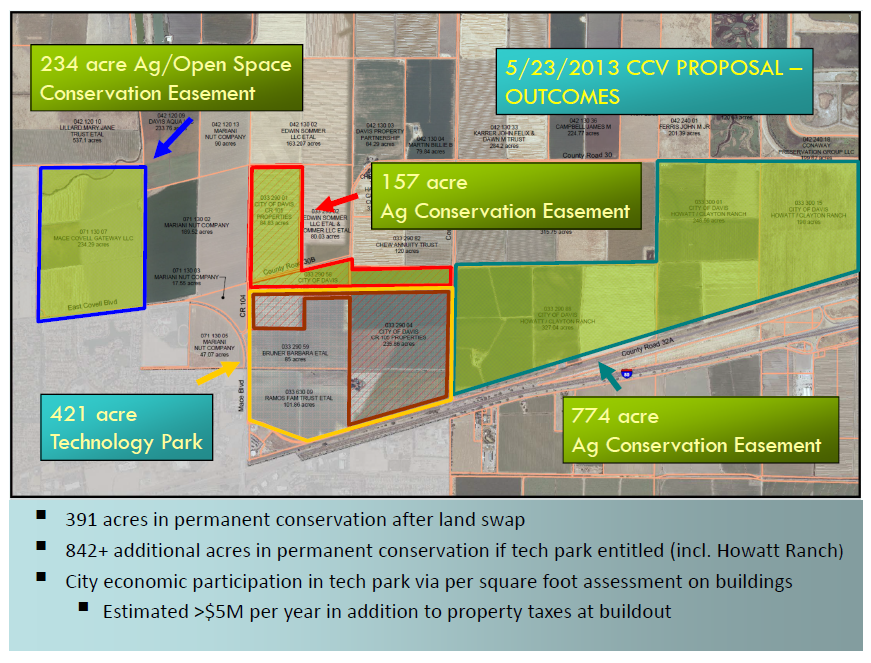 As Matt Williams wrote a month ago, "Including the efforts from the years before Measure O, Davis has protected, directly or through partnerships, over 4,900 acres of sensitive wildlife habitat and farmland.  Since Measure O's passage in 2000, 2,513 of those 4,900 acres have been protected at a cost of $4,566,000 but none of the parcels (shown in green in the graphic above) fall into the Urban Fringe category."
As noted in the legend, the speckled areas on the graphic are the FEMA 100-year flood plain.  Easements could be placed in those flood plain areas, but they are of a lower priority because there is less current threat of development there because of the higher infrastructure costs needed to eliminate the flood risk.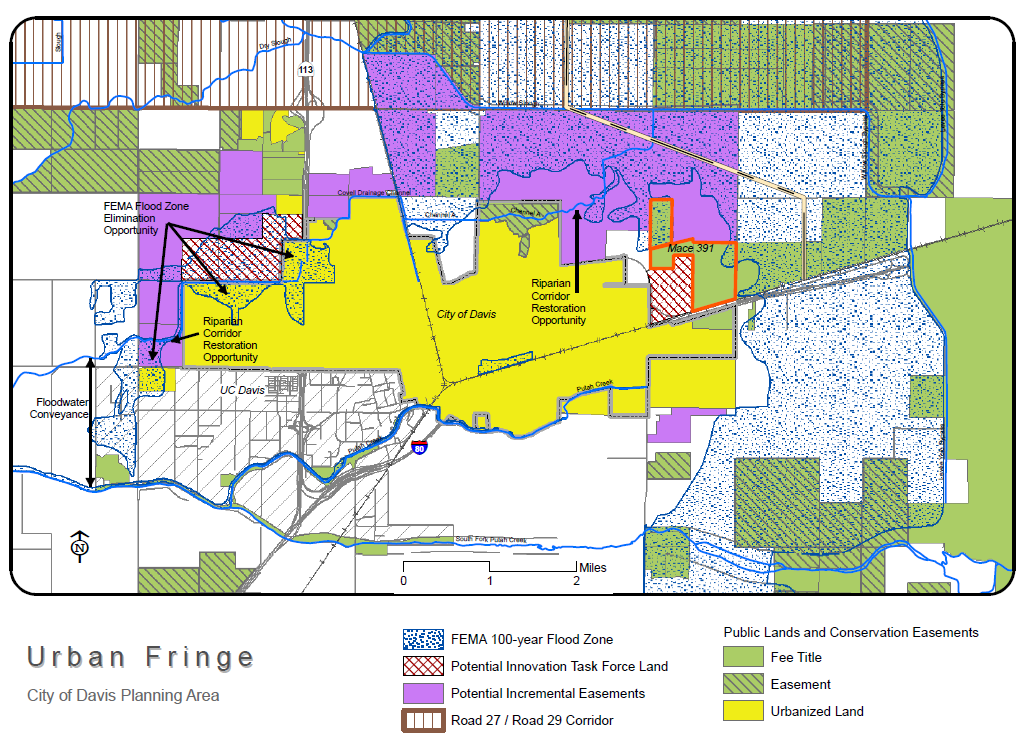 I believe this is where the conversation has to start, but it needs to start in a room with more people from the group that helped develop Measure J and Measure O to begin with, and more people who helped to work on the City's Climate Action plan, in addition to the business leaders and tech leaders, who were there on Tuesday.
Only when all groups meet and discuss things can we find common ground and shared goals that can help push this process forward.
Because I truly believe if we simply open the process for design and bidding that, by the end of the day, we will have another 60-40 vote against development and, really, that serves few people's interests.
—David M. Greenwald reporting