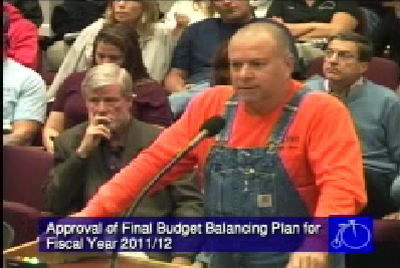 On Tuesday, the Davis City Council did what they had to do, in fact they did what they were elected to do – make tough decisions with regard to the city budget.  The process is broken, it took way too long, it cost way too much money.
But there was no mistake this time – the council dotted their "i's" and crossed their "t's."  There will be no 11th hour PERB board ruling to turn this back.
This was a tough job to do by the council.  This wasn't an abstract motion where they were pushing numbers around on a board trying to make things work.  They had to look their employees in the eyes, they had to listen to personal sob stories, and then they had to make the right decision.
It's hard to listen to a man who has given the city his best years, with tears in his eyes, tell you that he may end up losing his house because of this vote.
Unlike the firefighters, this is not a corrupt group that has extracted improper benefits and used the electoral process to rig the results. These are just hard working people who receive among the lowest levels of compensation in the city.
I say all of this because I want people to understand that I understand the hardship that this deal will impose.  But, at the same time, these people were either misled by their leadership or part of the problem that led to their ultimate demise.
Each councilmember on Tuesday night made comments about how tough this vote was.  Rochelle Swanson called it "one of the worst votes" that we have had to take and added, "none of us wants to be here."
Not to pick on Councilmember Swanson, but while in a way I get that sentiment, in another way it infuriates me.
Let me explain why that is the case.  In early December of 2012, the council voted to accept the contract agreements from five of the seven city bargaining units.  Those employees took the same deal – and did so willingly and with the spirit of sacrifice and compromise in hand – that the council had to force DCEA to take.
In the meantime, every single active employee in DCEA benefited, in fact were rewarded, for their intransigence.  So why, Councilmember, is it worse to impose on this group?
This has been going on since 2010, before Councilmember Swanson was even on council.  DCEA was not willing to take even the meager reforms that that council imposed.  So, in the Spring of 2010, that council imposed the 2009 MOU on DCEA.
But they were impatient, they failed to complete the process and so, a year and a half later, the impasse was thrown out by PERB.  The city was forced to retroactively pay these employees the difference in the compensation.
Rather than come to a deal, these employees watched as nine of their colleagues were laid off in June 2012.  Now, the city was criticized for doing this, but DCEA had seven months from November 2011 until June 2012 to come to an agreement.
What this means is that, from 2010 until December 2012, the employees at DCEA were on the MOU that was agreed to during good times prior to the 2009 MOU, while the rest of the city had to take concessions, modest as they were, in 2009.  And for the last year, they had been on that same contract as five of the bargaining units were on a second new MOU with far deeper cuts.
Let us just look at the impact on cafeteria cash outs.  Prior to the 2009 MOUs, city employees whose spouses had their own health care could cash out up to about $1700 a month.  No other community in the state had as generous a cash out.
In the last MOU cycle, the city reduced the maximum to $1500 per month for existing employees and $500 for all new employees.  In this cycle, the number was reduced for all employee groups from $1500 per month to $500 – which still larger than most jurisdictions.
For those employees fortunate enough to have a spouse with a health care plan, it was like an additional $1500 to $1700 a month in salary.  The impact of losing $1000 to $1200 per month is huge, and should not be made light of.
However, the DCEA employee group had to know this was coming.  This was not out of the blue.  The employee groups have had several years to plan and the city is giving them more time.
As the factfinder noted, "The City proposes that the current maximum monthly cash out of the cafeteria health benefits be capped at $1,000 per month upon implementation of the Agreement; at $750 per month as of July 1,2014; and at $500 a month as of June 30, 2015, for all current employees. The City proposes an immediate cap of $500 per month for new employees."
As the panel noted, "The Panel holds that this benefit is ripe for reform. First, it is discriminatory. The cash payout in lieu of health insurance favors those employees who happen to be fortunate enough to have access to health insurance through another source. An employee who is unmarried or does not have a working spouse (or the spouse's employer does not provide health benefits), must forego the cash and obtain coverage under the City's plan. Thus, the benefit is inequitable."
The factfinder panel proposed a "more gradual" process to reach the $500 cap, but the city rejected those findings.  The employee groups who already agreed to both contracts have already severely ramped down their contributions.
This is a critical reason why there should not be heartbreak by council.  First, DCEA benefited (except for the nine employees laid off by holding out).  Second, the other bargaining units took the same deal that was imposed on DCEA.  Third, DCEA employees should have been prepared for these cuts and started taking steps to save money and cut back on their voluntary expenses.
The bottom line is yes, it is hard to cut salaries and yes it is hard for the employees who salaries are cut, but across the state everyone has had to do it.  DCEA, in a way, gamed the system.  In fact, because of the city's screw up, they lived for some time on the pre-2009 MOU.  They benefited with higher pay and benefits for four years.
We should be praising the employees who played by the rules, not lamenting having to impose a contract on those who refused to play by the rules and benefited from their unwillingness to bargain.
—David M. Greenwald reporting