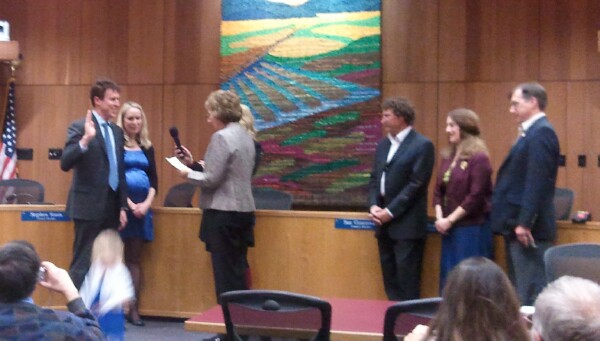 While many believe that Davis Mayor Pro Tem Dan Wolk is the frontrunner for the 2014 open Assembly Seat currently held by Mariko Yamada, the Wolk campaign has to thread a rather perilous needle.
On the one hand, they want to avoid the linkage between Dan Wolk and his mother, the current State Senator Lois Wolk.  But on the other hand, they need to be able to take advantage of her reputation, experience and network in order to bring in endorsements, money and ultimately votes.
Running too close to Senator Wolk could feed into the perception of nepotism or the belief held by some that Dan Wolk has a thin resume on his own.  Yes, he has a law degree from Bolt Hall and works for the Solano County Counsel's office, but he is in his mid-30s and has only held elected office since 2011; only since 2012, a mere 18 months at this point, has he been elected in his own right.
Since before Dan Wolk even took office, he has always claimed to be more liberal than his mother and has differentiated himself perhaps most notably on the plastic bag ordinance, which his mother has consistently opposed statewide, and fluoridation.
But what happened last week pushes Dan Wolk's independence to a different level.
In October, despite strong pressure from the firefighters' union – which Mr. Wolk had previously bucked as the swing vote in a June 2011 vote that cut $2 million in personnel compensation, but had backed on the losing side of a 3-2 on staff cuts – Mayor Pro Tem Wolk joined three of his colleagues on a 4-1 vote to support the JPA for joint management of fire services between UC Davis and the City of Davis.
At the time, he said, "I think sharing management services does make sense.  It's not a foreign concept to this council and there's a real synergy to be achieved here."
Last week, as the Vanguard reported, Senator Lois Wolk, along with three other current elected officials and former Supervisor Helen Thomson, wrote a letter to the Davis City Council opposing the agreement.
The letter argues, "We believe that governance of public safety is and must remain a core function of the elected City Council of Davis. Community oversight and accountability is an important element of municipal services."
They write, "We urge the Davis City Council to take another look at the serious long-range consequences of this proposal before contracting out any of these core municipal functions. There is a key difference between sharing or coordinating services and merging governance with the constitutionally separate and unelected Regents and Chancellor."
"This proposed action would place a well-established and effective municipal service within an entity whose primary mission is higher education and research, not public safety," the letter continues. "This could easily result in a lessening of service and response for the residents of the Davis community and the surrounding areas historically served by the Davis Fire Department. We deeply appreciate the presence of the UC Davis campus and respect the leadership of the campus. Unified operations and efficiencies are appropriate considerations, but should not come with loss of community accountability."
The decision by Senator Wolk to sign this letter is curious at best.  From a political standpoint, she publicly opposes a vote taken by her son.  At a time when Dan Wolk is in a real fight to win the assembly race, this could not have been a welcomed occurrence by his campaign staff.
Dan Wolk is now put into the position of either bucking his mother and spurning the firefighters' union, or appearing to cave to pressure from not only his mother, but five public officials – four of whom endorsed Mr. Wolk, as well as caving to the pressure of the firefighters' union.
From a political standpoint, then, this move makes no sense.
Some have suggested that perhaps, from a policy perspective, it makes more sense.
But let us look at that.  If Senator Wolk were really that concerned with the JPA, wouldn't her first move have been to meet with City Manager Steve Pinkerton as well as UC Vice Chancellor John Meyer – who, by the way, served as city manager during part of the senior Wolk's term on the council?
Would it not have served better for her to meet with her son in private, as well as with other members of the council, to allay her concerns?
Choosing a very public route seems tantamount to either political pressure or political grandstanding.
Given the dynamics on council, Senator Wolk – from both a political and policy perspective – might have been better off staying out of the fray altogether.  Four members of the council supported the JPA, but Ms. Wolk's influence on the other three of those four would appear minimal at best.
Rochelle Swanson and Brett Lee, as registered independents, have few ties to Senator Wolk and are unlikely to be moved.   Mayor Joe Krovoza, of course, is squaring off against Dan Wolk and others for the assembly seat.
Moreover, Mayor Krovoza and Councilmembers Swanson and Lee have fought for reforms all the way through.  It was Mayor Krovoza and Rochelle Swanson who formed the 3-2 majority in June 2011 that Dan Wolk joined to set the city's fiscal reforms in motion.
It was Mayor Krovoza and Councilmembers Swanson and Lee who consistently backed reforms from boundary drop, which Dan Wolk supported, to fire staffing cuts, which Dan Wolk opposed.
Finally, the letter by Senator Wolk forces Dan Wolk into a corner.  There is now no way for him to oppose the JPA without looking like he buckled under pressure from his mother and three other key campaign supporters.
The whole thing seems odd.  Dan Wolk can get a small win here by sticking to his guns, and therefore giving the appearance of separation from his mother, but to do so means he publicly has to buck the unions.
Talk about forcing Mr. Wolk into a tough position.
—David M. Greenwald reporting