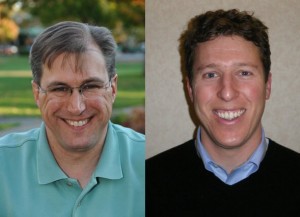 Back in October, a group of bipartisan California mayors – including San Jose Mayor Chuck Reed (D), San Bernardino Mayor Pat Morris (D), Santa Ana Mayor Miguel Pulido (D), Anaheim Mayor Tom Tait (R) and Pacific Grove Mayor Bill Kampe (D) – filed a statewide ballot initiative to provide state and local governments with the tools needed to fix California's unsustainable public employee retirement plans.
Last week, a group of mayors, county supervisors, city council members and other elected officials from throughout California, including Davis Mayor Joe Krovoza and Mayor Pro Tem Dan Wolk, "urged San Jose Mayor Chuck Reed to end his effort to put a measure on the November 2014 ballot that would slash retirement security for millions of California's teachers, firefighters, police officers, school employees and other public workers."
Nearly 20 mayors and vice-mayors signed the letter, including: Pete Aguilar (D-Redlands); Rusty Bailey (No Preference-Riverside); Connie Boardman (R-Huntington Beach); Aja Brown (D-Compton); Gary Davis (D-Elk Grove); Marie Gilmore (D-Alameda); Steve Hardy (D-Vacaville); Joe Krovoza (D-Davis); David Lim (D-San Mateo); Evan Low (D-Campbell); Gayle McLaughlin (D-Richmond); Andre Quintero (D-El Monte); Gina Papan (D-Millbrae); Jean Quan (D-Oakland); Jason Scott (R-Corona); Tony Spitaleri (D-Sunnyvale); Jim Wood (R-Oceanside); Vice Mayor Jim Wood (D-Healdsburg); and Vice Mayor Gilbert Wong (D-Cupertino). Collectively, the bipartisan list represents nearly three million Californians.
"Like most Californians, we believe pension matters are best decided locally at the bargaining table rather than the ballot box," wrote the mayors. "Our cities have been successful in doing just that – as have the overwhelming majority of those in California."
According to CalPERS (California Public Employees' Retirement System), more than 386 jurisdictions have negotiated more than 538 changes to pension benefits, producing hundreds of millions in savings through higher employee contribution levels, reduced employer costs and reduced benefits.
"We believe that engaging our public servants in constructive dialogue rather than political battles is a more effective way of achieving balancing budgets," wrote the elected leaders.
"We also are extremely concerned about several specific provisions of your measure that will likely increase costs to California's cities by hundreds of millions of dollars. We believe those dollars are better spent on local services and attracting and retaining quality public employees, providing services to our city than in reducing their retirement security.
"Last year, Governor Brown and the Legislature enacted sweeping pension measures that will save our communities and the state nearly $100 billion. Combined with the actions we are taking in our communities, we believe this will address the concerns about retirement benefits that your measure proposes to address. As a result, we urge you to withdraw your measure and engage with us in constructive dialogue with public employees to address the pension challenges facing our communities."
Other officials signing include: San Francisco County Board of Supervisors President David Chiu and Sonoma County Supervisor Mike McGuire; City Council members Erin Carlstrom (D-Santa Rosa), Victor Gordo (D-Pasadena), Mark Johannasen (D-West Sacramento), Kevin McCarty (D-Sacramento), and Dan Wolk (D-Davis).
The release also noted that Mayor Miguel Pulido (D-Santa Ana), one of the five mayors listed of a proponent of Mayor Reed's measure when it was submitted, also has withdrawn his support.
"The Pension Reform Act of 2014 would amend the California Constitution to give government agencies clear authority to negotiate changes to existing employees' pension or retiree healthcare benefits on a strictly going-forward basis," a release stated in October. "The measure explicitly protects retirement benefits government employees have already earned, while allowing benefits to be modified for future years of service."
"Many of California's public employee retirement plans are simply unsustainable and it's in everyone's interest to provide the tools to fix the problem now before even tougher actions are necessary," said Mayor Chuck Reed of San Jose, who is heading up the initiative. "During tough economic times, we believe employees would much rather adjust their future expectations than risk seeing their accrued benefits slashed in bankruptcy. We've already seen that tragic situation play out in cities like Stockton and Central Falls, RI. Our teachers, police officers, firefighters and other dedicated public servants deserve to know that the pensions they've earned will be there when they need it – not just the day they retire, but also when they're 85 or 90."
Union leaders were quick to blast the proposal, attacking Mayor Reed as "a self-aggrandizing political lifer" and "puppet of Wall Street interests."
Dave Low, Chairman of Californians for Retirement Security, responded, "This extreme proposal, advanced by a career politician and funded by a former Texas-based Enron trader, breaks the promise of a secure retirement made to millions of Californians, many of whom are ineligible for Social Security and have an average pension of $26,000 per year. It will allow public employers to unilaterally cut the retirement benefits promised to current teachers, firefighters, police officers and school bus drivers — a promise upheld by the Supreme Court that politicians and hedge fund managers want to change to allow employers to reneg on it."
He warned, "If it is put on the ballot, it will energize the same coalition that defeated Proposition 32 by a record margin in 2014. Californians have constantly shown their distaste for measures put on the ballot by Texas interests and secret out-of-state contributors, and we expect this flawed proposal to be no different."
But a large group of Democrats, emanating from cities across the state, have come to recognize that the public employee pension system is putting a huge strain on city coffers.
"In Pacific Grove, pension costs have crowded out library hours, overdue street and infrastructure maintenance, and other important services," said Mayor Bill Kampe of Pacific Grove, a Democrat. "This initiative states a simple and fair principle for a retirement benefit: you've earned it when you've done the work. If you haven't done the work, it's still negotiable. It's the right thing for the people, for the city, and ultimately for the employee's retirement security. We need to fix a very broken system."
The Pension Reform Act of 2014 also includes provisions to:
• Prevent the State of California, pension plan administrators, and other government boards from interfering with elected leaders' or voters' ability to amend their public employee retirement benefits for employees' future years of service.
• Protect existing collective bargaining agreements by requiring government employers to wait until current labor contracts expire before negotiating changes to retirement benefits.
• Require any government agency with a pension plan that is less than 80% funded to prepare and publish a public report outlining how it can achieve full funding in 15 years.
Cities like Davis have been forced to slash employees and seek two-tiered approaches, which will be very slow to recognize cost savings as we move forward.
The California public pension system is underfunded by billions of dollars and those dollars will come from future general fund budgets for communities like Davis.
—David M. Greenwald reporting