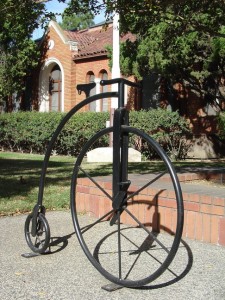 The recent votes on the shared fire management and imposing the last, best and final offer will wrap up a year unlike any other in recent Davis history. Over the last 13 months from December 2012 to December 2013, the city of Davis will have taken tremendous steps forward to shore up its fiscal house.
By December 1, 2012, Davis had five of its seven bargaining units taking important concessions on pay, pensions, retiree medical, and cafeteria cash outs – concessions that will prevent future losses in jobs and cuts to services.
However, two groups held out. In November of 2013, the Davis City Council imposed the last, best and final offer on DCEA (Davis City Employees Association). A few weeks later, a unanimous imposition of contract occurred with the professional firefighters' union, as well.
It has been a tumultuous year with regard to fire. The city manager commissioned former interim fire chief Scott Kenley to conduct an audit and to look into making critical changes including boundary drop, fire staffing cuts, and shared management with UC Davis.
For much of the last 15 years, the firefighters' union has been problematic for a sustainable city budget. They used their political power from 2002 until 2010 to garner council majorities that preserved 3% at 50 pensions, four on a fire engine, and secured them a 36 percent pay increase in 2004.
But tough economic times meant that the city would have to make cuts, and, unlike other bargaining units, fire has refused to cooperate.
Despite the success in 2013 in getting the city's fiscal house in order, the city remains vulnerable. Budget projections show that long-postponed improvements in roads and water infrastructure, combined with increased pension costs, will once again push the city deeply into the red within the next five budgets.
Moreover, the council majority that has pushed through these reforms, often in the face of serious push back from the unions, citizens and other elected officials, is fragile at best.
In June 2011, newly-appointed Councilmember Dan Wolk joined with Mayor Joe Krovoza and then-Mayor Pro Tem Rochelle Swanson to push for $2 million of compensation cuts to be transferred into roads and retiree benefits.
However, Dan Wolk, who is now running for State Assembly, has proven to be an unreliable partner on fiscal reforms. He voted against fire staffing cuts, and then, after supporting the shared management back in October, under pressure from the union and perhaps even his mother, Senator Lois Wolk, Dan Wolk reversed course last week.
If reports are to be believed, Mr. Wolk, along with Councilmember Lucas Frerichs, pushed for the ouster of City Manager Steve Pinkerton, but did not have a third vote to succeed.
The election scenario leaves considerable doubt about the future. Dan Wolk and Joe Krovoza are running for State Assembly. In order to do so, Joe Krovoza, a reliable supporter of reform, will have to leave the council.
Right now Rochelle Swanson, who has also been a reliable supporter of reform, will run for re-election. Robb Davis has announced he will run for council, and he too appears to be a supporter of reform, but another potential opponent, Sheila Allen, who has spent nearly a decade on the school board, is backed heavily by individuals opposing reform.
A one-vote swing could mean the end of reform, a reversal of key planks of reform, and the possible ouster of City Manager Pinkerton, despite his nine-month severance clause which is now in effect.
While the battle has been won, the next battle might be most crucial – the decision by the voters whether to stay the course on reform or whether to go in a new direction.
—David M. Greenwald reporting