An editorial in the local paper today laments the lack of applicants interested in three open positions for police officers in Davis.  Notes the paper, "The police had expected 25 to 30 applicants for the three openings at their agility testing last Saturday, but only 11 people showed up. And that number was expected to dwindle by the time the written test was administered later that day."
That pales in comparison to what happened at the much criticized open recruiting for the Firefighter I position in December, where over 300 individuals lined up in the freezing cold, some of them for multiple days, to become one of 125 applicants to get a written test following the acceptance of their application.
City and law enforcement officials are concerned about the potential for a rising number of crimes.
Notes the editorial, "Davis needs smart, enthusiastic and fit young police officers just as much as it needs the same in its applicants for firefighter positions. But our city's contracts for those two public safety jobs are way out of whack — with the firefighters having negotiated a much sweeter deal than the police officers over the past decade or so."
Back in May of 2009, the Vanguard wrote an article entitled Why Do Firefighters Make Substantially More Than Police Officers in Davis?.
As we reported back in March 2013, that discrepancy persists.  According to city records, a firefighter in the city of Davis makes $7,748.10 per month in salary, while the police officer makes $6,752.37 per month in salary.
The gap emerged a decade ago, as the editorial references.  In 2005, the firefighters signed a four-year agreement that would give them a whopping 36% salary increase.  That does not include overtime, pensions, health insurance or any benefits; that is a straight salary increase, including a 10% salary increase in 2005.
The police, on the other hand, got a much more modest 18% pay increase including a 6% pay increase in 2006 to 2007.
The problem that the city now faces is that its compensation for firefighters is near the top in comparable communities, while their police counterparts received less than both average and median income and total compensation.  Only Sacramento and West Sacramento police received less among cities.
In an analysis the Vanguard did last April, we saw that, on the fire side, the typical firefighter makes $7044 per month in salary and $9536 in total compensation.  That is about $300 more than the mean and nearly $400 more than the median of the other departments.  It is total compensation that really pushes the city's firefighters over the top, by nearly $700 more than the mean and nearly $800 more than the median.
While Davis is 5.1% above mean on salary, they are 7.4% above mean on total compensation and 9% above median.
On the other hand, the comparison shows that fire within the city of Davis makes over $1000 more per month in total compensation than their police counterparts.  The city of Davis is 1.2% below median on salary for police officers, but 5.7% below total compensation for police officers.
The city of Davis is third highest for firefighters' salary and second highest for total compensation, just behind Fairfield and Vacaville.  However, on the police side, Davis is near the bottom on total compensation but above the median on salary.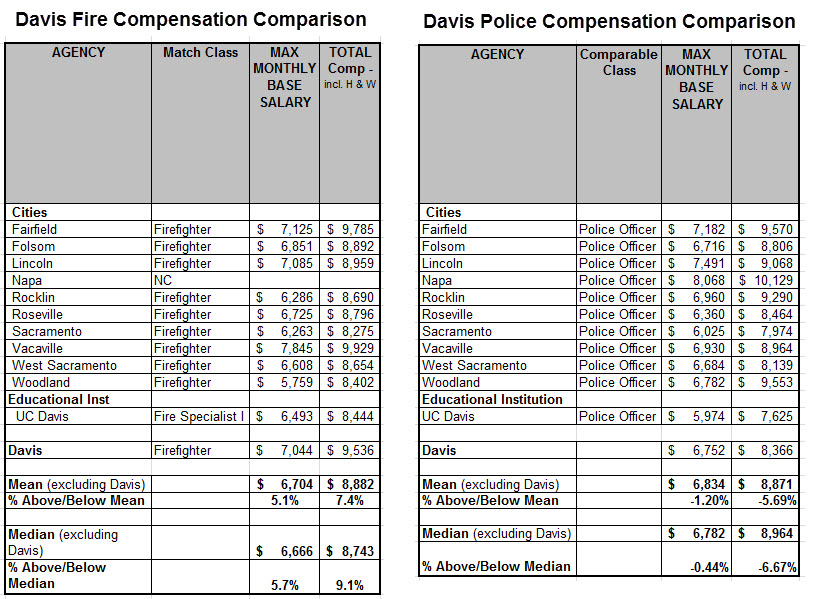 Here is another illustration that shows where Davis is in comparison to other communities.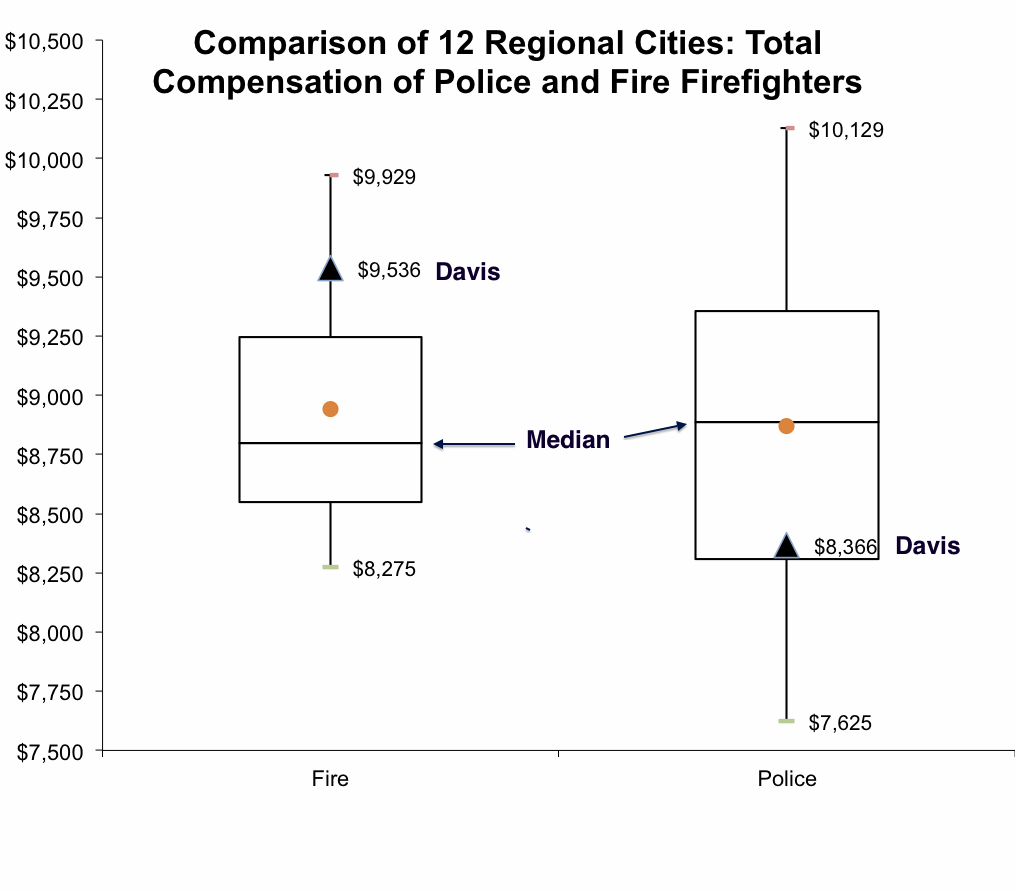 What we are learning is that there are policy implications for both policies.  On the fire side, the city has been able to attract enough applicants; in fact, so many applicants that it would appear that the city could reduce its total compensation and still end up with dozens of qualified applicants.
Certainly, UC Davis has no problem attracting qualified firefighters at more than $20,000 less per year and $47,000 less for management employees.
However, that discrepancy led to the dissolution of the fire merger in 2012.  The city narrowly agreed on a more modest shared management agreement in December.
When asked why he was not recommending a full merger, UC Davis Vice Chancellor John Meyer noted, "The culture of the rank and file firefighters is not rife for a full merger at this time. I don't think you could get both labor groups to agree."
"It would be a huge financial burden on the university to do a full merger at this point," he said.
John Meyer added, "I don't disagree by any means that that would be a best outcome. But I don't think it can happen in one step. Without some of these interim steps, I don't think the trust is built."
In January of 2012, John Meyer "paused" the fire merger process, citing what he called a "significant compensation disparity" as a culprit.
"I am deeply concerned about the significant compensation disparity highlighted in the Citygate report," he writes.  "The report suggests that UC Davis will increase its compensation in support of consolidation efforts. I believe such action would not be sustainable by UC Davis and should not be assumed in future planning."
Now we see the other side of the coin.  Certainly, total compensation is not the only factor in the scarcity of applicants for police positions, but if you were a prospective police officer, why take on a challenging community like Davis, when the pay is not as good as surrounding communities?
—David M. Greenwald reporting