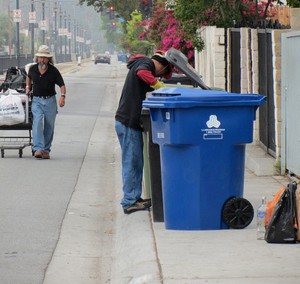 It was a great staff report last night by City Staffer Dianna Jensen on the issue of scavenging.  She brilliantly laid out the increasing concerns about organized scavenging operations brought about by increases in the value of recyclable materials and the economic downturn.
The number of complaints she cited was about 200 a year – a substantial and real number.  The cost to the city and the cost to Davis Waste Removal is tremendous in lost revenue to DWR and increased costs to city residents.
In the end, when the council voted unanimously to approve the staff recommendation and move the ordinance for a second reading, I felt that council had missed the mark.
I do not want to diminish legitimate concerns here.  It is a legitimate concern that there are people on trucks going through in an organized fashion and stealing recyclables.  That these individuals who have been caught apparently, according to the staff report, have criminal records that include identity theft – this is a very serious problem.
But, something does not make sense here.  Police Chief Landy Black indicated that this would give his officers an additional tool to help resolve the problem.  Currently there are misdemeanor charges for stealing from the trash and this ordinance would basically make it like a parking citation (an expensive parking citation).
But here is my problem – if your concern is a big time criminal enterprise, why are you attempting to deal with it through essentially parking ticket level enforcement?  If you are raking in real money, what is a $100 fine, or even a $500?
My problem here is that the entire discussion last night focused on the notion of "organized crime" without evidence of such crime, and with a remedy that would not seem to deter it.  If you can get tens of thousands in recyclables, how is the potential of a $500 fine, if someone calls the police and you get caught, going to deter that?
Moreover, most people I see scavenging are small-time homeless people, who are the ones I fear getting caught up in the system.
It is all fine and well that the city leaders last night were ASSURED that the target was the organized groups on flatbed trucks, but there is nothing in the language of the ordinance that makes it so.
I go into court, I see who generally gets caught up in the system with these kinds of laws.  If there is an organized or enterprising effort, the people caught are still going to be the low-level people who likely will not be able to afford the fine rather than the people who are organizing them and raking in huge amounts of money.
There was little acknowledgement last night by our leadership that this might have unintended consequences, that people who get caught in the net here might not be the people that they intend to catch.
I was disturbed that no one asked to bring in homeless advocates or people involved in social services.  I mean no disrespect to Ms. Jensen, who is a tremendous city staffer, but she is an engineer, not a social worker.  She did a great job of analyzing the problem from the perspective of the city and the DWR contract, but not a great job of analyzing the human cost.
I get back to the point I made on Monday – criminalizing poverty is not going to solve these problems.  And even an organized crime view of this problem still has at its root the 2008 economic downturn and the unavailability of other means of employment.
The people who scavenge to survive are the poor, the addicted, those living on the edge of society and probably the edge of their mental health.
I am not advocating that this is a good thing for the poor to do.  I am not suggesting that we do not attempt to find other means to help people.  But fining poor people for being poor is not going to bear fruit.
In my time covering the courts, one of the biggest rising crime categories is the stealing of recyclable material or scrap metal.  Some of this is fueled by the need for people to support their drug habits.  But some of it is fueled by the economy, the lack of jobs and other avenues for getting small amounts of money for food or non-food items.
An old newspaper clipping from the Associated Press tells of a story from Madison, Wisconsin, where "an impoverished refugee woman's arrest for scavenging through garbage cans in search of recyclable items has angered advocates for the poor and raised questions about who has the right to turn trash into cash."
The article quotes the director of a Green Bay homeless shelter who argued, "The right to eat… takes precedence over the city's right.  I don't see why the city has to pit itself against the poor…  This is a way for them to eke out a living without panhandling."
My biggest disappointment is that lipservice was given by five members of council who I respect on such matters, and it was dismissed.  There seems to be no conception on council that assurances made by the city and police are not binding.  That there can be mission-slip.
There were not enough questions asked and there were not any people in the room who work with homeless in the community; they were not consulted.  We heard from the city's principle engineer who viewed this as an impact on the DWR contract, and the police chief, who sees this as a law enforcement officer, but no one from social services, the faith or the homeless community.
I am just concerned that this ends up being another ordinance that criminalizes being homeless and that this will not do much to solve the real problem.
—David M. Greenwald reporting