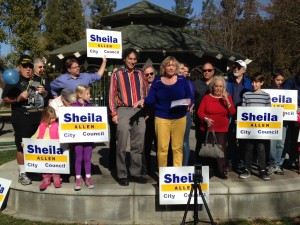 Two-time school board member Sheila Allen announced her run for city council on Saturday at the Davis Farmer's Market, surrounded by supporters (see video below).  "I am very pleased to announce that I will be seeking a seat on the Davis City Council this June. I love Davis and would like to work together with you to reach a vision of Davis as a caring and livable community," she said in her release.
During her brief campaign speech, she announced the support of Senator Lois Wolk, Supervisors Don Saylor and Jim Provenza, Former Supervisor Helen Thomson, Councilmembers Lucas Frerichs and Dan Wolk, and her colleagues on the school board, Gina Daleiden and Susan Lovenburg.
"I am running because I would like to bring to the council over 8 years of public service experience on the Davis School Board," she said in her release. "I also served for 10 years as a First Five Commissioner and as chair of the Yolo County Health Council. I am a public health nurse with experience as a visiting nurse, a professor, a public health administrator and I am currently the Executive Director of the non‐profit, Yolo Healthy Aging Alliance."
"I bring local experience, understanding and caring across the arc of life to all of my service," she continued.  "In order to meet our city's program and service goals our fiscal health needs careful attention. This includes both sides of the equation: spending and revenues. I am proud of our work as school board trustees."
"During my time on the board we weathered some difficult financial times while mindfully preserving valued programs by all working together toward our common goals and including the board, the staff and importantly the community," she added.
Sheila Allen sat down with the Vanguard for an interview on Friday morning prior to her Saturday announcement.
"I feel like I have experience to bring to the city, and that the school district went through some difficult financial times.  I had an opportunity to work with the community and the staff to help us through that so I will bring that experience to the city council," she told the Vanguard.  She said that she really enjoys the public service aspect of the elected office.
If Sheila Allen prevails in June, her seat on the school board, which she was first elected to in 2005, is not up until November.  That would leave about a six-month gap until the new members are seated in January and state law requires an appointment for all vacancies that extend past three months, which means someone would have to be appointed until the November election results are certified.
Sheila Allen listed three themes that are her main campaign planks – the fiscal health of the city, water conservation, and community engagement.
"I would like to look at it and approach it from both sides of the equation," she explained.  "From an expenditure view… I will look carefully at our budget."
She said that she has read the city budget from front to back so that she could fully understand it.
"There are some really important programs and services – I personally and I would like our citizens to know what it is that our city does for them," she said.  She said that she knows that there are concerns with unfunded liabilities and she is "getting a better handle on that."
She spoke about her experience on the school board with negotiations with unions, explaining that both sides have to have a "clear understanding as to what our goals are."
"From the revenue side of things, it is my understanding that there will likely be a proposal brought before the voters on a sales tax," she said.  "That is one way to bring some revenue that spreads the responsibility across the whole city.  I would support a sales tax increase."
She had just learned about the possibility of a parcel tax.  She joked that from her time on the board, she had a lot of experience with parcel tax and added, "I did think when they had the parcel tax that was related to the parks that it was not a sufficient one for what the needs are."
"Davis is a city that likes to allow the voters an opportunity to weigh in, so this would be a place where – before cuts are made and we say we just can't afford this – before we cut and lose services – to give the opportunity to the voters to say here is the gap, here is what's needed, we won't ask for more than that and we probably won't even ask for the whole amount… then let the voters decide," she said.
Sheila Allen also talked about business expansion.  "I'm really interested in the innovation park," she said.  "Particularly related to working in collaboration with the university.  I think we can do more to work with our friendly neighbor across Russell."
She talked about the need for homegrown industries, both in high tech and bio medical.  "I think those are growing areas and we would bring up that area of the equation," she said, noting that there are two possible locations for an innovation park.  Noting that it would go to the voters, she said, "I would support that because I would like the revenue to come into the city.  We need to have more community conversation about which would be the better location for the city."
She would also support mitigation measures to prevent further sprawl in conjunction with any peripheral business park development.  "I'm not interested in either jumping or sprawling farther that direction, but since there's already the infrastructure, from a city cost standpoint we already have the exchange there and it's right next to the highway."
"We have a drought, it's officially declared, I think we need to have that community conversation about that, we've been spending a lot of time talking about a long term water project which I agree with, we need to have," she said.  "For the shorter term, while we have the drought, we haven't really had any conversation about conservation and about reusing water, recycling water, gray water issues."
"I'd like us to have that conversation because water is a precious resource," she said, adding that she doesn't want to see "the browning of Davis."
Her third plank is "Engaging the community and having an inclusive and civil discourse."  "I think that the elected leaders can really show a great deal of leadership in that area and so we will lead by example," she said, wanting to do that with all levels of government and cooperation between all levels.
The Vanguard asked Ms. Allen to explain her land use philosophy for Davis.
As she explained, "I don't want to see us become a sprawling metropolitan community."  In addition to not favoring sprawl, she is "not a fan of (peripheral retail)."  "We need to have our agricultural-urban buffer, and I would be fine with us doing a general plan update and looking at the land use, about really making a good solid line around Davis with the buffer, but allowing for required growth in the future."
She said she supported the Cannery development, however, she had opposed, in the past, both Covell Village and Target.  She felt that the location for Target was not ideal and she has concerns about traffic along Second Street.  She would have favored a Target along highway 113.
On Nishi, she said, "I'm not a fan of putting housing there, because I do not want to have a repeat of the housing problem we have along Olive Drive in that it's a little island and they cannot have access to the world safely because of the railroad tracks and the highway."
She believes Nishi is a better location for businesses rather than housing.  She sees it as potentially a smaller version of a research park.
Sheila Allen is very interested in pursuing a sports park, but does not believe that the current proposed location at Howatt Ranch is appropriate.  "I don't want to see us leapfrog over empty space because that just calls to be in filled in," she said.
Originally, she thought about having it near Shriner's, right up against Wildhorse, but now she believes a good location would be at the old Davis Dump just south of the solar panels along F Street.
Sheila Allen said, with regard to infill and densification, "the general theory is yes, do the infill.  But it's always interesting that once you start infilling," neighbors come out in opposition to infilling in their 'backyard.'  "Careful infill projects are great," she cited the three-story townhouses along Fourth Street between C and D at the old Pena house as an example of a good infill project.
She spoke of the need for universally designed housing that is downtown for the senior population.
She also spoke of the need to work with neighbors and talked about the second iteration of planning for Grande, which is surplus property owned by the school district.  After initial clashes, they worked with the neighbors and got agreement from the neighbors on a property that they still hold due to the housing crisis, but have gotten entitled by the city.
We moved on to talking about the Davis Downtown.  She said that while people have questions and problems with parking, "I think it's awesome that when I come here that it's so busy that I have a hard time finding a place to park."
She noted other communities that have seen their downtowns decline and Davis has a very vibrant downtown.    Ms. Allen did acknowledge the need to deal with the parking issue and was generally supportive of the parking task force's seventeen recommendations.
"I don't know everything about the paid parking issue," she said.  "I personally don't mind having some paid parking that gives people the option if they don't mind paying and they want to zip in and out."  She also sees it as a potential revenue source and that all but one of the business people she had spoken with believe paid parking would be fine.
She supports the identification of a location for a new parking garage but did not like the E and F street location of the previous proposal.
We moved back to a discussion of the budget and the city's current fiscal crisis.
Sheila Allen stated that she was "interested in looking at both sides of the coin," and "I don't think we can cut our way out of that, so there has to be some revenue enhancements along with it."  She added, "We need to look at what we're spending our money on and what are our priorities."
"I know that there are questions around the benefit packages for at least some units, if not all of them," she said, acknowledging she needs to look more into this issue.
The Vanguard asked how she proposed balancing the budget in the next year.  "I understand that we can't spend more than we take in, but like any large budget, there are ways to do short term adjustments so that you don't go into… we're not broke," she said.
"If there's really severe difficulties, we need to do things like we did in the school district, and make sure we're providing our core services, but not do some of the other things that you would do preventatively," Sheila Allen continued.  "For instance there was the proposal  to spend millions on roads over the next couple of years, and if it's a question between us going broke and closing the city down and doing the preventative maintenance on roads…"
She acknowledged it was "always better to try to spend a dollar now than seven dollars tomorrow, but if we actually aren't going to make it from one year to another, those are the kinds of things that we're going to have to look at."
When pressed on the issue of roads, "I understand he proposed the whole 'enchilada,' here's what needs to be done for all of our roads, but maybe we can't do all that between this year and next year."
The Vanguard asked Sheila Allen if she would agree to support limitations on an employee compensation group in exchange for support on the revenue measure.
"I do know that (revenue from a sales tax) can't be  earmarked but it has to go into general fund, I also know that a decision made today with a certain collection of five souls, will be different even if you change one person down the road, so it's difficult to put into a measure saying it will go into something or it won't go into something," she responded.
"As you go into the out-years, you don't know what the economy is going to do," she continued.  "From a voter perspective, voters always like the idea of specificity in tax measures.  From an elected official perspective it's easier to govern when you have the greatest amount of flexibility as possibility.  There has to be a place in the middle where we have to be."
She added that the current need needs to be address but "I'm not going to make a campaign statement that if you increase this tax every penny of it will go towards services, but no penny will go to the employees."
We then turned our intention to the issue of the firefighters and the fire department.  The Vanguard asked Sheila Allen her position on boundary drop, fire staffing cuts, and shared management services.
She clarified that since she is not on the council, she can only come about this from the perspective of an interested citizen.
"Boundary drop I think is a great idea, we are basically two jurisdictions that are basically hugged right next to each other, so working as seamlessly and cooperatively as possible, it just plain makes sense," she said.
"The change in staffing," she said, "from where I sit today, I have concerns about the decrease from 4 to 3 at a station for the amount of savings that it revealed.  It is my understanding… that it is a safety standard that you need to have four in a location before you go into a burning building, understanding that burning buildings don't happen every day, but if you go back to the issue of prevention and about why we have the primary role of the firefighters… but what we're hoping for is that if there is a fire they will be able to safely and quickly prevent any further damage to property."
"I think I would have kept it at four," she stated.  "I don't think that the cost savings really is sufficient enough to have us not have them do their jobs."
She said it does not make sense to her to have three firefighters stand and wait for someone else to come.
"Shared management," she said.  "Well I have some concerns."
"I again, back to the cooperation, I think they need to work together as carefully and as seamlessly as possible," Ms. Allen said.  "But I have concerns about giving up the city's control and not being directly over the whole fire department."
"They are not a city jurisdiction," she said.  "And one of the primary core functions of the city is safety."
She acknowledged that the University is responsible for making sure that "the people over there are safe" but "I think that's the city's responsibility and I feel like we are letting them be in charge."  She acknowledged there would be an MOU and a contract, but stated, "I just have a concern that the fire department should be under the city's jurisdiction not under the UC's."
In terms of campaign financing she stated, "I will not be actively seeking out bundled or organized financing from any group, but I don't have a problem with receiving funds from one individual."
She stated, "My influence cannot be purchased."
She did say she would not have the firefighters deliver fliers or actively campaign on her behalf, but she said, that she is not decided on whether she would take their endorsement.  "I don't know, I haven't decided," she said when asked by the Vanguard.
There are two seats up for election in June.  Joe Krovoza has decided to not seek reelection and is seeking the Assembly seat instead.  Rochelle Swanson announced her reelection bid on January 11.  Robb Davis and Daniel Parrella have also announced their bids.
The Vanguard has scheduled interviews with the other three candidates in the next few weeks.
—David M. Greenwald reporting
Video of Sheila Allen's announcement: