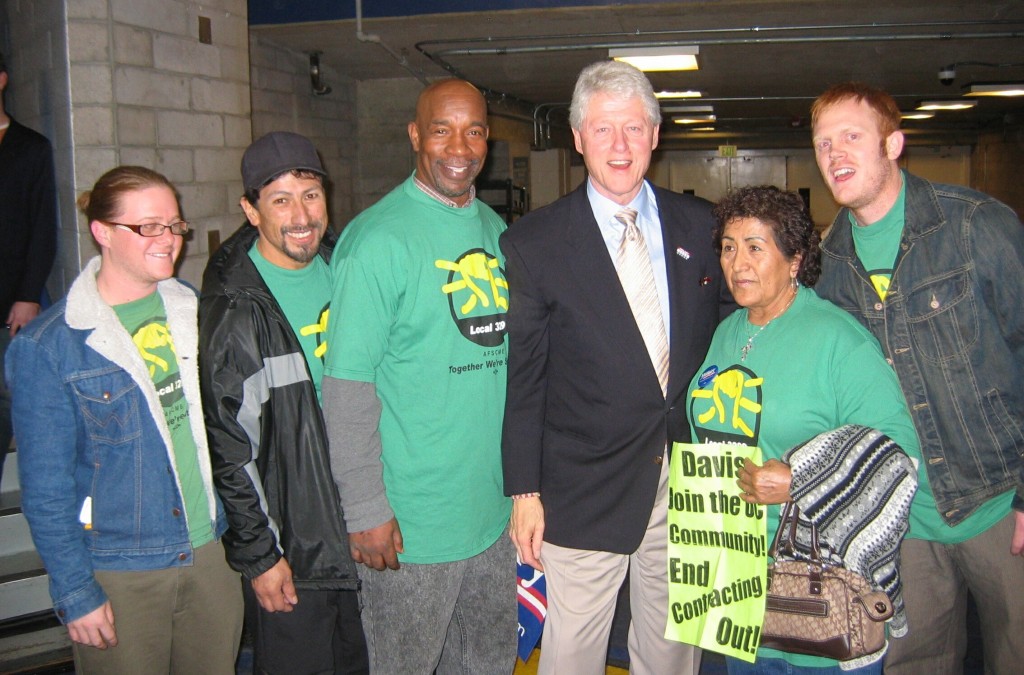 Someone this week asked how I kept my sanity writing on the Vanguard every day and my short answer was playing with my children quickly grounds me in reality, but, at the same time, one of the biggest job requirements for this job is to have really thick skin.
If you care about each barb and criticism thrown out by the readers, you are not fit to be writing in the public on a forum where the readers can respond.  Still, I was taken aback and then bemused by a comment from a regular poster who accused me of "pretending to be something you are not, a liberal."
The genesis of the discussion was a piece I wrote this week that the budget crisis in the city is worse that we feared.  I got accused of wanting to "balance the budget with pay cuts and outsourcing."
In actuality, what I wrote is that "in the short term the city will put a tax revenue measure on the ballot. In the longer term, the city is looking at economic development strategies to increase the tax base. But by the time that kicks in the city may be in far more hurt than we have ever anticipated."
For that I got accused of being "on the edge of right wing Neverland."
What became clear is that his view of what a liberal meant was very narrowly focused as "an unabashed champion of the labor movement."  By that Mr. Toad apparently means that being an unabashed champion of the labor movement means never having a wage, pension or benefit increase that you oppose.
I have a different view of the world.  I once read an article about Ron Dellums and why he decided to become chair of the armed services committee. He did it because he wanted to free up money for the types of social spending programs that he championed.
Ron Dellums, as Chair of the House Armed Services Committee, became an expert on the budget for military weapons, so respected during his prime that even people who disagreed with him acknowledged his expertise.
That left an impression on me that we if want money for schools and social services, then we need to be budget hawks on the left, and we cannot allow public monies to be sunk into enriching already well-paid public employees.
The biggest failure of Mr. Toad is that he fails to differentiate between support of the labor movement and supporting groups which are largely manipulating the policies meant to benefit the average worker, not to serve the community, but to enhance their own bottom line.
At the local level we see this most clearly with the firefighters' union who make, as an entry level, total compensation of $175,000 annually and that is before overtime.  At the state level, we see that with the prison guards.
Moreover, with these large amounts of compensation comes corruption, and a good deal of focus that we have had is not on the firefighters, not even on the rank and file in their union, but rather on the corrupt activities of their union boss.
I am a strong supporter of defined benefits pensions.  I believe that most public employees, especially those at the state level, took jobs with the belief and understanding that they would be taken care of at retirement.  However, six figure pensions threaten to undermine the defined benefit system.
It undermines the system to provide public safety employees 3% of their final pay at an age of retirement of 50.  One of the most pervasive myths in the debate over pension for public employees has been the justification for receiving the enhanced safety benefits.
In actuality, public safety employees and miscellaneous workers, according to a 2009 report by CalPERS, actually have the same life expectancy.
It undermines the labor movement to increase pension formulas without funding them.  It undermines the labor movement to create unfunded liabilities by failing to properly fund retiree health care plans.
I also remain a strong supporter of unions.  Historically, without unions we would not have the forty-hour work week, the eight-hour day, child labor laws, workplace protection laws, and all sort of other protections that we take for granted today.
The history of the labor movement shows us that those things were not given to the workers.  They have to fight for them – literally.  Even one hundred years ago, a strike was met with armed militias and strike breakers, and there were frequent clashes and violence.
Being pro-union and pro-labor movement does not mean blindly supporting everything that is labeled as union or labor.  Supporting people who make $150,000 to $200,000 is not the same as supporting those who are fighting paycheck to paycheck for decent wages and benefits.
In fact, I believe that supporting people who make that kind of compensation does more harm to the cause of labor than good.
The question at this point is what we have to do going forward.  This week, I have laid out the mistakes that have been made to get us to this point.
Mr. Toad argues, "A sales tax increase therefore of $3.4 million gets us a long way towards solvency. Increasing our revenue stream by a few million dollars a year through economic development should get us to the finish line."
Mr. Toad is wrong here.  In fact, he is not even close.  A sales tax increase that generates $3.4 million only gets us 68% of the way to a balanced budget in the best of circumstances.
The numbers we are looking at far exceed that $5 million.  As we demonstrated this week, those numbers do not account for things like roads, parks, water, and building infrastructure.
By way of example, just to keep the roads at the current level over the next five years will add between $5 million and $8 million annually.
As we argued this week, the city balanced the budget from 2008 until 2011 through attrition and failing to fund infrastructure needs.  So while the city has, through contract restructuring, addressed a number of structural issues, the policies of the previous council are undermining what should be fiscal sustainability.
Mr. Toad's solution does not begin to address the problem in the short term.  It is my view that laying off additional city employees to balance the budget is far worse than asking all city employees to take additional pay cuts – but that may be where we need to go.
Unfortunately, the "pro-labor" council in 2009 made agreements that did not go nearly far enough.  That is not Monday-morning quarterbacking – we were arguing this point at the time, and were ignored.
The result is that the next round of MOUs had to address the structural issues and therefore could not address the salary issues.
At the end of the day, I think everyone involved would prefer not to lay off another 100 employees, but right now the numbers are that bad.  Until we are willing to accept this, and figure out a way through, things are not going to improve.
For me, as we finally move into good times at some point, the lesson of this recession is that liberals need to become deficit and budget hawks.  If we wish to be able to sustain and fund social programs, revamp education and restore social services, we need to do so by finding ways to be more creative and more restrained in other spending.
It is ironic but the biggest threat to the labor movement is the labor movement being given too much during good times.  In order to protect the labor movement, we must be fiscally cautious, even in good times.
—David M. Greenwald reporting