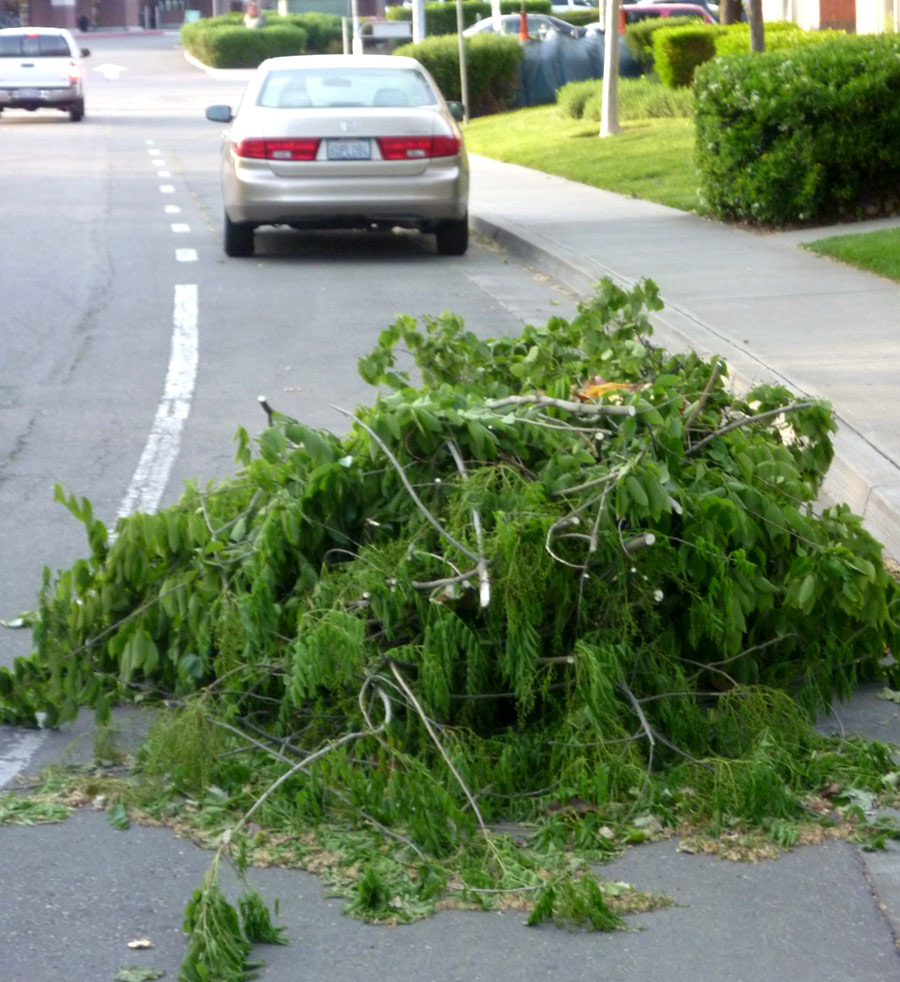 Every time my parents come up to visit the grandchildren, they are constantly baffled by the resistance that Davis has had to green waste containerization – that the public is content to dump waste in the streets and bike paths rather than put it into containers.
This week the city once again delayed action on a proposal that would call for some form of containerization.  City staff laid out five options and recommended Option 1, which would call for carts only, no loose street pickup.  They argued this was most cost effective because it would require that DWR only have one set of crews and equipment.
As the Vanguard noted this week, council agrees that going to a form of containerization is the way to go, and they seem to favoring an option that allows for either seasonal street pickup or on-call pickup of tree material.
The reasons for containerization have frankly been obvious for years – bike safety, improvements in storm water quality,  less street debris, and the ability to add compostable materials to yard waste.
They did express concerns about the transition to green waste containerization.
However, that is the city council.  The comments from the public remain in opposition.  On the Vanguard, citizens expressed the concern that they do not have room in their yard to store another large container.
I took this photo last year when the issue came up.  This is my parents' house where you can see the extra trash bin neatly fits.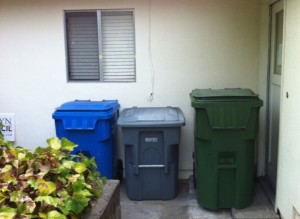 Others have actually threatened to cut down their trees.
Reading Bob Dunning this morning, "Despite our City Council's determination to have us put our so-called 'yard waste' into large plastic containers instead of piling it in the street, a number of folks aren't convinced this is the right way to go."
He adds, "Leaves and grass clippings will certainly fit comfortably into a can and pack down much like garbage, but branches and other sorts of yard waste simply won't fit very well."
This is simply a mindboggling argument.  There are communities that have had green waste containerization for decades.  My parents have had it for more than 25 years.  Do people believe that Davis is somehow unique with regard to the problem of trees?  Like there are not trees in any other community with containerization?
Before the last drought, my parents' yard was full of trees.  Somehow they managed.
But the citizens of Davis have always resisted the idea that they should put their waste in a container.  Instead, they allow their waste to be dumped in bicycle lanes and be subject to wind storms like the ones last fall that blew leaves all over the street out of their neat piles.
When the issue came up in 2007, bicycle advocates complained about the dangers of dumping waste in the bike lanes, so the city compromised by double-striping the bike paths with the hope that the trimmings would be confined outside of the paths on arterial roadways.
The bicycle safety issue is considerable.  Waste forces bicyclists to veer into the street which creates a risk for the bicyclist and a hazard for cars, especially for those bicyclists who veer without fully looking around them.
However, safety is not the only issue.  The waste causes problems for storm drains and water runoff.
An April 2007 staff report noted, "The Regional Water Quality Control Board (RWQCB) staff, in review of the City's Storm Water Management Plan submitted March 2003, had found the current green waste management program to be inadequate. RWQCB staff contends that loose green waste in the street degrades storm water quality and emphasizes that green waste containerization or its equivalent is needed."
 "The current collection method of collecting green waste loose in the street poses safety concerns for bicycle riders," staff reported in 2007. "The conflict between piles of green waste and bicyclists has been recognized over the years and appears in the City of Davis Bicycle Plan as an issue needing improvement."
The city offers additional rationale for the move, arguing that by switching to containerization, "the city may be able to reduce operating costs by reducing the frequency of street sweeping service."
The city of Davis, of course, has weekly street sweeping following yard material collection.  However, staff notes, the city of San Jose only performs their street sweeping monthly.
All of that being said, it seems that a reasonable compromise could be for the city to pursue Option 2 or Option 3.
Option 2 allows, "During leaf-drop season, customers may place yard materials only (no food scraps or other organics) loose-in-the-street for pick-up by DWR during a two month period from October 15 through December 15, annually. This allows customers to easily dispose of fallen leaves and other yard debris during the time of year when it is most needed."
This is what the city of Sacramento does.  They prohibit waste in the street, "except during leaf season."  During that time they allow for "leaves, grass trimmings, prunings, sod, and Christmas trees."
They note, "Citywide collection of yard waste piles will occur only in November, December and January. Please fill your yard waste container first before placing extra material out in a pile in front of your residence."
The city staff report notes that this is a more costly alternative "as DWR would need to keep two sets of equipment in repair for running two different collection systems. Switching from cart collection to loose-in-the-street and back also causes customer confusion. Other cities that have opted for this method have had to increase staffing to monitor yard material pile placement and cite customers that leave piles out in the street during the wrong time of the year."
The other downside of this is that we would create seasonal hazards for bicyclists, and the unsightliness of leaf piles blowing in the wind would not eliminated.
The other alternative would be Option 3 which would be, "Customers can request one free special pick-up of yard materials per year. Additional pick-ups would be charged a fee. Pick-ups would have to be scheduled in advance."
Again, this appears to be a costly alternative with two separate collections systems, equipment and crews.
The strange thing about all of this discussion is that we are not reinventing the wheel here.  This should not be this complicated.
And yet here we have this platinum bicycle community that strives to get diamond status and we dump hazards into bike lanes.  It is time for the city council to put a stop to this madness and come up with a solution – any option will do.
—David M. Greenwald reporting