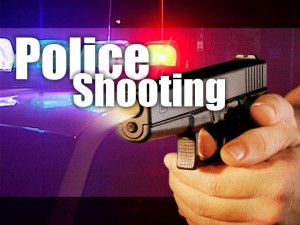 A West Sacramento attorney and his wife are suing the West Sacramento Police Department in the United States District Court in Sacramento for excessive use of force, unreasonable search and seizure, and a failure of municipality to train officers.
Kevin Hughey was shot by former West Sacramento Police Officer Christopher Wright on the evening of July 9, 2012, which left Mr. Hughey shot in the abdomen and in need of emergency surgery.
On the evening of July 9, 2012, a 911 call was placed regarding an alleged domestic disturbance.  Following the entry and the shooting by Officer Wright and Sgt. Gerrit Markus, Mr. Hughey was arrested, charged with injuring his wife, resisting an officer, attempting to remove a firearm from said officer, child abuse, and damage to power/telephone lines.
Judge David Rosenberg held Mr. Hughey to answer for those charges on March 11, 2013.  On December 3, 2013, Mr. Hughey pled no contest to a misdemeanor domestic violence charge.  The Yolo County District Attorney's Office dismissed the other charges.
During discovery in the criminal case, Mr, Hughey, represented by law partner Christopher Moenig and associate Jarred Lieber in the civil suit, obtained a video recording of the July 9 incident.
On Friday, the Vanguard was allowed to view this video recording.  According to the complaint, "a security guard for the local homeowners association knocked on the front door of the Hughey household on the 800 block of Platinum Lane in West Sacramento" immediately following the 911 call.
The complaint notes, "Mr. Hughey opened the door to see the neighborhood security guard, who informed Mr. Hughey that the Hugheys' garage door was open in the back alley and the security guard wanted to provide a courtesy notice in the event the Hugheys were unaware the door was open.  Mr. Hughey politely informed the security officer that all was well and closed the front door.  The security guard proceeded around the corner to the back alleyway."
Visible to the recording, the West Sacramento police arrived in the alleyway in patrol cars.  "The security guard attempted to speak with them and informed Officer Markus that he had just spoken to the residents only moments before about the garage door being open.  The security guard did not report anything unusual such as violence or calls for help," the complaint states.
Sgt. Markus can be heard stating that "they were therefore a different matter."
The officers can be seen on the video walking past a fence where apparently they "had an unobstructed view inside the Hughey home through two glass sliding doors that lacked any blinds or curtains and proceeded to look into the open garage."
At this point the video no longer captures Officer Wright; however, as Sgt. Markus runs toward the door, the audio captured what took place.
Mr. Moenig provided the Vanguard with a written transcript of the recording.  While the recording had distortions and was difficult to hear, using noise reducing headphones, the Vanguard able to verify the accuracy of the transcript.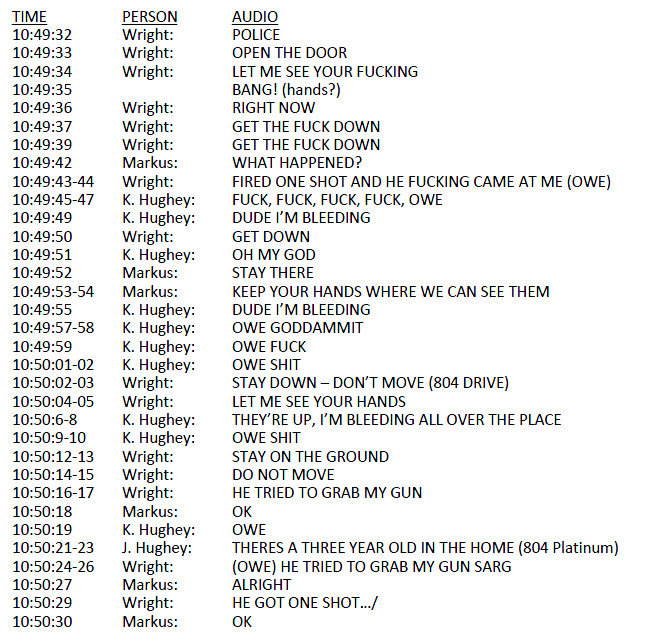 Mr. Hughey would file a formal complaint against the West Sacramento Police Department.  Two months after his preliminary hearing, Lt. David Delaini of the West Sacramento Police Department, working at the time in the professional standards  unit, would write Mr. Moenig on May 10, 2013.
"The letter is being sent to inform you that a thorough investigation into the complaint you filed on behalf of your client Mr. Hughey has been completed by Lieutenant Delaini," the letter stated.  "The finding for the allegation of excessive force has been SUSTAINED."
He added, "I am not at liberty to discuss any details of the investigations with anyone due to laws related to the confidentiality of peace officer personnel records."
The Vanguard also received a copy of a letter from former Police Chief Dan Drummond to District Attorney Jeff Reisig, dated May 23, 2013.
Chief Drummond wrote, "On the evening of July 9, 2012 at approximately 2241 hours Officer Christopher Wright and Officer Gerrit Markus responded to a report domestic altercation at 804 Platinum Lane in which one of the parties was reported to have been attacked."
"During the course of this incident one of the residents, Kevin Hughey, suffered a gunshot wound to the abdomen when Officer Wright's handgun discharged. This incident was documented and forwarded to your office  for review under West Sacramento Police Department case number WSP-12-03216," the letter continued.
Mr. Drummond concluded, "The West Sacramento Police Department would like to request that your office specifically review the actions of Officer Christopher Wright in order to determine if his conduct of that evening was criminal in nature."
According to Mr. Moenig, that investigation is still ongoing.  The Vanguard has confirmed that Officer Wright, who is also named a lawsuit against Former West Sacramento Police Officer Sergio Alvarez, has been terminated from his position.
In their complaint, they note he was eventually "released from probation," which they write "is a veiled, administrative response for 'fired,' on April 17, 2013."  The Vanguard has received documents from the city of West Sacramento that confirm this.
The complaint alleges, "At the time WSPD arrived at the Hughey residence and Officer Wright approaching the front the door, Mr. Hughey and Mrs. Hughey were discussing personal relationship issues within their home.  Mrs. Hughey was sitting on the loveseat in the living room while Mr. Hughey was standing across the room."
"Without warning there was a very loud bang on the door, which sounded like someone had kicked the door," the complaint continues.
After about three to four kicks, Mrs. Hughey heard a man's voice yell, "Open the door, Police!"  Mrs. Hughey was trying to get a hold of the deadbolt, but because of the forceful kicks and jarring of the door, Mrs. Hughey was unable to get a good grasp, so she called out, "I'm unlocking the door, hold on! I'm unlocking the door!"
"Standing several feet inside the residence entryway, the door flung open and Mr. Hughey immediately saw a police officer with handgun drawn and pointed and instantly began to raise his hands in a common surrender position.  At the same instant, Wright's service weapon fires a single shot," the complaint alleges.
"Very confused and uncertain what just happened, Mr. Hughey immediately felt excruciating pain in his abdomen and spine.  He grabbed at his abdomen, looked down and saw blood gushing from his left side.  Shocked and terrified, Mr. Hughey realized Officer Wright had just shot him," it continues.
Officer Wright, yelled, "Get on the ground!  Get the fuck down!"    Ms. Hughey was nine months pregnant at the time and struggled to get on the floor.
The plaintiffs allege that at this point Sgt. Markus inquired as to why a shot had been fired.  According to the complaint, "Officer Wright immediately lied and stated that Mr. Hughey reached for his gun in an effort to cover up Wright's wrongful act."
 However, they argue, "Officer Wright's immediate statement failed to explain why he proceeded to kick the door in, why his gun was out of its holster and why he would pull the trigger instantly and near-fatally shooting Mr. Hughey."
According to their recording, Officer Wright continued to make false statements as police officers attended to Mr. Hughey's wounds.  The bullet went through Mr. Hughey, ricocheted off his pelvis and continued up to Mr. Hughey's spine fracturing vertebrae (with the bullet ultimately resting and lodging onto Mr. Hughey's spine); officers pinned Mr. Hughey to the floor and handcuffed him before he was rushed for emergency, life-saving surgery.
The plaintiffs note, "After recovering consciousness from surgery, doctors informed Mr. Hughey that he was incredibly fortunate that the bullet did not pierce any vital organs and he would not require lifelong treatment for intestinal damage.  Doctors also informed Mr. Hughey that the bullet was resting too closely to his spinal cord and they were therefore unable to remove the bullet from his spine.  Doctors informed Mr. Hughey that had the bullet traveled less than an inch farther he would be paralyzed."
The plaintiffs alleged, "Because of Wright's false and fabricated statements and Markus' failure to discredit Wright after witnessing Wright's wrongful shooting and falsified recounting of events, amounting to collusion and conspiracy, Mr. Hughey was intentionally and excessively roughed-up and wrongfully treated prior to being rushed to the hospital."
Kenneth Fellows was appointed as lead detective.  The plaintiffs allege at this point, "Officer Wright fabricated a more detailed statement that alleged he somehow feared for the life and safety of Mrs. Hughey.  He falsely claimed seeing Mrs. Hughey lying motionless on the ground and thought her to be dead.  Officer Wright then invented an attack by Mr. Hughey upon himself and an elaborate struggle for his holstered firearm outside of the home."
According to his personnel record obtained by the plaintiffs, Officer Wright was only six months into his 18-month probationary period.
The plaintiffs argue that West Sacramento Police were negligent into their investigation into Officer Wright's conduct and they note a number of contradictions between Officer Wright's account and the evidence.
Sgt. Markus observed a muzzle flash with no altercation.  Four neighbors confirmed there was no struggle but that Wright simply shot Mr. Hughey immediately on sight.  There was a broken lock on the door which would confirm forced entry "even though Wright stated he did not force entry into the Hughey residence."
There were no weapons found on Mr. Hughey or at the scene.  There were no fingerprints on Officer Wright's firearm despite his claims that "Mr. Hughey actually had both his hands on Wright's weapon."
There was no gunpowder residue on Mr. Hughey despite Officer Wright's claim that Mr. Hughey was shot at close range during a struggle.  There was no trace of Officer Wright's DNA found on Mr. Hughey "even though Wright stated there was some kind of elaborate struggle between the two and Wright alleged that Mr. Hughey caused the long scratch marks on the inside of both of his forearms – the scratch wounds were actually self-inflicted by Wright after the shooting in an effort to falsely corroborate his fabricated statement."
"Blood spatter located over six feet within the home and no trace of blood elsewhere" they plaintiffs argue "even though Wright stated there was some kind of elaborate struggle outside the home and that he shot Mr. Hughey outside the home."
Moreover, we have the audio file that confirms the chain of events is not as Officer Wright claimed.
The plaintiffs argue, "Wright discharged his firearm while mid-sentence.  The time elapsed was less than two seconds after demanding the door be opened.  It's clear and far beyond dispute that Wright shot Mr. Hughey instantly upon Wright's kicking in the Hugheys' front door and there was no struggle whatsoever or other act of any kind by Mr. Hughey prior to Wright wrongfully shooting Mr. Hughey."
The department permitted Officer Wright's return to active duty within days of the wrongful shooting.   The plaintiffs claim, "This was a direct violation of WSPD policy 1020.4 that provides administrative leave 'pending completion of the investigation or the filing of administrative charges.'"
Officer Wright would remain on active duty during the preliminary hearing, however, he "failed to appear at Mr. Hughey's preliminary hearing and avoided any issue with further perjuring himself. "
The plaintiffs allege that Deputy District Attorney Deanna Hayes "was aware of the issue with Wright and informed Mr. Hughey's counsel that she simply was not going to put Wright on the witness stand, but instead she would ask Fellows to read Wright's false statements to the court."
Detective Fellows took the stand and "repeated verbatim Officer Wright's fabricated version of events while knowing in good conscious the statements were actually false."
The Vanguard a few weeks ago covered a lawsuit filed against Officer Alvarez.  Officer Alvarez first assaulted a woman in October 2011 and the final incident occurred before September 24, 2012.
 One of the Alvarez victims, Ms. Wilson, specifically attempted to complain to WSPD authorities.  As Ms. Wilson's civil suit alleges, "While walking on West Capitol Boulevard she came into contact with two West Sacramento police officers, Officers Jason Mahaffey and Chris Wright, who were in separate, marked patrol cars. Ms. Wilson alleges that neither of these officers took any steps to address her complaint until after Officer Alvarez was arrested."
Ms. Wilson's two reports were ignored and she believes "Officer Alvarez's conduct was of such a persistent and ongoing nature that it must already be known of and condoned by Alvarez's supervisors and the department."
While the department ultimately sustained a finding against Officer Wright for excessive force, the plaintiffs allege that there was no effort by the department to investigate allegations of fabrication of evidence by Officer Wright.
The family has also filed a second suit that alleges that on November 9, 2013, Mr. Hughey suffered serious injuries from a fall down the stairs at his residence.  Mr. Hughey, badly injured, would then be ordered outside of his home and surrounded by eight officers with service weapons drawn.
The Vanguard will have a follow-up article on the second incident.
The Vanguard made numerous efforts to speak with officials from the West Sacramento Police Department to get their side of the story; however, at this point the Vanguard has not received an official response or statement.
—David M. Greenwald reporting
ATTACHMENTS:
5-10-13 LTR Delaini to Moenig – SUSTAINED Excessive Force