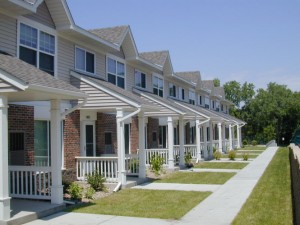 Once again affordable housing advocates came out in opposition to the city's policy that would allow accessory dwelling units to count as affordable housing units for the purposes of the city's Housing Element update.
City Staffer Katherine Hess explained to council, "The Housing Element does provide for credit for accessory dwelling units towards meeting the Regional Housing Needs Allocation (RHNA).  Not a one-for-one – although that is common throughout the state, but in the cases the recommended document has 35 of the 40 accessory dwelling units in Cannery counted toward meeting the RHNA and 25 of the 40 accessory dwelling units elsewhere in the city as meeting RHNA."
Darrell Rutherford, the Executive Director of the Sacramento Housing Alliance, spoke out against the affordable housing provisions by the city stating, "I stand here tonight a little confused as to why a progressive community like Davis is no longer taking the lead within the greater Sacramento region in addressing our need for affordable homes."
"Instead you're taking a playbook from the county and city of Sacramento as well as a community like West Sacramento – all doing the same thing by revising their affordable housing ordinances to benefit the development community instead of doing what's right for our community," he said.
Mr. Rutherford added, "In this time of limited public funding available for affordable housing such as the RDA which seems to have been the panacea for financing affordable housing here in Davis, the city should be putting the onus back on the market rate developers to meet our affordable housing needs but instead we see you cutting back our obligations and putting the onus back on to the city to meet that need."
Robb Davis spoke adding, "I understand the challenges that we as a city face in providing and maintaining our affordable housing stock in a post-RDA world.  I also understand the need to create plans—in this case the update to the Housing Element—that are accountable to state and regional government guidelines and requirements."
"But I am concerned that using approaches like counting accessory dwelling units (ADUs) as part of our affordable housing stock are less than honest and do not reflect a true commitment to meet our obligations," he said.  "Because there is no accountability structure in place to assure that such units are, indeed, rented at affordable rates, we cannot, with integrity count them as contributing to affordable housing goals.  Further, 'affordable by design' does not equal de facto or real affordability.  I have been troubled by this move since it came into effect."
He added, "It leads to a clear watering down of our affordable housing commitments and does not advance creative problem solving in our post RDA reality."
"Again, I realize the challenge you and staff face and I understand there may be negative implications for the city if we do not reach obligations.  At the same time I feel it would be better to acknowledge the challenges we are currently facing and commit to a process of finding solutions given current constraints.  I would ask you to move in that direction tonight," he continued. "Ultimately, though we want to be accountable to broader state and regional entities we must first and foremost be accountable to ourselves and our vision for the kind of city we desire to be."
Eliana Chavez, CEO of Mutual Housing California, noted that New Harmony was counted both last time and this time, showing the lack of affordable housing available in Davis.  "You should see the waiting list that we have on all of our properties here in Davis," she said.  Older residents are not moving and there is a lack of newly-available units.
"Davis needs more affordable housing here not only for the students, but also for the families who want to be able to enjoy the Davis kind of lifestyle that they have here," she said.
Jessica Merrill, Communications Director at the Sacramento Housing Alliance and a Davis resident, asked the council to strengthen the housing element "and its commitment to low income workers in need of affordable housing."
She noted last summer's change to allow ADUs to count for affordable housing at a two-to-one ratio, "We believe that this set a dangerous precedent that could snowball throughout the region."
She argued that these "granny flats" are most often used as home offices and when they are rented, they are rarely done at an affordable rate.
"The ordinance requires no regulation on these units, no enforcement to ensure that they're rented to low income people, or that persons of color aren't discriminated against," she added.  "Davis was a regional leader in inclusionary housing – now Davis is at the bottom."
Bernie Goldsmith was one of three representatives from "Raise the Wage Davis" looking to increase the minimum wage in Davis to $15 per hour.
He said he was "urging the council to please make affordable housing for low income workers part of their plan."  He said, "We have a class of people in this town that work very hard yet they're paid so little and expenses are so high for them that we expect them to work, that they do and still subsist on handouts."
"We expect these people to work invisibly in our communities to serve us food while eating our table scraps, to clean our yards, to care for the elderly that we cannot," he said.  "Yet we can't somehow as a society lump together the resources to get them a decent living wage, a decent housing accommodation and other decent amenities that we would expect to give to anybody who works full time."
"It's my opinion that we as a city have an economic imperative to take care of the people who work for us," he said.  "We have a moral imperative to make sure that our policy is aligned to make sure that these people have a decent spot in our community."
Shawn Raycraft, the other co-chair of the Raise the Wage Davis campaign, "I know personally what it is like to be working poor in this town.  It is very very hard knowing that sixty percent of your check at the end of the month is going towards rent.  That is a very difficult economic obstacle for anybody to worry about – much less somebody with a family."
"Nobody who works hard and plays by the rules deserves to live in poverty," he added.
Neil Ruud added, "One of the things that the city has been trying to do for a long time is encourage the students to stick around, to encourage people who work here to stay here, people that lived here to continue living here."
"We've done a lot of things to encourage students to stick around," he said, noting Davis Roots and other investments into the economy.  "But it's really not enough if students can't afford to stick around and live here."
Lucy Roberts said that she just moved back to Davis after living here from 2000 to 2006, "I wanted to let the councilmembers know that you're not just regional leaders, this town is looked at by towns all across the country."  She said that in Winpark, Florida, "We study your policies, we look at the progressive work that you do and one of the things that you've always done… (I was) amazed that this city was progressive enough to include an element of providing affordable housing within the greater development."
She added, "When I moved back and now see that you're using these accessory units and considering that they are affordable housing, I just think that you're stepping so far back.  You're sort of stepping into where other people are trying to get out of."
She concluded, "I want to ask this city to maintain its spirit and its soul that so many people admire and are working toward.  Part of that is honoring and respecting and acknowledging and working towards providing affordable housing."
Please see the video from public comment:
—David M. Greenwald reporting