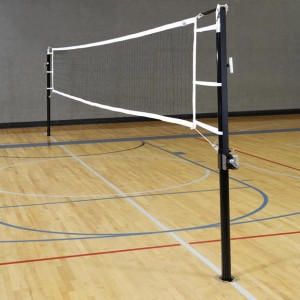 The Board voted to grant an appeal to the employee regarding the parent complaint.
Sheila Allen, Gina Daleiden, Susan Lovenburg, and Tim Taylor voted in favor of hearing the appeal, according to a statement from Board President Gina Daleiden stating, "Nancy Peterson was absent because she recused herself from public comment, closed session and voting on this matter."
"The Board will continue, at public Board meetings, to address the overarching issues under the Athletic Policies and Regulations," the statement continued.  "The District and Davis High School will continue their efforts to identify and secure an interim coach for Boys Volleyball as soon as possible."
The board added, "In the meantime, the Board encourages the parties to come together to find a reasonable resolution that is in the best interest of the students and the School District."
Previous story: Another Controversial Firing of the High School Coach
Once again volleyball coach Julie Crawford is in the spotlight, having been fired right before her season started.  This only a matter of months after the school board voted 3-1 (with Nancy Peterson dissenting) to overturn the decision of DHS athletic director Dennis Foster and renew her contract.
According to accounts, she was informed by High School Principal Will Brown that her service agreement had been pulled at the district level at the January 23 board meeting.
Parents reacted angrily to a letter from the school district less than 24 hours before scheduled tryouts.
The letter addressed to "boys volleyball families" said, "While we are looking forward to another great season of DSHS Boys Volleyball we have yet to identify a coaching staff for the 2014 season. As a result, we have posted these coaching positions and will be reviewing applications as they arrive."
It continued, "In the meantime, practices will be canceled until a coaching staff is identified. If you know anyone with Volleyball coaching or playing experience that may be interested in coaching the DHS Boys Volleyball team this season please have them contact me directly. Our goal is to identify qualified coaches and get the season started as soon as possible."
This is the latest in a string of at-will employees, ranging from coaches to the high school principal that have either been fired or had their contract not renewed.  Unfortunately, sudden changes in employment status lead to community questions and the district, in part due to personnel laws, cannot give full answers.
Questions to board members were directed to Superintendent Winfred Roberson.
Mr. Roberson referred questions from the Vanguard to Matt Best, Assistant Superintendent of Human Resources & Secondary Programs at Davis Joint Unified School District.
"I know that that you both have received many inquiries regarding DSHS Men's Volleyball. Please feel free to reference the District's statement below regarding this matter," the statement read.  "We understand the angst that the players and parents in the Boys' Volleyball program may feel this week. We value our Boys' Volleyball team, and expect to have a coach in place to work with the team as it prepares to start the season."
The statement continued, "We have been asked several times this week 'what is going on with the coach?'"
"It is DJUSD's legal and ethical practice to strictly maintain employee privacy and confidentiality in personnel matters," the statement continued.  "As a result we are unable to comment on those matters.  As a public entity, we also have various personnel and administrative procedures to follow, even with 'at-will' coaching positions.  Those procedures are in place to protect all parties and to give people an opportunity to respond."
They concluded, "Sometimes adherence to these procedures causes delay and unintended interruptions with respect to the District's day-to-day workings and hiring timelines.  We will continue to do everything in our power to ameliorate those effects."
The Vanguard contacted Julie Crawford on Wednesday afternoon and she agreed at that time to answer questions via email.  However, at press time, the Vanguard has not received answers to the questions.
However, this morning answers may have emerged.  The Davis Enterprise reports, "Davis High School volleyball coach Julie Crawford retaliated against her leading critic, school board member Nancy Peterson, by cutting Peterson's daughter — a varsity player since she was a sophomore — from the girls roster last summer, a school district investigation concluded."
The paper goes on, "That retaliation was in violation of board policy, the investigator said, and it may be at the root of the district's decision not to rehire Crawford as boys volleyball coach for the spring season."
The paper obtained a letter from Mr. Best which summarized attorney Alex Sperry's investigation and "describes the violation of board policy that may have cost Crawford her coaching job. She remains employed as a physical education teacher."
The Vanguard will have more as additional information comes available.
—David M. Greenwald reporting