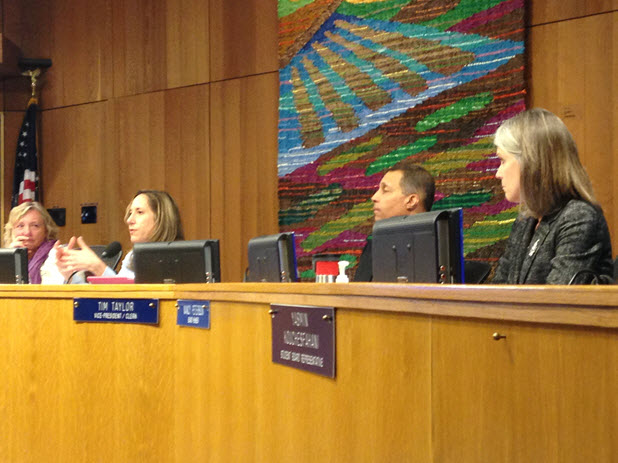 Thursday night's school board meeting had a surreal atmosphere as the substance of the agenda item itself – which sought to tighten language on the hiring of the coaches, but did not deal with either the issue of terminating coaches' contracts or the issue at hand – was incongruent with the small but vocal group of public commenters.
While there was a sizable group of coaches and others involved in athletics, it was not an overwhelming crowd.  Perhaps this was simply the pre-game show, and the masses are waiting for when the Board of Education actually hears the appeal on or before March 6, 2014.
Even the board's statement, coming out of closed session, which was marked as meeting with legal counsel to discuss existing litigation and the Julie Crawford-Rob Peterson Appeal Procedures, was process-oriented rather than substantive.
Reading from a prepared comment, Board President Gina Daleiden stated, "We would like to be clear about the board's role in this matter and the appeal process.  The board is not involved in a complaint nor investigation of a complaint, unless and until an appeal is requested."
"In an appeal the board acts in a quasi-judicial manner and must remain impartial, the board's first entry point into the Crawford-Peterson matter was last Thursday when we voted to hear the appeal," she continued.  "Tonight in closed session, we gave direction to our legal counsel regarding the conduct of the Crawford appeal."
"Adopted board policy and precedent directs the board to hear this appeal in closed session," she said.  "The question on appeal will be whether the administration's conclusions are supported by the preponderance of the evidence and whether the administrative remedy is appropriate to the conclusions."
The remainder of the news from Thursday night came from public comments, many of which defended Nancy Peterson and lashed out at what they considered the irresponsibility of blogs and social media during the course of this controversy.
Of note were the comments of Robert Peterson, who spoke out in public arguing that he needed to have the ability to defend himself and get his side of the story out to the public.
Robert Peterson said, "I've gotten to a point with this process where the distortions and the lies and the blogs and the newspaper articles that are uninformed are just intolerable at this point.  I don't know how to get my side of the story out per se, because everything is restricted, everything is personnel issues, everything is confidentiality."
He said this issue is not about playing time or starting or not starting, "all of the accusations are essentially irrelevant.  My issue was a disagreement between this coach and her friend the previous coach and my wife at whatever level became simple retaliation."
Mr. Peterson would go on to state, "It's documented.  The threats are there.  The email chains are there.  We presented all of this information.  Now we have a situation where the former coach, Leigh Whitmire Choate, who is really the driver of this process…"
"I'm at a point where the blogs as I related to the board previously," he continued after a brief interruption by Board President Daleiden.  "The previous coach is now blogging, putting links to a 14-year-old's team to discredit the coach that was hired previously (Rob Cole), whose only interest is coaching volleyball."  He added, "If he's connected to me somehow that suggests that there's some plan  I didn't know anything about him interviewing or anything about his position."
"My 13-year-old is linked on the Davis Hub website," he said.  "My 13-year-old!  Who here is okay with this?  We've gone past just harassment to craziness.  I would appeal to the board to end this situation."
Earlier in the evening Rob Cole, who was contemplated to serve as the interim coach last Friday, spoke out about his experience.  He told the board that he had applied to become the interim volleyball coach, went through the prerequisites "that this board and everyone else has found acceptable.  I was hired and then six hours later I was removed from my position," he stated.
"It has turned out to be some sort of scandal that my affiliation with boys' volleyball has turned out to put me into a situation where I was streamlined into a position," Mr. Cole continued.  "That is 100% false.  I don't know what new information you have."
"I am highly qualified to fill an interim position," he said.  "I've worked with Julie.  I'm not looking to take Julie's place.  I'm looking to bring a high quality level of volleyball back to this district.  You are seriously mismanaging what is going on with these athletes and I think by doing what you did and allowing the superintendent to override what was potentially a good fit is wrong.  I think that it extends the drama."
One commenter at the beginning of public comment read from the staff handbook that said the district "will not tolerate the staff degrading, insulting, or otherwise misusing their authority towards students."  She added from the CIF (California Interscholastic Federation) Coaching Handbook "that a coach must control their ego and emotions and avoid displays of anger and frustration, don't retaliate."
Nancy (did not give a last name), during public comment said, "Personal issues aside, you don't retaliate against a student."  She added, "The notion that parents shouldn't question that is ridiculous."
She went on to state, "As a side note, I think that all of the blogging that's going on and all of the innuendo that's been out in social media has really taken on a life of its own.  I think those people should be ashamed of themselves, we've created a circus around this issue and we've forgotten what the true issue is."
But Norbie Kumagai told the board, "I've always thought that elected officials are held to a higher standard for we have entrusted them to act in our best interest.  I'm troubled by the fact that Trustee Peterson recently chose to recuse herself from actions specifics to Coach Crawford."  He continued, "Allowing her to vote to authorize the expenditure of $22,000 for a formal investigation which she initiated seems to be a clear conflict of interest."
"The fact that Trustees Peterson's husband is now speaking out makes matters worse, we have no way of knowing whether Dr. Peterson is speaking on his own volition or at his wife's behalf, now do we?" he continued.  "There is a reason why personnel actions are confidential."
Karl Ronning, who coaches boys' golf, said that looking at the new guidelines, "What I found missing from these expectations is us as coaches, what can we reasonably expect when we attain this excellence?  Who do we answer to?  Is it the athletic director?  Because one of the things that seems absent to me is the role of the athletic director in these controversies."
He asked if there is a complaint, "are we going to be informed or will we find out about it second hand?"
Margaret, a parent and a coach for the snowboard team, said, "You guys have a great coaching staff.  You have a phenomenal athletic director.  And somewhere in the system things have gotten screwed up."
She said, "There's a pithy T-shirt that says, 'they play, I coach, you cheer,' and there needs to be some cohesiveness in the administration."
Lynne Yackzan said that, as a former Davis High graduate, "Things have changed a lot."  She said when she was a student-athlete, it was pre-Title IX and she was on the ski team where the coach was having sex with one of the students, and her mother, the team parent, reported it and nothing was done.
"Nancy, if you're that powerful, can you make it rain?" she quipped.  "I'm really sad about what's been in the papers and what's been on the blogs and what's been on national news."
She continued, "By and large most of these coaches are pretty damn good.  They do a great job.  They should be mentoring anyone who comes on line."  She would add that it is difficult to deal with Davis parents, "but communication is key and I believe if it would have happened early on, and been mediated early on, this problem would have been dealt with."
Greg Simmons, speaking as a citizen, said, "I'm concerned about the money we're spending to adjudicate what should be worked out with a handshake."  He added, "We need a place where people can come and discuss their differences and their difficulties."
The student representative, Yasmin Kouchesfahani, said that "one of the coach's main jobs is protection.  To protect their students.  I think as adults in this community, your role is to protect students, I guess it's really disheartening to that that's not what's been happening from a student's perspective."
She would add, "That Davis Enterprise article, it was awful and I just wanted to say that I think we need to prioritize the student's protection."
As we stated at the outset, the appeal will be heard some time in the next two weeks.  Board President Gina Daleiden laid out some of the process above and in some of the previous articles.  The board at this point has not read the report, so they were not able to comment on specifics.
—David M. Greenwald reporting