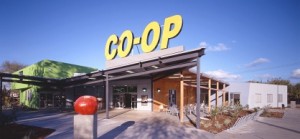 The minutes of a February 6, 2014, meeting show that following a closed session meeting, the board of the Davis Food Co-op voted 5-0 with one abstention to give General Manager Eric Stromberg "notice for termination without cause according to his contract."
Board President Stacie Frerichs indicated that employees of the Davis Food Co-op would receive a letter on Tuesday and members a letter on Wednesday to this effect, but she did not elaborate any further.
The Vanguard received an email from a Co-op member on Sunday indicating, "Eric Stromberg, general manager of the Davis food COOP was given his notice yesterday. The Co-op board meets on Monday and we need to let them know that the community does not support this action."
The email goes on to state: "No reason has been given. Eric was handed a lawyer's letter and nothing else."
"Please contact all the members of the board as well as all your friends, business associates and fellow coop members and let them know that this action is outrageous," the email continued.
"Let me emphasize that there is no economic or personnel issue that caused this action," said the email.  "Eric has worked at the Co-op since August 1 of 2000 and has been instrumental in navigating the coop through many political and economic challenges that have faced the Co-op. Under his leadership, the Co-op has continued to be competitive, a destination in Davis, and huge contributor to the entire Davis community."
The email concludes, "Not only is Eric well respected locally but is also considered one of the top Co-op general managers in the entire US. He has traveled all over the world helping other Co-ops."
A letter to the Enterprise by member Andrew Newman voices his "distress over the apparent surprise firing of Eric Stromberg" because they are "moving in a new strategic direction."  And he questions what that new direction is.
He writes, "I say 'surprise' because at the board meeting Monday night, it was implied by past board members that this was something that was long discussed and debated by the board and with Stromberg. So it was only a surprise to the members of the Co-op and to Stromberg, who has stated emphatically that he was not aware of any issue."
"A long-discussed issue?" he asked.
Mr. Newman said, "In the annual report this year, the board speaks out about its leadership given the economic forces facing the Co-op."  Further, he noted, "In September, the board unanimously supported Stromberg's five-year strategic plan."
He added, "Since the September board meeting, the board has documented meeting in closed session for a total of less than two hours. Closed session is important because meeting in closed session is how the Co-op bylaws allow the board to discuss personnel issues, real estate and strategic planning."
One of the Vanguard's commenters noted that Mr. Stromberg "was completely in the dark, that the Board handed him a letter saying they had decided to go in a different strategic direction and that he was being dismissed without cause."
He added, "He said there were no unfavorable performance evaluations, his budgets were under control and had been accepted and approved by the Board, and that he hadn't the faintest idea what kind of changes they were looking for."
Another community member stated on a Facebook posting, "This is the first time in my 22 years of being a member of the Davis Food Co-op that I have ever felt like boycotting and taking my business elsewhere. With the continued movement toward not taking input from long-term members on decisions to take a big stand and move toward organic local non GMO foods has been frustrating."
The community member added, "The direction the Co-op seems to be moving with the decision to give the general manager Eric Stromberg a 30 day notice without coming forward to the members as to why, means I cannot choose to stand with this decision. It leaves me wondering who is making these decisions and how those choices impact the employees as well as members."
The Vanguard will update this story as more information comes in.
—David M. Greenwald reporting