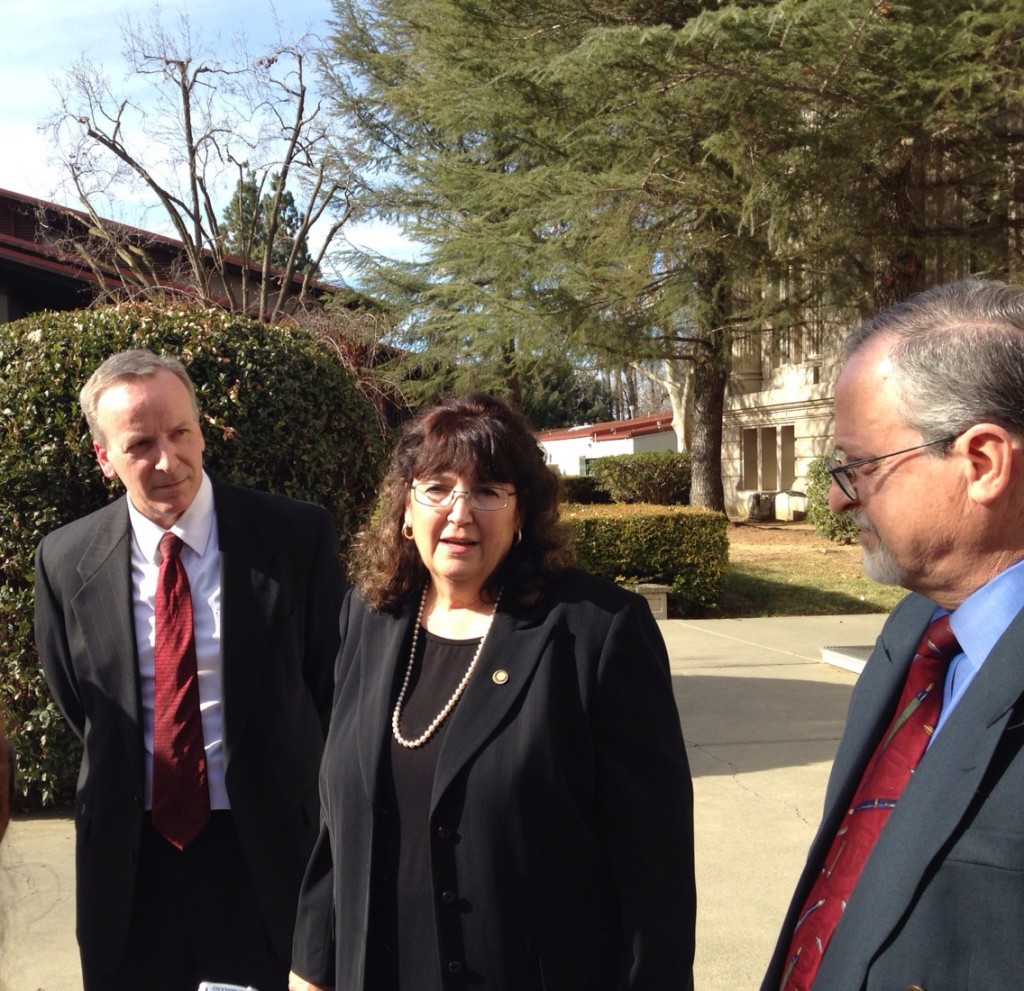 On January 21, backed by her predecessor as well as the rest of the judges on the Yolo County Superior Court bench, Commissioner Janene Beronio, who has been in that position handling arraignments since 1989, announced her candidacy to replace Judge Stephen Mock, who announced he would retire in January 2015 after 25 years on the bench.
Janene Beronio sat down with the Vanguard to discuss her candidacy.  "I've been a commissioner for 25 years and I've done many of the assignments I could do as a judge, but most of the assignments that I do are subordinate," she said, when asked why she was running for judge.  "I really felt like I've made a difference as a commissioner, especially in the last eight years when I've been in Department 9 with misdemeanor pretrials, we've cut the backlog way down."
"When Judge Mock decided to retire, he approached me and said would you do this, and I thought about it and I thought this was really something I could do to make a difference," she added.  "I have much more experience than anyone on the bench right now, it's just time.  I think I can give more as a judge now than as a commissioner."
If there are three levels of authority, the referee is at the bottom.  He can do traffic without stipulation, and that is about all.  Commissioners, which Ms. Beronio has been since 1990, can do everything a judge can do, but there has to be a stipulation for certain things.  Without stipulation, a commissioner can do bail setting, arraignment, traffic, small claims, and a few other things.  Anything more than that, the parties have to agree – for instance, to take a plea.
She explained that in arraignment, "I take their plea, I set their bail, I set it for a prelim.  If they want to enter a plea, first of all they have to have an attorney, if it's a felony."  For drug cases in particular, "I can take a plea and I can sentence them, but it has to be with the agreement of the parties.  Obviously if they are there and they want to enter the plea, they are going to agree to me."
Unlike other counties, in Yolo County the Public Defender's office sends attorneys all the time, even during misdemeanor arrangements, and as Ms. Beronio noted, "even when they aren't going to be appointed, they assist."
"What I don't have, is because I'm a commissioner, there is a reason there is a commissioner because they want you to do the things that the judges – we do the subordinate jobs," she said.  "We can do all the big jobs.  I have at certain points in time, but it's not my primary assignment."
She noted that while she has done many felony trials as a lawyer, "as a commissioner, no. I have not done a felony trial."
Prior to becoming a commissioner, Janene Beronio worked as a prosecutor in Yolo County for nine years.
She does not presently live in Yolo County.  She lived in Yolo County until 2000.  In 2000 she moved to the country just to the west of Winters in Solano County.  She has worked in Yolo County for 34 years.
She came to Sacramento to go to McGeorge Law School and got a job with the DA's office in Yolo County.
She said she could "absolutely" judge a case fairly for a defendant before her as a judge.
"Let me say one thing about being a prosecutor, being a prosecutor to me is somebody who is there to do justice and to do the right thing, so when you come at that job from that perspective, it's not ever going to be a problem," she stated.  "It's been 25 years since I've prosecuted anybody, and I've dealt with thousands of defendants who came in front of me."
"I think that people, whether they're in a suit or in shackles in front of me, are to be respected and listened to," she continued.  "I always take what people say and apply the most justice I can apply."
She said her judicial philosophy was "to listen, to apply the facts to the law and to do your best to always do justice."
"I think my temperament is I'm pretty even-keeled," she said.  She said that once she rules on a motion it's final, but she did nuance it.  "If it's something that's not necessarily final, I'm always willing and if you've been to my court you've seen it, you can ask to have your case called again, because one thing I don't want to do is make a mistake."
"In arraignment court, I would never want to leave someone in custody when they should have been set free," she said.  "So if there's another argument to be made… I'll let (the attorney) talk.  Maybe it will work, maybe it won't, but it wouldn't be fair to not give him a shot."
Ms. Beronio sees the biggest challenges for Yolo County as "having enough people to do the job.  With all the budget cutbacks it's been very difficult.  People need to be able to come in and have their cases heard.  We need to be opened as many hours as we can be opened.  The courtrooms need to be opened."
"Right now the biggest issue – and it's the biggest issue for a lot counties – is money," she said.  "I keep hoping it's going to get better."
She said political pressure to make popular decisions "will make not one iota of difference.  I will listen and apply the law and that's it.  I will never make a decision based on politics."
"I admire Judge Mock," she said.  "Judge Mock is one of the smartest, most dedicated people I know."  She added, "He's someone you can always go to for help.  He's patient."
The Vanguard asked her if she supported split-sentence cases for AB 109.  Ms. Beronio declined to comment on that.  "I'm not sure that's something that's appropriate to talk about," she said.
The Vanguard then asked her how she would reform the judicial system to work better.  She responded, "You don't like it the way it is?"  She added, "The judicial system is a work in progress, it really is.  When I started, before I started, there were people here in preliminary hearings that weren't lawyers."
They had municipal courts, she said, when she started and they finally consolidated them into the Superior Court.  "Things continually are done differently.  Some of it's good and some of it's bad.  The only way that you really know is to try it out.  AB 109 is something that's different and we'll just have to see how that works out."
"I just think it's a work in progress and we just have to do little baby steps," she said, noting that much is going on with lack of funding.  "It's been a pretty good system."
Ms. Beronio currently has three opponents to replace Judge Mock.  Rick Cohen – we ran his interview earlier this week.  Larenda Delaini was the third announced candidate, and we will publish her interview shortly.  J.P. Brennan recently announced his run and we will be interviewing him shortly.
With four candidates to replace Judge Mock, the initial election will be on June 3.  If no one gets over 50%, the top two finishers would face off in November.
—David M. Greenwald reporting