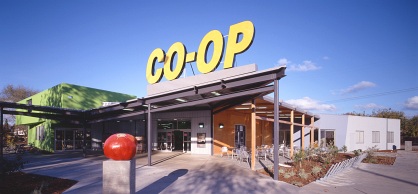 Editor's Note: On Wednesday, the Davis Food Co-op posted a letter to members and shoppers explaining the termination of General Manager Eric Stromberg, who will leave effective March 22, 2014, after 14 years of service.  The vote was unanimous.
Dear Davis Food Co-op Members and Shoppers,
After very careful consideration, the Board of Directors decided to exercise an option under the General Manager contract for separation without cause.  Therefore, the current General Manager, Eric Stromberg, will be leaving the Co-op.  Eric's last day will be Saturday, March 22,2014. The Board would like to thank Eric for his 14 years of service and contributions to our Co-op community, and we wish him the best in his future endeavors.
Beth Tausczik will step into the role of interim General Manager while we conduct a search for a new permanent General Manager. The Board is confident in Beth's ability to lead the Davis Food Co-op during this transition and is confident in all our staffs ability to maintain great customer service and efficient operations.
The Board followed a very deliberate process and thoroughly considered all information available to us before making a decision. We feel our decision was made in the best interest of you, the Co-op members we represenL However, for legal reasons, we cannot discuss personnel matters publicly.
We would like to thank those of you who attended our board meeting on Monday, February 24 to voice your opinions. lf you have additional feedback, e-mail addresses for all Board members are available on the Co-op website and on the bulletin board at the back of the store. The minutes from the January board meeting, and the February special meeting at which the separation decision was made, were approved on Monday, February 24, and are posted both on the Co-op website and in the store.
The Board has now formed a task force to conduct a national search for a new General Manager. This task force win be led by Board President Stacie Frerichs. The search will be a topic of discussion at upcoming Board meetings. Please look for announcements for those meetings on the bulletin board in the back of the store and on the Co-op website. The next meeting of the Board of Directors will be Monday, April 7, at 7 PM in the Co-op Teaching Kitchen. All members are welcome to attend.
We look forward to working together with you to continue to build a better Co-op and to maintain the Co-op's role as a cornerstone of the Davis community.
In Co-operation,
Stacie Frerichs, Board President and the entire Davis Food Co-op Board of Directors