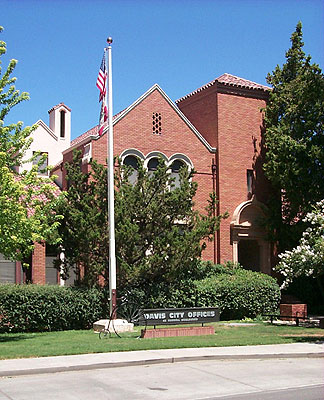 by Jennifer Nitzkowski, Michael Bisch and Alan Humason
With the pending departure of Davis City Manager Steve Pinkerton to Incline Village, Nevada, a discussion of his replacement is in order.  Recent history and the City's struggle to effectively grapple with the current fiscal mess have shown how critical the City Manager position is to the welfare of our community. All things considered, the stakes for all of us are very high, and the City Council has to get this hire right.
To assist the City Council, we'd like to share our thoughts on what should drive the City Manager replacement process. Fundamentally underlying the process should be solving the City's fiscal challenges as fast, efficiently, and fairly as possible. Progress has been made to date, but nowhere near enough as the City's budget deficit continues to widen dramatically.  Furthermore, dramatic, substantive progress must be made in economic development—that means robust, swift, creative efforts to build a diversified economic base that creates jobs and generates significantly more tax revenue.
The person at the helm of the City's affairs must have a firm understanding of our community, proven leadership and problem solving skills, innovative thinking, a command of public relations, and the will to practice transparent governance; all other qualities pale in comparison. The selected City Manager must truly possess these attributes whether they were acquired in the public, private, non-profit sectors, the military or academia. Therefore, we respectfully insist that the City Council refrain from barring qualified candidates from either the interim or permanent position based on limiting criteria such as "an MBA in public finance" or "15 years career experience in municipal government."  The immediate and future needs require our leaders to think outside of the box. Taking this input to heart, we have every confidence the Council is capable of making a sound choice.
It is also our hope that the next City Manager will prove to be a wise, durable counterweight to the vagaries of a changing City Council.  City Council members come and go, and while their service to our community is no doubt honorable, for the most part, Councilmembers are in effect volunteers with other jobs to fill their time and attention. We need a City Manager who will keep Councilmembers focused on adopting and implementing solutions to the primary fiscal and economic challenges we face and will work to prevent the City Council from being distracted by less pressing matters.
We are imagining a City Manager with a willingness to speak up publicly when Councilmembers are failing to focus on the long-term fiscal and economic interests of the community.  The City Manager need not be combative, but certainly must have the ability to articulate a compelling argument and defend it with hard facts and sound reasoning.  We're also imagining a City Manager with the public relation skills to bring the community into the governing process while guiding us to effective solutions.
Creating and fostering a socially, environmentally, and economically sustainable community is a challenging endeavor.  The Davis Chamber of Commerce, Davis Downtown, the Yolo County Visitors Bureau and the entire business community stand ready, willing and able to work collaboratively with all stakeholder groups to overcome today's challenges while planning for a bright future for our deserving community.
Davis Chamber of Commerce – Jennifer Nitzkowski, Chair, Board of Directors,  Davis Downtown – Michael Bisch, President, Yolo County Visitors Bureau – Alan Humason, Executive Director