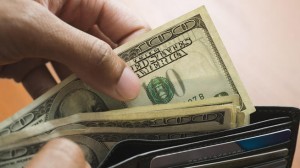 On Tuesday night or to be more precise, Wednesday morning, the council, after engaging in a protracted and often maddeningly circular discussion, finally settled on a six year, half-cent sales tax to go on the June ballot with no advisory measure.
There are a number of concerns I have about this resolution.  First, by going with a revenue measure that only raises about $3.6 million of the needed $5.1 million (which we had all agreed was actually far too low), the council has once again pushed off the discussion and the placement of funds needed for road repair for at least six more months.
As Matt Williams pointed out both on Tuesday night/Wednesday morning as well as in various comments on the Vanguard, that additional deferred maintenance will simply add to the city's bill.
The council believes it will put a parcel tax on the ballot in November to cover those infrastructure needs.  The council has – as Councilmember Lucas Frerichs pointed out – not done any polling.  They somehow believe they can get a revenue measure through with a two-thirds vote requirement after raising the sales tax and after raising water rates.
The second problem is the trust issue.  During the run-up to the tax measure, I made it very clear that my support for the tax measure would heavily depend on the degree to which the council could commit that new revenue generated by the sales tax would go to structural shortfalls and deferred maintenance, rather than to increased employee compensation.
There is a history here as I have recounted many times – in 2004 the council passed a half-cent sales tax that was supposed to keep parks open and prevent the city from having to lay off city employees.  Somehow, though, the council turned around in 2005 and gave away the store.  The firefighters got a 36% salary increase and other bargaining units got 15 to 18%.
The city has limitations on what they can do with a general use tax.  The city cannot bind itself to spend the money a certain way, because that would require that the vote be two-thirds.
One councilmember suggested that times have changed and that the council could not get away with turning around and giving away the store again.  But they seem to forget that, in two years, we will likely have a different council.
The councilmember illustrated that what this means is that it is important to select the right council to lead the city.  While that is undoubtedly true, it is not a very reassuring thought.
Another councilmember suggested that the half-cent sales tax and $3.6 million in revenue is small and therefore will preclude it being used for salary increases as it will go to pay for the city's increasing water bill, PERS contributions and retiree health costs.  They argued, "There was no point in an advisory measure for the smaller amount."
Moreover, as they pointed out, trying to create an advisory measure that was specific enough to be meaningful and not specific enough to convert it from a general use tax was very tricky.
Increasingly, I agree.  The only sure way that the council will not in two years' time or four years' time be able to move to go back to four on an engine, eliminate boundary drop, or shared services with UC Davis and give increased compensation to the firefighters and other city employee groups is if the council does not have the money to do it.
Interestingly enough, that puts us back into parcel tax territory, not sales tax.
The person who proposed that was Mayor Pro Tem Dan Wolk.
Dan Wolk noted that if we want to increase the revenue we take in and direct it toward infrastructure, "I think the challenge is, is the sales tax measure the route that we take to address those large infrastructure items."  He added, "My conclusion was the parcel tax, even though it was a two-thirds vote, was the way that I kind of came down, because that allows you through a measure to say, 'hey voters this is what we're going to do with this money, this is the only thing we can do with this money…'"
A parcel tax would allow the city to direct money exactly to where it needed to go and could avoid the pitfall or temptation of the council turning around in a few years and giving it to employee groups in the form of increased compensation.
The problem is that this discussion occurred as the clock literally and figuratively was about to strike midnight.  Council had no time to really reflect on their discussions – most of which was the first time the issues were actually discussed in this kind of detail.
Pushing this process off to the end of the night, to the very last date they could put a sales tax measure on the ballot, hurt this community.  While I disagree with Mr. Wolk in putting it all on June, at least he saw the bigger picture.
What the council chose to do on Tuesday night/Wednesday morning is actually the worst of all worlds.  What we are being asked to vote on is a partway measure that addresses immediate imbalance but does not address the infrastructure issues.
We fail to put real money – once again – behind infrastructure needs.  We roll the dice that we are going to be able to get a second chance in November to come around here – a time when the voters will be asked to vote on a number of other issues, including a Measure R vote.  This was just not well thought out and the process by which the council operated lent itself to this debacle.
Moreover, without an advisory vote, without any discussion by council about how they can commit to staying the course, and without any real acknowledgement from the council that there might be trust issues on the part of the community – how can they expect us to blindly support them?
Let us be blunt – is there a reason why we should trust the city?
In the last year, the council did a good job of taking care of business.  They put forth a very reasonable package of reform that they got five city bargaining units to agree to and, when DCEA and fire refused, the city imposed their last, best, and final offer.
The city also initiated long-needed reforms to the fire service that included reconciling response times with more realistic goals, boundary drop and then the contested measures – staffing reductions and shared management services.
The last two, though, illustrate an emerging concern – those were 3-2 votes and with a coming shake up of council with the decision by Joe Krovoza not to run, the possibility of Rochelle Swanson not being reelected, and the potential that Dan Wolk is gone by January 2015 – there is no assurance that this will continue.
The city manager, who helped engineer much of the reform efforts both personally and by positioning people like Scott Kenley and Yvonne Quering into key spots, is leaving.  Some of the turmoil from the fall and an ill-fated attempt to oust him played a large role in that.
It was pointed out to me that this community has a trust issue – well, why shouldn't it?  The city of Davis finally had a council that was able to work together without devolving into petty bickering, and that has been almost torn apart by job obligations that prevent the council from meeting more than twice a month, and political ambitions.
Two of the councilmembers decided to run for higher office and two decided that they needed to take marching orders from corrupt union leaders.
Steve Pinkerton was, by most standards, the best city manager in at least a decade and he will be gone by April 28.
So, while we achieved much in the last year, much more can be undone by a 3-2 vote if the council changes after June.
All of that said, this is not necessarily a suicide pact.  While the polling by the chamber of commerce left something to be desired, they did show us a potential short-term way forward.
Councilmember Lee said on Tuesday that belt-tightening did not mean laying off more city employees.  "I don't support lowering the police force," Councilmember Lee.  "It's nice for us to talk tonight, the problem is that what we decide tonight is what goes before the voters in June.  If we think there's this mysterious efficiency and waste savings that we can make, I'm not comfortable planning what we propose which requires us to lay off ten or fifteen employees.  Absolutely not."
"If someone shows me a plan where we're able to maintain services and there's some magic way of reducing this $2 million that we're talking about, great I'm for it," he said.  "But without a specific proposal on the table which outlines how we're wasting $2 million, I'm not comfortable with this idea of laying off city employees.  Absolutely not."
While Joe Krovoza pointed out the half cent sales tax leaves you $1.5 million short, Brett Lee responded, "If you subtract the $2 million for the road repairs, the half cent covers all of that.  We definitely need a parcel tax to cover the roads costs."
That also gives us an opportunity.  Subtracting out the $2.5 million for infrastructure altogether leaves about $2.6 million to be cut until the parcel tax could be approved in November.
The Chamber's poll gives us a road map.  While there are a few cuts that would be detrimental to the city, a one-time decrease in funding for recreational support from the city could both give us a short-term solution that does not involve layoffs while at the same time giving a large community of people ample reason to support the parcel tax in November as a way to restore full funding.
It is not the best option, but voting for the sales tax at this time puts far too much trust into the hands of the unknown – we do not know what the council or city management will look like going forward and I for one have seen too much progress to simply roll the dice right now.
So I will be opposing the sales tax in June, and hope that things can come together in time for a parcel tax in November that solves the revenue problems for the city – while at the same time providing us with the assurances and accountability we need going forward.
—David M. Greenwald reporting