Event Will Focus Eye Toward Restoring Police-Community Relations
It was a case – now nine years old – that captured the attention of the community, Ernesto Galvan's life was changed dramatically with a beating in the early morning hours in June 14,  2005, at approximately 3:20 a.m. or shortly after.  Police beat Mr. Galvan, and to a lesser extent his brother Fermin, after they claim he resisted arrest near a West Sacramento park.
Three jury trials later, the district attorney, apparently reluctantly, dropped the resisting and battery charges when it became clear they were unlikely to get 12 jurors to convict.  In the first two trials, there was a single hold-out that led to a mistrial, but the third trial was different – Fermin Galvan would be acquitted on one charge, and the split on the other charges shifted to the brothers' favor.
Holes began appearing the police's accounts, inconsistencies from trial to trial – more than simply a matter of the passage of time, suggesting that the police's account might be more problematic than prosecutors and previous juries believed.  Most of all, the public was beginning to put pressure to drop the relatively minor charges and move on.
The DA, in January of 2011, finally decided not to seek a fourth trial.
Two more recent cases in West Sacramento have raised our concerns that the problems that had happened in the Galvan case are not a thing of the past.  Today, the criminal trial of Sergio Alvarez will wrap up.  But a civil suit remains, filed by Attorney Stewart Katz, who will be among six panelists at tonight's event at the Holy Cross Church Auditorium located 800 Todhunter, West Sacramento.
The doors open just before 5 pm today, Sunday, February 23, 2014.
The event features three attorneys who have represented clients who can be characterized as victims of police misconduct in West Sacramento – Anthony Palik, who represented Ernesto Galvan in the first and third trials and both brothers in the civil suit; Stewart Katz who represents the victim who filed suit in the Alvarez case; and Chris Moenig, who recently filed suit in the case of Kevin Hughey, shot by West Sacramento Police in June of 2012.
There are three other participants: State Assemblymember Roger Dickinson, Former State Supreme Court Justice Cruz Reynoso, and East Bay Civil Rights Attorney Jim Chanin.
Unfortunately, because of the participation of attorneys involved in active suits, West Sacramento City Councilmember Mark Johanessen had to pull out from the event and we never received a response from the new Police Chief, Thomas McDonald.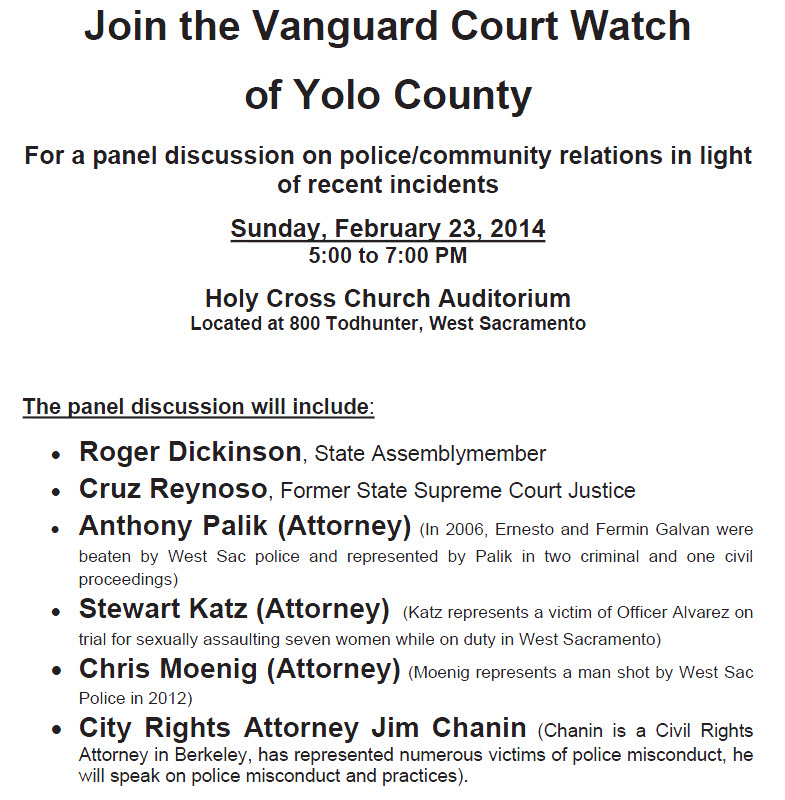 The lawsuit that Mr. Katz filed alleges that, after one victim was raped and sodomized by an on-duty West Sacramento Police Officer, she attempted to complain to authorities – Officer Jason Mahaffey, Officer Chris Wright and Officer Lindsey Lam.
As the suit alleges, "While walking on West Capitol Boulevard she came into contact with two West Sacramento police officers, Officers Jason Mahaffey and Chris Wright, who were in separate, marked patrol cars. Plaintiff alleges on information and belief that neither of these officers took any steps to address her complaint until after Officer Alvarez was arrested."
She then attempted to complain "when she was handcuffed and in the back of a patrol car and being taken to jail by West Sacramento Police Officer Lindsey Lam. This occurred after the second assault and after reporting Officer Alvarez's assault to officers Mahaffey and Wright."
The suit alleges, "(Officer) Lam did not respond to these seemingly shocking allegations. Plaintiff alleges on information and belief that neither of these officers took any steps to address her complaint until after Officer Alvarez was arrested."
That is the same Officer Wright who was ultimately fired in the most recent allegations in the Kevin Hughey case for an officer-involved shooting.
The Hughey case is particularly instructive here because, for all intents and purposes, it was caught on tape.  And so, while there are a number of unanswered questions, the ambiguity that made it difficult to get to the truth in the Galvan case simply does not exist.
The civil attorney for Kevin Hughey, Chris Moenig, told the Vanguard that he does not believe that authorities knew what was on the tape when they turned it over to the defense during the criminal portion of the trial.
The audio portion of the critical one-minute segment is difficult to hear, while Officer Markus is racing from his initial location to the door as Officer Christopher Wright attempts to make entry.  Through the use of sound reducing headphones, we were able to confirm the transcript of the audio which shows very clearly that Officer Wright, upon shooting Mr. Hughey, concocted a false cover story.
What we see on the video is that Officer Markus and Officer Wright pull into the alleyway where Mr. Hughey and his wife and kid resided.  His wife was nine months pregnant at the time and they acknowledged having a heated argument.
The first contact with the family, however, was a security guard who told them they had left their garage door open.  You can see on the video the two officers talking to the security guard and then you can hear one of them say that's not why we are here.
The first troubling question is why Officer Wright would be the one to approach the door without Officer Markus right next to him.  They came in a single vehicle, suggesting that Officer Wright, as a new West Sacramento Officer, was being trained by Officer Markus.
The purpose of this event will not be just to shed light on recent disturbing incidents involving the West Sacramento Police, but it will also focus on the need to restore lines of communication between the police and community members.
The public is encouraged to attend and ask questions.
—David M. Greenwald reporting