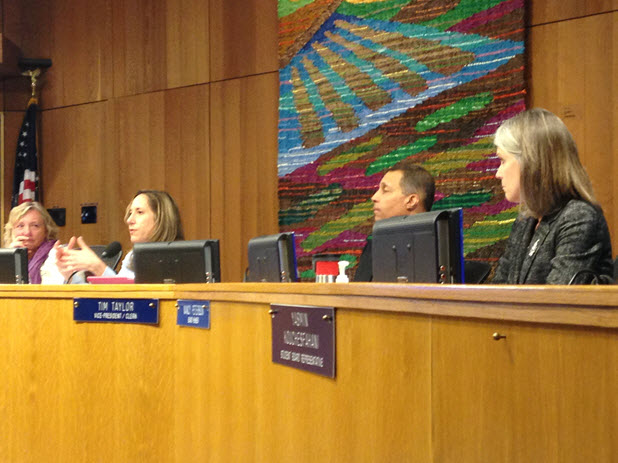 The Davis Joint Unified School District Board was nearly an hour late coming out of closed session.  When they finally did emerge, Board President Gina Daleiden announced that the board had agreed to hear the appeal in the administrative decision not to renew volleyball coach Julie Crawford's VSA (variable service agreement) at their March 13 meeting – pushing that matter back by a week.
Four members met in closed session, with Nancy Peterson once again recusing herself as the matter involves a complaint filed by her husband Rob Peterson that Coach Crawford retaliated against their daughter in cutting her from the volleyball team last fall.
"The board has set the hearing date for the Crawford-Peterson complaint for March 13 in accordance with district policy on formal complaints/appeals," she said.
It was at this point that the board issued its most strongly-worded statement to date on this matter.  Board President Daleiden stated, "However, the board strongly and unanimously urges the Peterson-Crawford parties to enter into mediation to settle this conflict."
"We want to state in the clearest terms that we want our district removed as the battlefield," she said.  "DJUSD needs our resources, our focus, and our energy moving forward in educating our students."
"The board encourages both of the parties to seek professional mediation on this matter so that there can be some healing in this painful process and so that the district can get back to the business of serving the kids," she concluded.
The statement more forcefully builds on their statement from two weeks ago in which they urged the parties to work out their differences: "The Board encourages the parties to come together to find a reasonable resolution that is in the best interest of the students and the School District."
As the Vanguard has reported, the immediate conflict seemed to have been escalated last July when Nancy Peterson was the lone dissenting vote in a 3-1 vote to reinstate Julie Crawford as coach.  She escalated it not only in this dissenting vote, but in her comment, "My vote reflects nothing more than my continued pursuit of ideals centered on children. I cannot in good conscience vote to approve Ms. Crawford as a coach for young adults."
Despite this comment, she and her husband would send their daughter, a senior, back to the team where Ms. Crawford, for reasons still unknown to the public, would cut her.
Mr. Peterson would file a complaint, as he stated last week: "My issue was a disagreement between this coach and her friend the previous coach and my wife at whatever level became simple retaliation."
In a move that angered the public, the district would hire an independent investigation, with Alexander Sperry the lead investigator into a 99.3 hour investigation that cost the district $22,000 and produced a 72-page report.
Board President Gina Daleiden explained to the Vanguard, "Generally speaking, you might imagine that when an investigation involves a Board Member or a top administrator, it really needs to be done by someone outside the DO [district office] rather than internally. The nature of the complaint might also necessitate an outside person or an attorney/professional investigator."
The 72-page report concluded that, by the preponderance of the evidence, the decision was at least partially influenced by Ms. Crawford's relationship with Nancy Peterson.
The Enterprise reported it "has obtained a letter from Best summarizing attorney Alex Sperry's investigation and which describes the violation of board policy that may have cost Crawford her coaching job."
The paper added, "The investigation was triggered by a Sept. 3 complaint filed by longtime Blue Devil volunteer sports doctor Rob Peterson, Nancy's husband and Ms. Peterson's father, after Ms. Peterson was cut from the volleyball team."
Further, the investigator concluded that "more likely than not, Coach Crawford's decision to cut (Ms.) Peterson from the varsity volleyball team was influenced, at least in part, by Coach Crawford's feelings about Nancy Peterson."
Robert Peterson claims that, though we have not seen them, there are emails and threats and other evidence to substantiate the complaints.
Others have suggested that the "more likely than not" standard along with the language, "influenced at least in part" is relatively a weak finding.  The question that the board will have to decide is whether "the Administration's conclusions are supported by a preponderance of evidence and whether the administrative remedy is appropriate to the conclusions."
Adding to the intrigue was the decision by the district, whether it was the athletic director, HR Director Matt Best, or Superintendent Winfred Roberson, to delay their decision from the November conclusion of the investigation until a few weeks ago, literally on the eve of the beginning of the volleyball season.
According to accounts, Crawford was informed by High School Principal Will Brown that her service agreement had been pulled at the district level at the January 23 board meeting.
Parents reacted angrily to a letter from the school district less than 24 hours before scheduled tryouts.
The letter addressed to "boys volleyball families" said, "While we are looking forward to another great season of DSHS Boys Volleyball we have yet to identify a coaching staff for the 2014 season. As a result, we have posted these coaching positions and will be reviewing applications as they arrive."
It continued, "In the meantime, practices will be canceled until a coaching staff is identified. If you know anyone with Volleyball coaching or playing experience that may be interested in coaching the DHS Boys Volleyball team this season please have them contact me directly. Our goal is to identify qualified coaches and get the season started as soon as possible."
The board has not directly answered this question, and on Tuesday Gina Daleiden stated, "The Board entered this particular complaint/appeals case on Feb 13, when the Board granted the request for a hearing to appeal.  We will know further details as we go through the process.  The general timeline for complaints/appeals is detailed in the AR's."
Earlier she told the Vanguard that she had not yet read the 72-page investigator's report.
Board President Gina Daleiden told the Vanguard, in addressing additional questions, that since "the School Board is now acting in a quasi-judicial role in a current appeal process, we each have to maintain impartiality until the conclusion. This means I cannot answer specific questions about my opinions related to the matter."
She added, "The Board does desire to be as transparent as possible.  In order to follow through with our role in the appeal, however, we must protect impartiality."
One of the key questions is whether Nancy Peterson should have recused herself from weighing in on the issue of a volleyball coach with which she had not just a relationship with as a board member, but who was her daughter's coach.
We asked Ms. Daleiden, "At what point should a board member recuse?"
Ms. Daleiden responded, "Government code prohibits voting on matters in which the member (or  spouse or dependent children, business, or source of income) has a direct financial or real property interest.  In these cases, the member must, by law, recuse his/herself from the vote. "
Since that clearly does not apply in this case, she added, "Absent these financial conflicts, elected officials must exercise their own judgment in deciding whether or not they can be impartial."
However, she continued, "I understand the standard for these 'personal conflicts' commonly used to be that if an individual feels they cannot consider a matter in an impartial manner (a personal rather than financial conflict), they should choose recusal."
She noted, "This is not defined by law, but rather left to individual judgment.  And it is not automatic.  Applied to DJUSD, it would not necessarily be dependent on whether or not a member has a child in a program, class, or activity.  It would be dependent on whether or not there is a real or perceived 'personal' conflict of interest in the mind of the member."
"It is a standard I've seen delineated in other public agencies, and would support for addition to our policies if the Board considers revisions to conflict language," Ms. Daleiden concluded.
At the very least, the board will be looking to tighten their conflict of interest language as a result of this.
—David M. Greenwald reporting