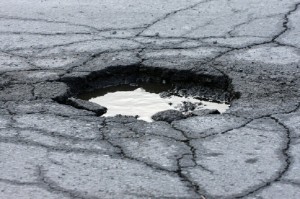 And Why Sales Tax Won't Fix It – Nearly two weeks ago, in a decision that occurred after midnight, the council ultimately at almost the 13th hour decided to go with a six-year, half-cent sales tax.  I would be remiss at the start not to point out that the city council has an incredibly low batting average on decisions made after midnight.
A few weeks ago, I came out against the tax hike, but it is really more complicated than some sort of opposition to increased taxes.  As I will argue here, the city council violated the prime directive of revenue hikes – ask for what you need.  They did not and it is not even close.  Instead, they are counting a second tax hike, in November, that will require a two-thirds majority to get them the rest of the way.
Will they get it?  I do not know.  On the one hand, since I have been following city politics closely, no ballot measure on taxes got less than 67 percent approval.  That was the 2011 Measure A – an election campaign that was marred by several critical mistakes that created distrust with the school district and an unusual amount of negative press.
On the other hand, a parcel tax in November has several things going against it.  First, it will be the second tax increase the city asks for in six months.  Second, there is a total landscape picture that it will operate in.  In addition to the parcel tax, you have water rate hikes that will increase people's water costs two to three times their 2013 amount by the year 2018.  You have the $400 or so that the district collects in parcel taxes.
We also have a great deal of uncertainty.  We will have a new city council and a new city manager by then and that presents a lot of unknown.  Moreover, we are flying blind.  The school district, for all of their problems, has always polled to see what the voters are willing to support.  The city council is flying into this blind and they are rolling the dice on what could be half a billion in roads maintenance costs down the line.
The major problem has been a policy problem – a failure of the council first to take the issue seriously and second to implement funding in the face of other budgetary demands.  In 2009, when Bob Clarke first presented the roadway problem, the city might have been able to have dealt with the roads crisis for a few million per year.
But, instead, those councils, facing budget shortfalls and failing to prioritize infrastructure, pushed the problem down the road, ignoring the issue of lack of funding in 2009 and 2010.
This chart shows the situation clearly
https://davisvanguard.org/wp-content/uploads/2013/04/paving-contracts-2000-2012.png
Since 2000, the city of Davis has spent a little over $10 million on roads, and only half a million of that was budgeted money from the general fund.  Everything else came from state and federal funds, which were never consistent or reliable.
It was not until 2011, with a new council, that the city council finally started taking this impending crisis seriously.
But even the post-2010 city council has failed to deal with the problem.
In June 2011, the council made huge waves by reducing city employee compensation by $2.5 million.  $1 million of that was to go to roads – a drop in the bucket, but a huge step forward.  However, those cuts were never implemented and thus the $1 million never ended up in the roads fund.
In the 2012-13 budget, the city council, anticipating the new MOUs, again budgeted $1 million for roads, but again that was never spent.
The 2013-14 budget called for $2.3 million to be put toward street maintenance, but $1 million of that was money budgeted from 2012-13 that was carried over.
So when the council reduced the sales tax from three-quarters of a cent to one half cent, reducing the revenue from $5.4 million to $3.6 million, the reduction would of course occur in roads funding, which was reduced from $2.5 million to $1 million.
Council reasoned that the reason we want to make these cuts is that the real funding mechanism for roads will be the November Parcel Tax.  There are clear advantages of it.  The city can borrow money off of the parcel tax in the form of general obligation bonds that can front money for roads.
The problem, of course, is that the council has to get a November parcel tax passed by the voters, and as we argued above that is a tall order, particularly given that they are already asking voters to approve a sales tax measure.
How bad is the situation with the roadways?  It is probably the worst crisis facing the city today.
It was a year ago we learned that if the city council did not immediately infuse tens of millions into road maintenance and spend $150 million, they would be facing a $444 million deferred maintenance hole.
"We knew at the time it was a very difficult vote to basically move $1 million into the roads and $200,000 into the bike paths," Mayor Pro Tem Dan Wolk said at the time.  "That was a difficult vote and we knew at the time… that that really wasn't going to solve the problem by any means."
"But seeing this report shows you how really a drop in the bucket it really is," he said.  "It's very daunting and sobering to realize and think about where we're going to find this $150 million."
It is actually worse than that, as the real cost is perhaps closer to $600 million and it is rising fast.
And that is the part that needs to vex people.
https://davisvanguard.org/wp-content/uploads/2013/05/Roads-May-2013-02.jpg
First of all, the costs of asphalt have increased eight-fold since 1999.  That means that the costs are increasing much faster than the pace of ordinary inflation.
Second, as the mayor and others explained in the State of the City address, the cost of deferred maintenance is exponential.  At relatively reasonable levels of pavement, the cost is "only" $9 per square yard, but that increases quickly to $22 per square yard if that road is not repaired and it increases to $61 per square yard at the point where the roadways are near failure – and unfortunately many are near failure in the city.
The problem is so vexing now that the only way to properly handle it is to take out $25 million in bonds and pump in a couple of million a year thereafter for the next 30 years.  And in so doing, we can keep our average road at a PCI (Pavement Condition Index) of 60, which seems like a D-grade.
No longer can we strive as a community for a PCI of 70.  That is too expensive and too ambitious.  The best we can hope for is that the main roads in town can be kept at 68 with residential streets far lower than that.  Even that may be too much to ask for.
The council deserves great credit in starting to address issues that previous councils have ignored, but the fact remains that very little money has been spent since the council first took over in 2010, since the new council in 2011 passed the first major budgetary reform, and now when, once again, the can has been kicked to November.
At best, council is taking a major gamble that they can get a second tax measure passed in November; at worst, we are looking to add literally millions and probably tens of millions to the taxpayer's tab when roads finally get addressed.
This is what happens when the council waits until after the midnight hour in the council meeting where a June tax measure must be placed on the ballot.
However, it is not too late to fix this.  Staff believes that council has until March 11 to pull the sales tax measure off the ballot.  They could then find a means to balance the immediate budget in June while planning a single parcel tax measure in November with a full community discussion.
That would be the best approach at this time because, again, two tax measures are going to be difficult to get approved.
—David M. Greenwald reporting