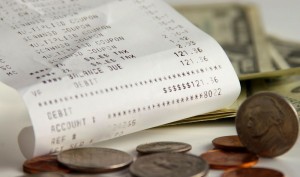 It is going to be an interesting three and a half months between now and the June 3 election on taxes.  What will make this endeavor most frustrating is that the public has not been paying attention to the city's ongoing fiscal crisis, which actually started well before September of 2008 but became evident at that time.  Many will be unaware as to the steps that the city has taken to reduce costs, cut back on personnel, and belatedly make structural reforms.
Many will also not understand that the genesis of these problems are 10 to 15 years old, and only because the economic collapse are we giving them heed.
First, we again have to clear the insinuation that something nefarious occurred during the meeting on Tuesday.  What happened was that Brett Lee called for a break so the council could collect their thoughts – when they came back, Councilmember Lucas Frerichs decided to reduce the tax from 0.75% to 0.50%.
But that was not the result of any secret discussion.  He largely did that on his own or after discussing it with Rochelle Swanson, his Brown Act Partner.
Yes, the Brown Act would preclude the council huddling in a private room to figure things out – but that is not what occurred.  In fact, for most of the break, Lucas Frerichs was not even talking to Rochelle Swanson – I know this because she and Brett Lee spent most of the break talking to me.
This notion had been discredited on the Vanguard on Wednesday, but for reasons unknown, Bob Dunning decided to write on Friday: "Along about midnight, at the urging of Councilman Brett Lee, they took a two-minute bathroom break and all five of them disappeared behind the magic doors where only council members are allowed to tread …
"Oddly, when they returned, they had lowered their sights to a mere half-penny tax increase and passed it faster than you can say 'potholes on Pole Line' … I don't know what they were drinking back there during their short break, but it wasn't Sacramento River water …"
Bob Dunning, as usual was not at the meeting, and must have either jumped to conclusions based on the break or been given erroneous information.  Oddly, when I emailed him about it, we had a 30-email exchange (I exaggerate not) in which he talked about everything but the issue at hand.
I may not have agreed with the council's decision – as I wrote on Thursday – but nothing nefarious occurred.  I do think Mr. Dunning was correct in his next comment which is, "They left $1.7 million on the table in the mistaken belief that lowering the ante by one-quarter cent would make it bulletproof at the ballot box …"
The council believes that they are going to get two passes at this, and I think that is one of the bigger miscalculations they made on Tuesday night, or Wednesday morning.
The next thing that is going to move into the opening is the re-hashing of the revenue issue.  Today's letter lays that out as well as any, as William Tournay of Davis suggests that the council, "after years of no serious discussions of revenue" instead expect to "soak its residents with more fees. How much blood do they expect to get out of a turnip?"
Mr. Tournay cites the "2006 retail leakage study, done in conjunction with the Target development, indicated 75 percent retail leakage for Davis. Folks, that is troubling. It also indicates that Davis is underserved with retail space."
He continues, "Our council is well known for the pressure it endures from the 'keep-us-small-and-desirable' crowd. But that kind of problematic inwardness needs to be tempered with reality. Six to 10 years of additional taxation and economic planning will not change the reality that money chases low prices and broad choices."
But Mr. Tournay completely ignores the other side of the coin.  Everyone from the Chamber Executive to Director to the Chief Innovation Officer to the four candidates running for council believe that the public is not going to support additional retail.  In fact, when Target was placed to the voters, even the strongest adherents on council, Don Saylor and Stephen Souza, said this was going to be the only big box, and they stuck with that notion a few years later.
The city instead has turned its attention toward high-tech economic development.  Rob White brilliantly laid out the plan on Tuesday night (his synopsis, the multimedia presentation).  High tech will bring the city both increased property taxes through the improvement of existing cites as well as the highly sought point-of-sales tax.
The advantage of going this route is that the city can utilize its biggest assets – location of the university and placement near some of the best agricultural lands in the world to leverage revenue.  But those are going to be long-term investments.  In the short term, we need taxes and perhaps temporary cuts to services to balance our budget and reinvest infrastructure.
Mr. Tournay is correct that the city had for years had no serious discussions; while that is correct, the public plays a huge role in this, as does the economy.  Bottom line, had the city built it in 2009, it would probably look like the Target pods right now, just now growing.  But the public wasn't there and even economic development will be a huge lift.
Finally perhaps comes breaking news – Bob Dunning, after years of ignoring perhaps the most serious issue facing Davis has suddenly discovered, probably because of the tax issue and now the POU (Publicly Owned Utility) issue, that we have an economic crisis in Davis.
In his column this morning, he calls for a "thorough review of city finances."  One problem – we have been thoroughly reviewing the city's finances for almost seven years now.  If he doesn't want to read me, certainly he could have read Rich Rifkin in his own paper and, even on occasion, the paper's editorial pages.
Mr. Dunning writes, "While I'm of the mind that the good citizens of this town will more than likely be willing to vote for a sales tax increase to bail us out of our current jam, the public wallet will not remain open forever."
He quotes "Peter" who wrote that the council meeting was "was another reminder of how eager" the council is "to spend other people's money."  That sounds funny because the city first acknowledged the fiscal crisis belatedly in late 2008 and June of 2014 is the first time that the council is proposing a tax increase.  Talk about not being eager to spend other people's money, at least acknowledge that.
After attacking the idea of the POU – which seems to be the limit of people's understanding of city finances, "Peter" writes, "The city is incapable of fixing sidewalk trip-and-fall hazards or street potholes, and we expect a city utility to do adequate upkeep on power lines or gas lines?"
Message to city hall: what we have here is a failure to communicate.  Bob Dunning has apparently been completely asleep at the wheel during the discussion of how the city is hundreds of millions in the hole on road repairs.  It is not that the city can't fix them, but that they lack the financing.
Mr. Dunning then writes, "I'll admit to never sending a Christmas greeting to PG&E, but I can tell you that in the half-dozen or so times over a great number of years that they've had to come to our neighborhood or to our home specifically during a power problem, they've been prompt, professional and proficient."
And the fact that PG&E has far more of these outages than other companies is irrelevant, because Mr. Dunning believes that they have been prompt, professional and proficient.  But I digress.
Mr. Dunning spends zero time talking about unfunded liabilities, pensions, retiree health care.  In fact, I can't recall a single time in the last seven years when he has mentioned any of these things.
Instead, he writes, "It's time to convene a citizen-based Budget Advisory Commission to turn over every rock looking for spare change that could get us out of this mess."
The funniest thing is, the city already has.  Maybe Mr. Dunning should be paying more attention to city fiscal matters – he might understand some of the issues and challenges the city is facing better.
That is not to say I give the city a pass on these things – most of them, as we have discussed in the last few weeks, were preventable.
I remain concerned about the sales tax initiative.  As I argued on Tuesday, by going with a revenue measure that only raises about $3.6 million of the needed $5.1 million (which we had all agreed was actually far too low), the council has once again pushed off the discussion and the placement of funds needed for road repair for at least six more months.
The second problem is the trust issue.  During the run-up to the tax measure, I made it very clear that my support for the tax measure would heavily depend on the degree to which the council could commit that new revenue generated by the sales tax would go to structural shortfalls and deferred maintenance, rather than to increased employee compensation.
There is a history here, as I have recounted many times – in 2004 the council passed a half-cent sales tax that was supposed to keep parks open and prevent the city from having to lay off city employees.  Somehow, though, the council turned around in 2005 and gave away the store.  The firefighters got a 36% salary increase and other bargaining units got 15 to 18%.
The city has limitations on what they can do with a general use tax.  The city cannot bind itself to spend the money a certain way, because that would require that the vote be two-thirds.
The only sure way that the council will not in two years' time or four years' time be able to move to go back to four on an engine, or eliminate boundary drop or shared services with UC Davis, and give increased compensation to the firefighters and other city employee groups is if the council does not have the money to do it.
Interestingly enough, that puts us back into parcel tax territory, not sales tax.
The city doesn't seem likely to reconsider that decision, although they have until March 11 to act to pull the sales tax measure off the ballot.
The discussion in the community shows (A) the voters are not sufficiently educated on this issue and (B) a little bit of knowledge is a dangerous thing.
The city manager in the two months before he heads for higher ground is going to do the whirlwind tour of Davis with a mission to education the public, but I wonder if that is not going to be too little too late.  I mean, if Bob Dunning hasn't even used the terms unfunded liability, PERS, or OPEB, how is the average citizen going to understand these complexities?
—David M. Greenwald reporting