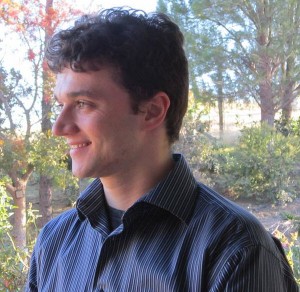 In December, Daniel Parrella, who describes himself as "a solar entrepreneur," announced that he will be running for the Davis City Council in June 2014.  In a press release he said that he "announced his candidacy via a crowdfunding kickoff. He will be pursuing one of the two open seats this election cycle."
Mr. Parrella was born and raised in Davis, attending four local schools before graduating from Leonardo da Vinci High School in 2009. "While in high school he spoke in front of the school board in protest of layoffs and was an active Debater," his release notes.
This week, he became the fourth council candidate following Sheila Allen, Rochelle Swanson, and Robb Davis to sit down with the Vanguard for an interview.
"Probably the biggest reason that I'm running is that I think that the young families in this town are getting driven out by the number of taxes that have been passed in the past ten years," Daniel Parrella said.  "I think that if my parents were having kids today, I would have probably grown up in a peripheral town.  I think that my experiences growing up would not have been as pleasant as they were living in Davis."
"Unless we make the real changes we need to balance the budget and economic development to prevent new taxes from being raised, I think that we're going to have a town that's split between college students who have parents who are rich enough to live in this town and aging boomers who commute to work from Sacramento," he continued.
He listed, as his biggest issue, the need for a business park in Davis.  He sees three ways of balancing the budget: cut costs, raise taxes, or provide economic development.
In the long term he sees economic development as the best way to do it, but he added, "In the short term I don't see any way we can do it without raising taxes, unfortunately – as much as it pains me to say that."
"I think that economic development in the long term is the way to go," he said.  "I think a business park could generate the revenues necessary to close the budget gap without having to have permanent long term taxes."
"There are still some cuts to be made in the budget, the problem is that politically it's extraordinarily difficult," he said.  "Depending on how this election goes, who gets elected, I think that those cuts won't ever happen."
"I do think a public utility company is a good long term investment for the city to make," he said.  He prefers the Community Choice Aggregation method that Marin County adopted, to the city's preferred alternative of the POU.  "We're kind of throwing ourselves into a public utility company in Davis with the Davis municipal utility division, where we actually break away from PG&E."
"I don't think that we've accurately looked at the risks involved with that," he said noting, "I think we're going headfirst into something that hasn't been done in many decades in Northern California, and I'm concerned that we could jeopardize how well the residents and businesses get electricity in Davis."
Therefore, he thinks that the Community Choice Aggregation would be the better way to do that.  It requires less, he said, working with PG&E but giving the community the option to better manage its own resources.
Daniel Parrella is concerned about the decline in voter turnout in Davis, which he ascribes to "the changing demographics in town."  He noted that in 2004, 20,000 people voted in the city council election but by 2012, that number had declined to a little more 14,000.  "If we don't find a way of getting the students to vote and getting the people moving into town to vote, we could become a city (that has low participation)."
"I think that Davis won't be Davis if we have that low voter turnout," he said noting that this issue is never touched upon.
He cites the fact that he was born and raised in Davis and spent his entire life in Davis, with the exception of two years where he went to UC Santa Barbara.  "I've experienced the school system, I've gone to Farmer's Market many times throughout my two decades of life here," he said.  "I'm also a small business man, I created a profitable business in the solar industry when I was 20 years old."
Based on that, he's supportive of "Davis Roots and spinoffs, getting young people to start business here and staying here.  That's what I am, that's what I did when I was at Santa Barbara and I came back here to start my business."
"I think that if we're going to get out of this budgetary mess that we're in, businesses really need to be a key part and I think that I have experiences that the other candidates don't have," he added.
Mr. Parrella was relatively unfazed by the notion that people might not take him seriously due to his youth.  He told the Vanguard that he encountered a lot of that at age 19 when he was attempting to sell solar panels.
"I think that once people get to know me, they'll see that I'm not just…" he said.  "I know there have been other young candidates who run who just do it as a resume booster or because they're propped up by the political machine in town.  I do think I understand the issues in Davis.  I've been following issues in Davis since I was 15 years old."
The first issue he said he really paid attention to was the 2006 election when voters had the chance to bring SMUD to Davis.
"I've followed the issues since then, I do know what's going on," he stated.
On land use, he stated, "I don't think we need any more residential developments for the next few decades.  I think the land use needs to focus for now on business."
"Part of my big problem with the Cannery is long term it goes red," he said.  "All developments that we should be focusing on should be short and long term profitable for the city and have the revenues to sustain it."
He added, "I really don't want Davis to become a metropolis.  I don't think we should ever hit 100,000 people.  I think we can create a city that has all the amenities that we need without having to expand too much further out."
If the city does a business park, he supports the city establishing an urban fringe and "buying land around the area to make sure that Davis stays the town where we all know it is."
On Nishi, he acknowledged the "nightmarish connectivity issues" but said "I would support a business park there. I think it would be a good spot for high density housing."
He added, "Being as old as I am, I do sympathize with the students who have to deal with ridiculously high prices for rent."  He said, "I think we need to provide high density housing for them and I do support a mix on the Nishi land."
In the downtown, he said he supports densification and infill.  He argued for beneath-ground parking as well as building upwards.
In terms of a business park, "For now I'm really just focusing on east of Mace." He said when Mace 391 was on the agenda, "I actually made a public comment saying that I was in favor of a business park.  I regret doing that now, because of the Ramos-Oates and Brunner Tracts, I like the fact that it's surrounded by Mace 391, the freeway and Mace Curve and I like the fact that we can't sprawl outwards there."
"That's what concerns me about the west innovation park, I don't think it's as good of a spot for a business park in general because there's the risk that we can sprawl outwards," he stated.  "And frankly it's going to be a real tough battle to get the east one to pass a Measure J vote and right now I just want to focus on that one."
On the Parking Task Force recommendations he said, "Everyone supports like 17 of the 19 recommendations or something."
He said he's leaning toward a no on paid parking.  He said, "I've spoken to some business people and it seems as though the paid parking may not be the way to go."
"Even the parking garage recommendation that they have, it troubles me that they're willing to spend $50,000 per spot on a parking garage when the one on G Street has 50 percent occupancy most times of the day," he said.  "That does trouble me.  If the parking problem in Davis was a simple supply and demand problem – yeah, I would support a parking garage unanimous.  My problem is I don't think supply and demand is the issue, I think that distribution is the big problem where the employees go during the day."
Fixing the distribution problem would include having employees park in long term parking in the parking garages.
The discussion moved back to creating a long term sustainable budget, which Daniel Parrella sees as the economic development piece.  "The bottom line is the city doesn't generate enough property taxes, doesn't generate enough revenues right now to sustain the services that the people of Davis have come to expect," Mr. Parrella stated.
He doesn't see the number of employees that the city government has right now as the problem.  He noted the decrease in employees from 464 to 361 since 2007-08 and said, "I really don't think cutting another 100 employees from the city government is going to be a long term solution and I think it will affect the services that the people of the city of Davis have come expect."
"If Davis is going to continue to be the place where people want to move to, we're going to have to go the economic development route," he said.  "In my mind it's the only way of balancing the budget and creating a sustainable economy."
Mr. Parrella noted that there are two taxes being proposed, a sales tax and an infrastructure parcel tax, and he said that he would support "limiting employee compensation because if we don't deal with the pensions and the road repairs this year…"  He added, "We need to rip the bandaid off, we really do, I hate the fact that we've been kicking it down the road for the next 15 years."
"The priority now is not increasing employee compensation, the priority right now is fixing our roads and finding ways to fund our pensions," he stated.
"I won't say I'll hold the line in 20 years on those (future) MOUs," Mr. Parrella clarified.  "But I will say, it's not my priority right now.  My priority is paying for the unfunded pensions and the roads."
We also discussed the city's fire service.
Daniel Parrella said he was supportive of what the city did in the last year on this issue and said, "That's why I came out in support of Steve Pinkerton.  I know he's not perfect but I thought he did a good job of holding the line against the fire union."
"Those are the kind of tough cuts that have to be made in a fiscal crisis," he said.  He said that from a fiscal standpoint, he does not believe that boundary drop or the shared management services are going to make a huge difference in the long run.  "The only one that made a difference was the fire staffing cuts.  We saved a significant amount of every year.  I think you reduce the overtime that the firefighters have and really, when I look at surrounding cities, there are just not many that have four people per engine rather than three."
The election will be in June.  There are two seats that are up for election.  Joe Krovoza declined to run for reelection and is instead running for Assembly.  Rochelle Swanson is running for reelection and there are three challengers, along with Daniel Parrella.  They are school board member Sheila Allen and Robb Davis.
The Vanguard has interviewed now all four announced candidates, having previously sat down with Sheila Allen, Rochelle Swanson, and Robb Davis for interviews.
The filing period opens on Monday, February 10 – will anyone else emerge other than these four?
—David M. Greenwald reporting
Related articles across the web