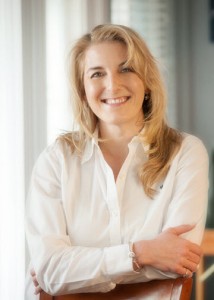 Councilmember  Rochelle Swanson was elected to the Davis City Council in June 2010, and she served as Mayor Pro Tem from January 2011 until July 2012.  She has been instrumental in her support for fiscal sustainability and in moving economic development to the front-burner of council and community priorities.
In early January, she announced her decision to seek reelection.  Last week she sat down with the Vanguard to discuss her legacy on the council and her bid for reelection.
She told the Vanguard she is running for reelection "because I don't believe we completed the task that we started for the budget, for the sustainability, frankly I think that we made great strides, but we are not there yet as you can see by the impending deficits, we're talking $17, $18 in the hole."
"We've definitely had some wins which has been good, we've seen some of the revenues get bumps up here and there," she said citing the addition of companies like Mori Seiki, "yet at the same time cost continue to outstrip anything that we're bringing in."
"It's not a time to rest," she added.
She noted that while the city reached contracts with five of the bargaining units, with imposition on two, "we're going to have another round in a couple of years and I think it's important that we stay the course for where we are and being able to really to continue to push to increase the revenues."
She was not just speaking of the upcoming tax measure, but also setting policies, bringing in the Chief Innovation Officer, and improving the relationship with the university, and she noted that the city has improved its visibility in the region as a potential economic power.
She spoke of the positives that have occurred during her first four years on the council.
"One of the ones that I think that has really changed has been just the civil discourse," she said, noting that in 2010 civil discourse was a big topic of conversation, along with the tenor in the community.  She reflected on a discussion from 2010 and feels encouraged that they have accomplished much in this area.  "We have done a lot.  We have a broader base of folks that come to council."
"We have a very collegial council, even when there's disagreement," she added.  She noted the importance that each of the members have in producing a collegial environment.  "I would like to see us get more engaged," she stated, noting that, when the city finally gets the new website working properly, she would like to see the city use a variety of tools to engage the public in real time.
"If we had (those kinds of tools) engaged right now, we could spent less time wringing our hands about how do we reach out," she said.  "We would have a tool.  It would still be important to get face-to-face into the pockets of the community, but that would be a good one."
"We have made great strides on the budget, especially we're taking head on, deferred maintenance," she said.  "I think one of the biggest accomplishments was not just dealing with it, but exposing it, opening it and really giving everybody from community members to staff, not just the freedom, but the support to tell it like it is – all of the ugliness."
"I think that is a win," she said.  "All of the transparency.  Rather than giving bad news, what have we done wrong, rather up front appreciating the frankness of how bad the news was."
Rochelle Swanson also cited a change with the openness of the city manager's office: "People realize that they really can shoot an email, pick up the phone, and come down and have a meeting with staff."  She noted that a number of people appreciated the ability to do that, even if they don't always get the answer that they want.
Another thing she noted is that when she first started to go to League Events and/or business events, "People were always very surprised to see Davis outside of Davis.  Now we're invited and we're expected and we're a big part of the conversation.  Being honorary co-chair of Cap-to-Cap was huge."
Rochelle Swanson noted, "I didn't really appreciate how big that was until people throughout the region had mentioned it.  That continues to be important, when situations are coming up, there is engagement that's happening."
She noted that now that Rob White is on board, and that has been a huge help "because people know we have a resource, and we're serious."
We shifted gears to talking about challenges and disappointments that are up ahead.
Rochelle Swanson did express disappointment in the current state of employee morale, noting, "I do hope it's on the mend."  She added, "It's tough times and it's hard to see when there are divisions."
"The time it's taken to deal with the deferred maintenance on the roads," she said, noting that while she is proud of the progress that they've made, "it's going to take a while to tackle that one."
"While we have made strives with community engagement, we are nowhere near where I would have expected we would be by now," she added.  She mentioned the budget outreach meetings in the summer and fall of 2011 – those events were not well attended and she said, "I would have hoped we would have a lot more progress with the public information officer or something along those lines.  I know money has been tight (but) I know we could have done a better job."
"The water project took a lot of bandwidth – probably more than what was expected," she said, noting that, as a Monday Morning Quarterback, "It's easy to look back, 20-20, and said 'oh if we would have done that'…  I could say, I wish Dan and I would have led with our ideas, the WAC, that would have been the first out of the gate (idea) rather than trying to save the project."
In December of 2011, Rochelle Swanson and Dan Wolk came forward with a proposed compromise on water in the wake of the referendum qualifying for the ballot.
"It is clear a significant portion of the community needs more information as reflected in the referendum, as well as the number of protest votes," Mayor Pro Tem Rochelle Swanson said in a statement at the time.
"After prolonged discussions with the City Manager, I feel assured we can in fact take some time to institute the measures in the original motion I seconded on September 6. It was clear then, by the number of protests, that the community was requesting more information regarding an increase," she added.
That was a big moment, as it led to the formation of the WAC and ultimately in March of 2013, the approval of Measure I.
Last week, Ms. Swanson did caution, "We're not 100 percent done and out of the woods yet. "  She is pleased that the city is moving closer to having, in her words, a long term, viable water supply.
"In a time of drought, it's great that we have wells to fall back on as opposed to other communities, but I think it important that people still not forget that we have requirements that we're going to have meet," she said.  She said while, during the drought, some of the rules may be relaxed, that is short term, "we've gone through droughts in the past, we'll go through droughts in the future, that doesn't alleviate our responsibility to make sure that we're complying with all of the rules."
We turned to the budget and economic development as two of the most pressing issues facing our community.
"If we don't have the budget in line, all of the other things that we have become at risk," she said.  So whether you are an advocate for the arts, bike infrastructure, park infrastructure, green belts, "it all becomes quite secondary if we don't have the revenues and stabilities to make it happen."
With regard to economic development, she is looking "for a better jobs to housing balance.  I think that's a good indicator when we look at other communities."  But Ms. Swanson did caution, "We're unique, we can't just compare apples to apples."
She would add, "I think the good way to lay it out is to be able to land more companies that have high paying jobs because jobs do not equal jobs do not equal jobs."
"If we really do things right, being able to have diversity and have more point of sales then not only will we be able to get revenue from the improvement of the parcel itself, because I think that gets left out of the equation a lot, just improving the parcel is bringing us some property tax," she said.  "If you can get point of sale on the manufacturing, that's why there's so much focus on the manufacturing, Congressman Garamendi talks about it a lot, it's that it provides stability, it also gives a better diverse workforce."
She noted that we focus on high tech jobs and forget that not everyone gets an advanced degree from a university.  "That's something that I'd like to see more in our conversations, whether it's vocational education at our high school and focusing on what we do have at our JC's."
"Then of course the ag piece," Ms. Swanson explained, "being able to look at the innovation tech park, while we do want to bring in some big companies, relatively large companies with hundreds of employees, and make sure there's some space there to capture the middle."
She added that we can't just look at the tech part, we have to stay true to the dispersed model , where we can also encourage people to move into existing parcels with existing infrastructure.
"So to me a vision of being able to really now go from the theory and really putting it into practice," she added.
She noted the success.  "Davis Roots, that's a big success, the spin off businesses."
The key question is space and the first place that Ms. Swanson went back to is the dispersed model, but also the fact that we have a lot of businesses in one-story buildings.  She said if we are looking to develop without sprawling we need to look at densifying.  She mentioned specifically the tech park in south Davis, which she said may have made sense at the time, but doesn't anymore.
She was referring to both Interland and just north of there: "At the time, I'm sure that was a vision that made sense.  But it's tough to see paved land… and we're servicing single-story buildings.  I don't think it's the highest, best use that we can do."
She reiterated that we need to look "not just at putting tech jobs at an innovation tech park somewhere, but really making room within what we have in the downtown, room within other parts of the community."  She said, "I want to see a more balanced conversation."  Sometimes we just focus on the downtown, but "really realizing that we have support in other parts of the community."
She hit on the neighborhood shopping center as a critical example of allowing people to shop without necessarily getting in their vehicles and driving downtown.  "The other part of our philosophy is that people shouldn't have to go in a car and go downtown and find a place to park," she said.  "I think we can find a balance there and instead of competing, be more cooperative."
Rochelle Swanson then laid out how she saw the innovation park discussion playing out in the next year.
Threefold, she said.  First, she wants to see outreach from the city "be beefed up," noting, "I do want to see something on the website."  Second, she said that "we need to go on the road, we need to be at the MPR's in the schools because that's where the families are.  There's a reason we see the same folks – sometimes it's the lifestyle that dictates that."
"We need to do a better job of that," she said.  "I think we get very comfortable in forgetting (to do outreach)."  She wants to see more families in city chambers as opposed to just when the school board is there.  "That directly affects them because when their kids graduate and they can't find jobs," Ms. Swanson added.
"What I don't want to see is we spend a couple of months talking about how we're going to engage and then we engage, and then we're up against the wall and  forced to move quickly on things," she said.
She wants the Innovation Park Task Force Meetings to be the check ins, as "we already know what we're doing, we have five parcels."
"I would like to see an application come forward, I think that generally we need to look agnostically about what makes sense, everybody has personal preferences but when we look at infrastructure, when we look at location," she said.  "I think we need to look at very first to have an innovation park.  We need to bolster trust in our community."
Part of that trust is that we need to have a vote in our community, whether it is an initiative or a Measure R vote directed from the council.
"There's a lot of benefits to the initiative as far as the engagement level and the way that it's laid out in the timelines," she said.  "I think we need to focus on that rather than a mixed use.  We just need a mixed use project, we need to look at where the balance is."
She sees Nishi as separate from the other parcels.  In part, that is because it is co-planned with the university.
"There are some companies that are going want to be close to the university," Ms. Swanson pointed out, but they cannot presuppose who will and who will not.  "There are companies that don't want to be next to the university.  I think it's important that we listen and investigate what works."
"Nishi has its own timelines," she said.  The Vanguard asked if she saw Nishi coming on line in 2014, but Rochelle Swanson felt it was premature to make that determination before the update that council will receive on February 11.
"In toto, the entire project, I don't see it in the coming months," she added.
Rochelle Swanson sees the need for balance in the downtown.  A big focus will be on the conversation about parking.  She would like to see more parking on the periphery to enable a better pedestrian presence.
"I'm okay with a mix of paid parking," she stated.  She also stated a preference for having some sort of validated parking, "that way you have 'free parking' for patrons.  We do have a problem about employee parking.  Obviously people need to be able to park where they work, (but) I think we can do a better job with the parking garages."
The Vanguard asked her about a new parking garage and Ms. Swanson responded, "I don't know if we see a traditional parking garage, I do think we're going to have some solution along those lines."  She suggested that there are a number of surface lots that may not be maximizing their existing space.
She also mentioned the possibility of underground parking which, while cost prohibitive, have been utilized in other communities.
Rochelle Swanson noted that, while she would love to have a broader vision, the city no longer has access to redevelopment money as a source for funding and that will require creativity and a more piecemeal approach to parking than perhaps it would have been in year's past.
She noted, "We would have loved to have seen multi-level parking behind Davis Commons," for example.
In an ideal world she suggested that people find their parking off Olive Drive, with improvements to the road there as well, and a multilevel structure going over the tracks.  "I think we can do better," she said, noting that conversations have come and gone, and "I think that would be a nice solution."
On the budget, she said, "Short Term we are going to have to do some sort of tax revenue whether it's parcel or sales tax."  She added she is eager to see what options the staff comes back with.
She did add, "I think that we cannot simply go back to the voters and ask them to give us more money without being more specific, we have to have other measures in place."  She added, "We're still having infrastructure fail.  People need to know specifically what they're paying for."
She said that she was uncomfortable with the proposal last week, noting, "I think ten years is too long."  She added, "Ten years is a long time (and) it undercuts the urgency because the reality is that we need to do something that is long term."
She said, "We're not growing outside of our borders anymore.  We're going to have to get creative internally.  So short term I think we're going to have to (go the tax route) just because I think the shortfall is there, we can't catch up but I think it needs to be small."
Longer term, she argued that we need to adopt a community-wide plan that looks at the community at a whole and determines what the plan of action will be.  That should be adopted this year.
The city has identified the parcels for the innovation park land study, but has not thought systematically about what should go in each parcel or what can go in each parcel.
"Long term, in the one year we have to plan," she said.  "Moving forward we have to plan for what we're going to have for recurring streams of revenue."
She talked about the need to keep companies like Shilling Robotics, HM Klaus and Marrone Bio Innovations in Davis.  "You have to have those," she said.  "That by nature will bolster our nature."
"On the Eastern edge of town, I see that if (Mace 200) comes forward, that we really are solid as to what the borders are on that side of town," she said.  "I like the idea of having an ag-urban limit line, a real one.  All it takes is a change on council, that's why I supported J and I support R.  Some people are critical of that position, but I think we do have to be smart."
She said that we do have the ability to put an easement on some of that land on the eastern edge of town, as "easements don't have to be something that necessarily goes through one particular process."
Rochelle Swanson also noted that ag-related uses can also go on ag land.
"Once that comes on line," she said, speaking of Mace 200, "I think we're at the limit there."
The election will be in June.  There are two seats that are up for election.  Joe Krovoza declined to run for reelection and is instead running for Assembly.  There are three challengers, school board member Sheila Allen, Robb Davis, and Daniel Parrella.
The Vanguard interviewed Sheila Allen and published it last Sunday.  Interviews are scheduled this week with Robb Davis and Daniel Parrella.
—David M. Greenwald reporting