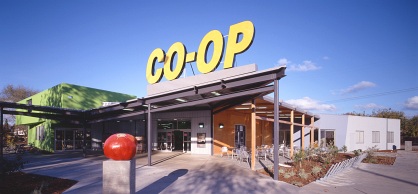 Tonight the Davis Food Co-Op board will meet in part to discuss the future of Eric Stromberg.  The meeting will be held in the Co-op Teaching Kitchen, 537 G Street, starting at 7 PM.
The Vanguard received an email from a co-op member on Sunday indicating, "Eric Stromberg, general manager of the Davis food COOP was given his notice yesterday. The Co-op board meets on Monday and we need to let them know that the community does not support this action."
The email goes on to state: "No reason has been given. Eric was handed a lawyer's letter and nothing else."
"Please contact all the members of the board as well as all your friends, business associates and fellow coop members and let them know that this action is outrageous," the email continued.
"Let me emphasize that there is no economic or personnel issue that caused this action," said the email.  "Eric has worked at the COOP since August 1 of 2000 and has been instrumental in navigating the coop through many political and economic challenges that have faced the COOP. Under his leadership, the coop has continued to be competitive, a destination in Davis, and huge contributor to the entire Davis community."
The email concludes, "Not only is Eric well respected locally but is also considered one of the top COOP general managers in the entire US. He has traveled all over the world helping other COOPs."
Board President Stacie Frerichs told the Vanguard on Sunday, "The board will be responding to any comments we receive by Friday of this week. We have a board meeting on Monday and members are welcome to give member comment during the agenda item for member comment (item 1.2 at 7:00)."
—David M. Greenwald reporting