by Matt Williams
In her Sunday Special to the Enterprise Nancy Peterson covers a lot of ground, but one passage of her column really resonated for me.
The blog-fest is another topic entirely. My children are students in this community and our local school district. When did it become OK to attack, belittle and debase children? They have suffered unfair personal attacks by certain bloggers and I'm not OK with that. None of us should be.

When adults run for public office, we place ourselves in the position that allows people to write anything they want about us — even lies. But please, for the protection of all our students, leave children's names, activities, rankings and so on, out of blogs, speculation and rumor mills.
As a member of the Vanguard Editorial Board I try and read most of what gets posted here in the Vanguard each day, both the articles and the comments. Since this ongoing volleyball saga began, the closest I've seen anyone come to using any childrens' names has been one single reference to "Miss Peterson" and an excerpted quote from a Davis Enterprise article in which the commenter replaced a player's name that was included in the article with a generic term. Given the high level of engagement and strongly held feelings associated with the volleyball coaching events, let's please all do our level best to treat the children involved in this saga with the highest possible level of civility, especially given the subjective nature of almost everything associated with this saga.
David Greenwald more often than not uses the following graphic when he writes a School Board article. The imagery is a very appropriate metaphor for all the students in DJUSD regardless of the grade they may be in. Let's do our best to make sure that they aren't casualties of this adult drama.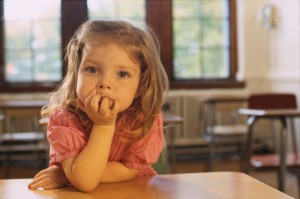 Let's also do our level best to be sure that if there is a "blog-fest" happening, that it is not happening here in the Vanguard.
In closing, I do have one suggestion for Nancy. "It is probably best not to throw gasoline on an already raging fire."