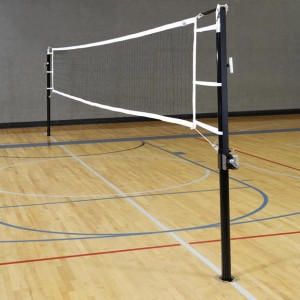 In a move that will continue to fuel far more questions than answers, at least one portion of the Julie Crawford saga will be resolved.  An item appearing once again on the consent calendar indicates that on Friday, barring the unexpected, Julie Crawford will be hired back as the varsity head coach for girls volleyball at Davis High School.
The board is asked to approve a variable service agreement that would put Ms. Crawford under contract from March 21 to December 15, 2014 with a $4298.00 stipend.
In a statement from Superintendent Winfred Roberson, he indicated,  "In order to reconcile recent events around volleyball yesterday I met with Ms. Julie Crawford to discuss her immediate appointment as the Varsity Girls Volleyball Coach for the 2014-15 season, pending BOE approval on Friday March 21.
"As superintendent I strongly believe that employees and students alike should have opportunity to grow as professionals and learners, even in the face of challenging circumstances," he said.  "We are confident that our students-athletes, Ms. Crawford, the DJUSD and our community will begin the process of moving forward for the betterment of our students and organization."
How this reconciles with the board's decision last week to uphold the administrative decision to pull her VSA for boys volleyball is unclear. That happened as investigator Alexander Sperry found that, despite there being no evidence that the cutting of Nancy and Robert Peterson's daughter was done with "willful mal-intent," that "more likely than not" it was "influenced at least in apart" by the coach's ongoing feud with now-resigned school board member Nancy Peterson.
As Sheila Allen and Susan Lovenburg wrote in a much criticized letter to the Davis Enterprise, the "coach made a poor judgment call which had negative consequences for a student."
"By the conclusion of the appeal, the independent investigator, the associate superintendent, the superintendent and a majority of the board all concurred that the facts supported this finding," they continued, however, adding, "The evidence demonstrated a poor decision, but not a poor volleyball coach."
They write, "Poor choices have consequences, in this case, a short-term suspension from coaching. Though the board modified the consequence slightly, it largely reflects the original recommendation of the superintendent and Ms. Crawford is welcome to coach again in the future."
This action would seemingly be in line.
As Tim Taylor stated on Thursday, "Our decision here this evening, will allow that pursuit of hers – which she spoke to eloquently earlier – to continue."  He would add, "There were some mistakes made.  What we now need to do is learn from those, not repeat those, and move forward."
The quick decision to hire Ms. Crawford back, perhaps aimed at quelling public discontent over the handling of this matter, also appears to validate Board President Gina Daleiden's view in her lone dissent of the majority's decision to uphold the administrative remedy.
"I do believe that our district's response to complaints and the way that we handle the procedure and the investigations needs to be in proportion," Gina Daleiden stated.  "I do believe in this instance the district went Code 3 on something that maybe didn't warrant that."
"I do not find in reading the investigation that there is a preponderance of evidence to support the findings and the conclusions," she said.  She added that they "ended up jumping right into the deep end of the pool" and she would have preferred to have seen this resolved "at a much lower level, a whole lot earlier."
There remain a number of questions in this matter, particularly in light of the resignation of Nancy Peterson, that seem all the more baffling by the day.
The District Superintendent Winfred Roberson has yet to respond to a series of additional questions by the Vanguard.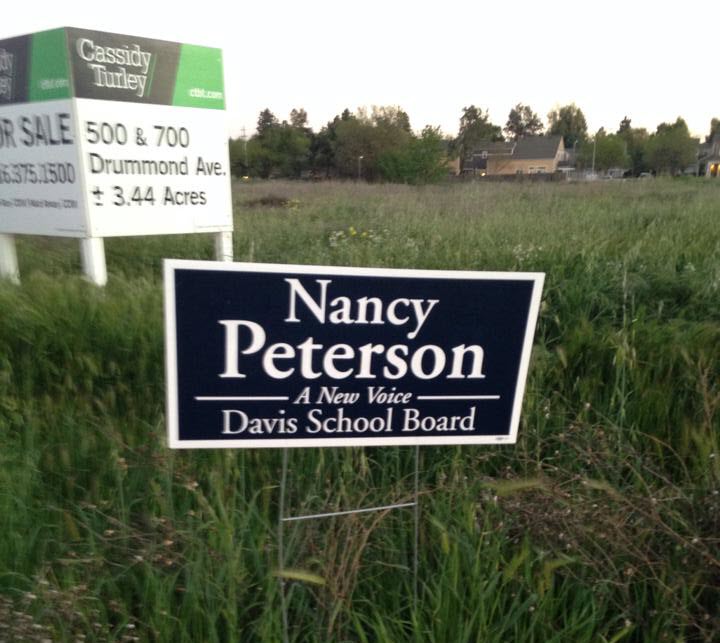 In the meantime, there is continued intrigue as to the quantity and purpose of Nancy Peterson signs floating around Davis.  Given some of the locations for those signs – a church, a cemetery – it seems more likely than not that those placing the signs had malicious intent toward Ms. Peterson.
But, given the number of signs and the nearly 18 months passing between the election and now, it seems likely that someone close to Ms. Peterson's campaign would have had to be the supplier of those signs.  Whether that was a conscious decision or an inadvertent supplier to some kids is hard to know.
It seems plausible that teenagers with access to signs got hold of them and thought it would be an interesting prank.
—David M. Greenwald reporting