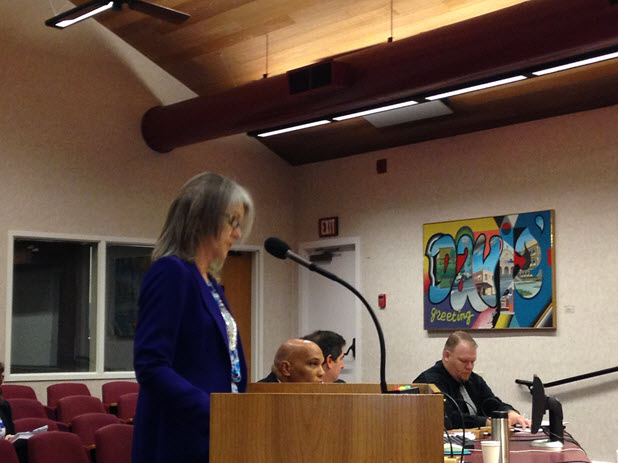 Nancy Peterson spoke out passionately against rehiring Julie Crawford this morning at an unusual Friday morning board meeting in front of just three board members, with Sheila Allen absent.  Her strong words were not enough to cause any of the three to pull the item off consent and it was passed without comment.
Superintendent Winfred Roberson announced that the board has until May 10 to fill the vacancy created two weeks ago by Nancy Peterson's resignation.  He read from the board guidelines on the filling of vacancies and promised to bring back an item for full discussion on April 7.
An appointment process would require the board to interview the candidates at a public meeting where they accept public input and would require them to elect a provisional appointee by a majority of the board.
Nancy Peterson spoke out against the re-hiring of Julie Crawford during public comment.
Here is the entirety of her comments:
"On Consent Calendar is approval of board policy 5145.3 dealing with non-discrimination harassment.  Let me read one of its sentences to you, 'Any employee who permits or engages in prohibitive discrimination, harassment, intimidation, bullying or retaliation shall be subject to disciplinary action up to and including dismissal.'
"There are two very important elements embedded here.  Permits retaliation and engages in retaliation.  I wonder why members of this governance body including the superintendent have been issuing statements lately that speak to harming a student in order to retaliate against the parent as a simple mistake.  Let's just forget it happened and move on.
"To summarize just last week the board of education voted to uphold findings of the administration regarding a parent complaint about an employee and within four days the same administration is putting the same employee forward to coach the very team in which the findings occurred.  Four days!
"Is this an example of restorative justice?  If so, some might be wondering about the student and what Mr. Roberson has done to heal the harm done to the student involved.
"Nothing, is my answer.  Here we all are seven months after the complaint was filed and he has never even spoken to the student.  Neither has any other administrator, principal, or athletic director or trustee.
"In fact, the coach never even bothered to speak to her player of three years.
"So President Daleiden since your biggest issue seems to be why this wasn't handled before sending a code-3 in motion, here is my answer: that would have required someone from the district or even DHS to speak to the student and that I can assure you, never happened.
"Mr. Roberson, while you are busy appeasing your employee, the student that was harmed has been left to wonder why those in charge and entrusted with the well-being of the students – the DHS Principal and the full-time Athletic Director – never tried to help or protect her.  What did she do wrong?  So much for the student-centered decisions that you are always touting.
"But I digress, let's go back to board policy 5145.3 and let's look at an earlier phrase in it.  'The board prohibits any form of retaliation.'  The same phrase appears in board policy 1312.1, similar phrases in board policy 4144, 4119.1.  There are total of 14 DJUSD board policies prohibiting retaliation.  Also California Education Code and California Legal Code.
"Just by the number of polices in various judicial and even quasi-judicial processes that address the prohibition of retaliation, it would appear to be 'a' if not 'the' cornerstone to many issues.  Prohibiting retaliation would appear to be important, in fact critical. Board policy, education code, and CIF Guidelines are in place to protect the school community.
"Let's go back to Coach Jeff Christian, then a multi-year girls' basketball coach at Davis High.  He removed two players from his team and was fired for that.  The technicality cited was failure to notify the players before announcing it.   I wonder if he knew that technicality or was it a simple oversight through no fault of his own?
"Perhaps the real difference is that Coach Christian wasn't a teacher and therefore the DTA wasn't backing him with all their political power and the board didn't have to worry about the impact of alienating them.
"Students and the school community should be the priorities and not the political prowess of a union out to preserve members regardless of their activities.
"I am left to wonder if families feel safe now.  How many will dare bring their concerns to this administration or to this board."
Once again, the board approved the consent item unanimously without pulling it from the consent agenda and, as of today, Ms. Crawford can resume her career as the girls' volleyball coach.
—David M. Greenwald reporting
UPDATE: The Vanguard has confirmed that Athletic Director Dennis Foster has resigned as AD.