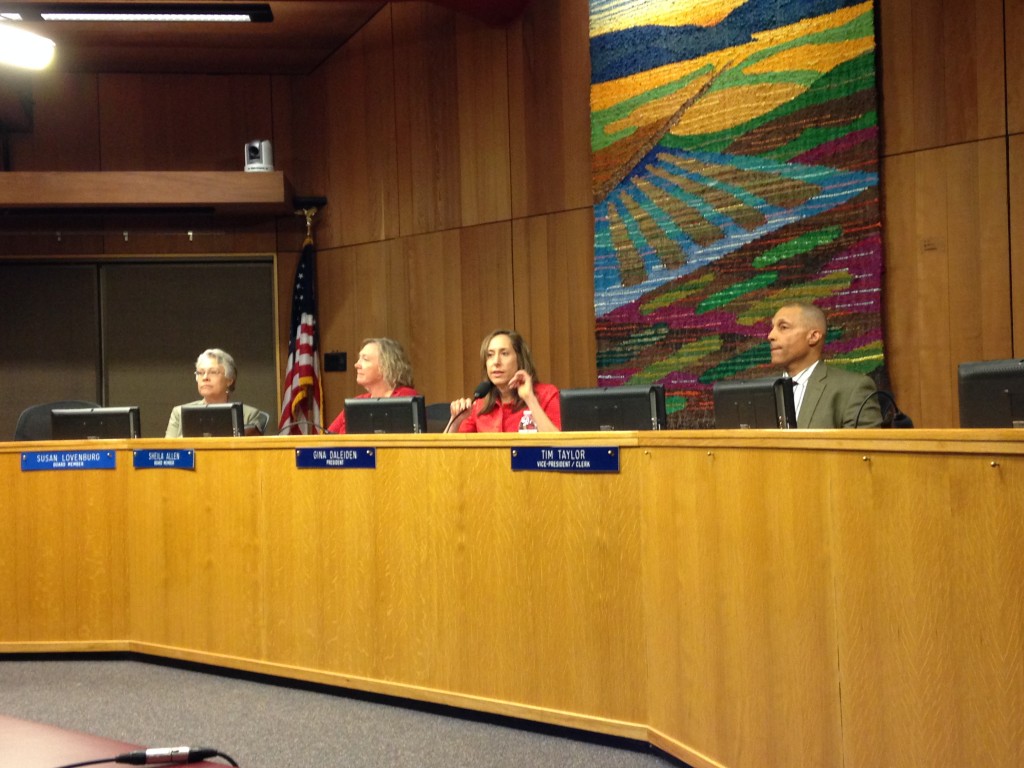 3-1 Vote Would Allow Julie Crawford to Reapply For the Fall – After four and a half hours of closed session in which the Davis Joint Unified School Board heard the appeal from former Davis High Volleyball Coach Julie Crawford and then deliberated, the board emerged to announce they had reached a 3-1 vote to uphold the administrative findings and deny Ms. Crawford's appeal.
"The board took action on a 3-1 vote in closed session to sustain the administration's conclusion and direct that Julie Crawford be permitted to apply for any future coaching positions," Board President Gina Daleiden announced, where Sheila Allen, Susan Lovenburg, and Tim Taylor supported the majority position and Ms. Daleiden was the lone vote in dissent.
Under new district policy, new coaches will apply as soon as the season ends in order to avoid last second appointments.  Ms. Crawford would be allowed to apply for the girls' volleyball coaching position for the fall.
Each of the board members then were granted time to speak to their decision.
Board Member Susan Lovenburg declined to do so, stating that the board's decision stands for itself: "I think we've done the right thing.  I'm certain that it's not going to make everybody happy.  But I think we really carefully weighed the factors we were dealing with and made the best decision that we could in the best interest of the community."
Board Member Sheila Allen then read from about a page and a half of prepared comments.
"Perspective, this is something I hope the district and the community can gain at the closure of the complaint," she read.  "May we take a collective deep breath and take away lessons from this decision."
She expressed regret for the students, stating, "I'm so very sorry that the district administration and by extension the school board did not have a coach in place – be it temporary or permanent – at each of the last three volleyball seasons so that you could begin your season on time."
After talking about potential changes to how coaches are hired, she turned to the community, "I'm very concerned about the social media postings that occurred surrounding this issue.  I am very supportive of an open dialogue and absolutely support public input and dialogue."
"But," she continued.  "I'm very concerned about the tone and accusations that have occurred behind the façade of anonymous comments.  Let us be the models for our children of civil dialogue and working together to solve our community problems."
"I hear loud and clear your desires for transparency," Sheila Allen stated.  "It is very hard to say I can't comment because it's a personnel issue.  I do not make personnel laws… but I'm bound by it.  So please understand that your elected officials are doing the very best they can with the information that they have and hopefully that information contains all sides of any issue."
Board Member Tim Taylor said that he did not have any prepared remarks.  He said, "There has been a lot of bleeding in this community over this issue.  It's time for the bleeding to stop.  I'm hopeful that will happen and we will move forward in a positive way.  It's not going to be easy for us which is why we had a conversation for several hours on this.  It's not going to be easy for you if you don't like the decision that has been made."
"We can't always find the easy road and even if we could, it's not always the right road to take," he added.
Mr. Taylor explained that before the closed session board discussion, they had a formal appeal hearing.  This was the first time, he said, that he and the board had a chance to listen and ask questions of Ms. Crawford.
"I was given great comfort by that opportunity," he said.  "What I saw and heard has definitely affected my actions here this evening and my thoughts about this entire process."
"Our decision here this evening, will allow that pursuit of hers – which she spoke to eloquently earlier – to continue," Tim Taylor stated.  "There were some mistakes made.  What we now need to do is learn from those, not repeat those, and move forward."
Board President Gina Daleiden shared some of her own thoughts.  She said that while they may split on votes at times, the people who serve on the board with her really do have the best interest of the district at heart.
"I do believe that our district's response to complaints and the way that we handle the procedure and the investigations needs to be in proportion," Gina Daleiden stated.  "I do believe in this instance the district went Code 3 on something that maybe didn't warrant that."
"I do not find in reading the investigation that is a preponderance of evidence to support the findings and the conclusions," she said.  She added that they "ended up jumping right into the deep end of the pool" and she would have preferred to have seen this resolved "at a much lower level, a whole lot earlier."
She said that they need to take a hard look at their complaint procedures and look into alternative conflict resolution.  "Even if we have a very difficult conflict that has gone on for a while, I think it could be much better than all of the time, energy, money, attorneys that we have put into this process," she said.
She said that there are times when a complaint calls for an investigation, "but the extent to which that happens and the manner in which that happens is something we need to take a look at."
Following the brief discussion on a new conflict of interest policy, it was clarified that Ms. Crawford can reapply for the fall term as girls' volleyball coach.  Where this leaves the district and this conflict remains to be seen.
Watch the video of the decision and board comments below:
—David M. Greenwald reporting