by John Munn
Putting out details always runs the risk of making mistakes in public, and my summary of city services costs that was published in the Davis Vanguard on March 6 is a case in point – where the water supply fee part of the new consumption based fixed rate (CBFR) structure going into effect next year was calculated incorrectly for the 2015 through 2018 time period. Rates are still going up, but this correction does make a difference in reported water and total city services costs, and it needs to be fixed. My summary of costs and the following discussion have both been revised to include the corrected rate calculations and costs.
I want to thank Matt Williams, one of the developers of the CBFR system, for taking the time to check my numbers. Our cost estimates are still not the same, but it appears that remaining differences result from different assumptions. I read the Davis Municipal Code somewhat differently on when new rates should be applied to water use, but this does not make much difference in the bottom line results. I am also assuming somewhat higher summer water use for landscape irrigation. And I am including base rates for a one inch sized service connection that results in higher costs than the three-quarter inch connection used on many single family residences. Both the greater water use and the one inch connection have been maintained throughout my costs summary to provide consistent comparisons between different time periods and to give a sense of how increasing service costs are used to force changes in ratepayer behavior.
This summary covers Davis City Services costs from January of 1980 through December of 2018 for single family residences (Multi-unit and commercial parcel costs are calculated differently). Costs from 1980 through 2013 come from rates shown on my city service bills. Cost projections for 2014 through 2018 are based on recent rate increases for water and historic rate increases for other services. Percentage increases in annual totals for different service categories are listed below for periods extending from 1980 through 2012 (33 years), from 1980 through 2018 (39 years), over the past five years (end of 2009 through end of 2013), and projections for the next five years (end of 2013 through the end of 2018).
Initial water costs are based on the flat rates used from 1980 through 1998. Starting in January of 1999, after water meters were installed, water charges are based on volume used. In May of 2003, a second tier was added for bi-monthly use above 36 ccf (hundred cubic feet). Then a third tier was added for bi­monthly use above 47 ccf in August of 2013 followed by the CBFR structure starting in 2015. Both flat and tiered rates have been changed (usually increased) over time.
The volume of water used here assumes seasonally variable monthly, and equivalent bi-monthly, amounts for a single family residence, as shown in Table 1 below. These volumes, which resulted in a slightly reduced water charge compared to flat rates, have been held constant over the entire consumption based period so that costs can be compared between years. They are somewhat higher than current average use, but are less than average use during most of the summary period. The objective has been to base water costs on single family residence use that includes summer watering of trees, gardens, and lawns.
The Sewer System charge was split into Sanitary and Storm drain charges in September of 1986. Then, starting in September of 2009, sanitary sewer costs were changed from a flat rate to an amount based on average water use during winter months. A constant value of 8 ccf, that is near the current winter average has been used to calculate the volume based sanitary sewer cost.
Using these assumptions, the percentage increases in annual city service costs from 1980 through 2012 (prior to the most recent rate changes) have been: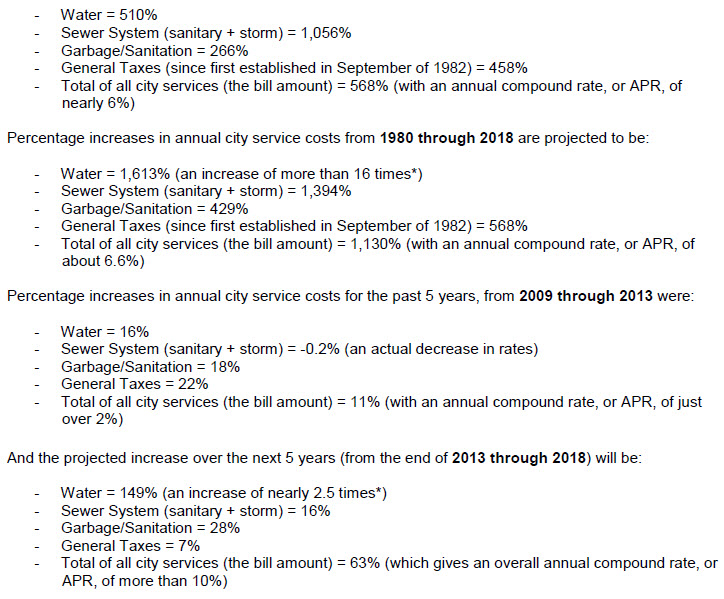 The effect of initial costs (which start small and are larger at the end of 2013) on the calculation of percentages needs to be kept in mind when comparing the numbers given above. This consideration, however, does not apply to the compounded rate of increase given for the total of all city services or to a comparison of actual costs in dollars.
As described above, determining city service charges over time is complicated by adding sub-categories and changes in the water bill and the sanitary sewer bill. In addition, the General Taxes category started with a "Misc." tax in September 1982 and was changed to separate "Municipal" and "Safety" taxes in September of 1986. There are also differences based on system connection size and parcel size, which further complicates parcel comparisons.
These calculations show that, for the example used here, city services costs for single family homes has increased steadily from an annual total of $221.50 (starting at $36.80 per month) in 1980 to approximately $1,666 per year at the end of 2013. This is an increase of more than $1,400 in annual city services costs before the recent, large increase in water rates. Now, we are looking at increasing the annual cost of city services from $1,666 in 2013 to $2,724 at the end of 2018, for an additional increase of $1,058. This means that city service costs over the next five years are scheduled to go up by three-quarters of the total increase over the past 34 years (since 1980). Most of this increase is in the cost of water, which is going to more than double. And the city is assuming another doubling of water revenue after 2018 to pay for surface water system project costs, so we are not done with higher water rates. Rates may be further increased if large irrigation users switch to using their own wells, leaving remaining ratepayers to cover existing fixed costs, or if residents who can't escape the city water system conserve more water than the city is assuming.
Before going farther down this road, we need to determine how much the residents of Davis can actually afford to pay for city services, and what effects such large cost increases will do to the character of our community.
*              A 100% increase doubles the initial amount, a 200% increase is equivalent to three times the initial amount, and a 300% increase requires that the final value be 4 times larger than the initial amount. This is demonstrated by the following examples of initial and final value percentage calculations: 100*(2-1)/1 = 100%, 100*(3-1)/1 = 200%, and 100*(4-1)/1 = 300%.