Dan Wolk for Assembly Headquarter Kick Off

Davis Mayor Pro Tem and California State Assembly candidate Dan Wolk invites supporters to join him this Saturday, March 22, at his Campaign Office Grand Opening and Field Kick-Off event in Downtown Woodland.
The event begins at 10am as Dan will cut the ribbon at his Yolo County Campaign Headquarters, located in the historic Midtown Building at 327 College Street, between Court and Main.
Enjoy some refreshments and meet other members of Team Wolk before heading off to spread the word about Dan's campaign to restore the California Dream.
For more information about Dan, please visit DanWolk.org.
[Divider]
State Superintendent Torlakson Endorses Ortiz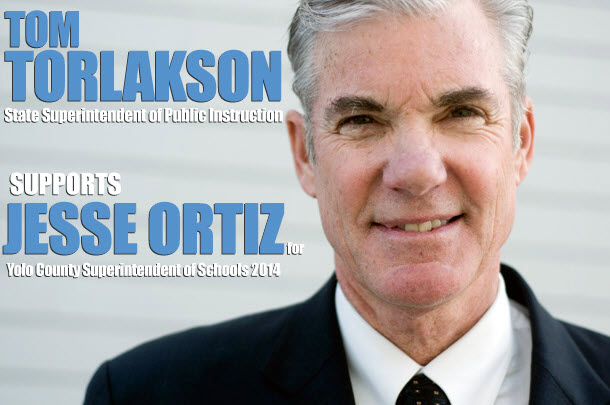 Jesse Ortiz was recently  endorsed by TOM TORLAKSON, California State Superintendent of Public Instruction. Torlakson, a former California assemblyman representing the Contra Costa area, was elected in 2010 to the highest educational position in the state.  He credited Ortiz' "background and experience" as the person prepared for the office of Yolo County Superintendent of Schools 2014.
[Divider]
Commissioner Janene Beronio for Yolo Superior Court Judge
The Commissioner Janene Beronio Committee today announced four major public safety organization endorsements in support of her campaign for Yolo Superior Court.
Endorsing her candidacy for Judge are:
The Yolo County Deputy Sheriff's Association.
The Davis Police Officer's Association
The Winters Police Officer's Association
Davis Professional Firefighters Local 3494
"These men and women – who work day in and day out in Yolo County to keep us safe know that they can count on me to be fair and even-handed on the Bench," said Commissioner Beronio. "I am proud to have their endorsements and support."
Speaking on behalf of the Yolo County Deputy Sheriff's Association, President Brian Griep said, "Through her 34 years of dedicated service to the citizens of Yolo County, first as a Deputy District Attorney, and later as a Court Commissioner, she has proven to the possess the qualities most desirable in a Superior Court Judge. The DSA is proud to endorse Janene Beronio for Superior Court Judge. She doesn't just talk the talk – she has walked the walk."
Sean Bellamy, President of the Davis Police Officer's Association, added, "Many Davis Police Officer's Association members have had the pleasure of working with Commissioner Beronio over the years, and we look forward to continuing to work with her in the future."
Janene Beronio is currently a Superior Court Commissioner, appointed to this position by the Judges of the Yolo Superior Court. She has worked as a Superior Court Commissioner for 25 years, and is supported for election as a Superior Court Judge by all the active Judges on the Yolo Superior Court, and by numerous prosecutors and defense attorneys who work in the Yolo County Superior Court. More information on Commissioner Beronio and the Beronio for Judge campaign can be found at www.janeneforjudge.com
Yolo Superior Court Commissioner Janene Beronio for Yolo Superior Court Judge
Yolo Superior Court Commissioner Janene Beronio will be available to meet the public at several locations and events in the next few weeks. Commissioner Beronio is a candidate for the position of Yolo Superior Court Judge. More information on these venues and events can be obtained from Beronio for Judge Campaign staffer Catherine Hawe at catherine.hawe@thecentaurgroup.com or 805-479-7211.
Upcoming events and venues include:
March 20 – Coffee at Alekka Fullerton's home with the Family Law Bar 5:30 pm
March 23 – Vanguard Candidate Forum – Davis Library Blanchard Room 5:00 pm – 7:00 pm
March 29 – Davis Farmer's Market, Central Park
March 30 – Coffee and dessert at Rafael Moore's home 2:00 pm – 5:00 pm – International desserts, wine and coffee
April 5 – Davis Farmer's Market, Central Park
April 9 – Yolo County Bar Association Candidates Forum at the Atrium, Woodland noon – 1:00 pm
April 12 – Davis Farmer's Market
April 16 – Fundraiser at Judge Rosenberg's home 5:30 pm – 7:00 pm – Beverages and hors d' oeuvres
April 26 – Winters Youth Day 10:00 am
April 27 – Fundraiser at the Old Sugar Mill in Clarksburg,  4:00 pm
May 3 – Davis Farmer's Market, Central Park
May 10 – Davis Farmer's Market, Central Park
May 17 – Fundraiser at Shama Mesiwala's home 2:00 pm – 4:00 pm – Indian appetizers and non-alcoholic beverages – family friendly
May 24 – Davis Farmer's Market, Central Park
May 31 – Davis Farmer's Market, Central Park
–Compiled by Lily Shen