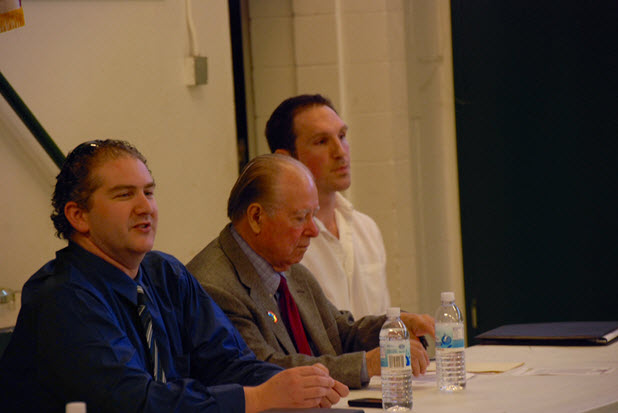 Last week, after a long trial and what seemed like an even longer period of deliberations, the Yolo County District Attorney's office convicted former West Sacramento Police Officer Sergio Alvarez on 18 counts of sexual assault on five different victims.
At the outset we should make it clear that it is difficult to convict police officers of crimes, especially when committed on duty. While there is a clear difference between the type of crimes that Mr. Alvarez committed under the color of authority – they are quite different than the typical crimes that police are given more latitude on, such as excessive force, shootings and killings – the long deliberation period suggests this was no easy task and the DA's office deserves credit for prosecuting Mr. Alvarez to the fullest extent of the law.
Committing any crime is bad, but the way in which Mr. Alvarez used and misused his public trust to put these women in vulnerable positions is frightening.
The DA's office held a press conference following the verdict and West Sacramento Police Chief Thomas McDonald said that they will make sure things are more closely monitored and policy is followed by every officer.
He stated,"It is offensive to me and to our department for something like this to happen but, again, it does not reflect the integrity of several other officers. There are a lot of us connecting with the public more closely to ensure their trust in our department and we will do the best we can in making it better."
Chief McDonald also told the Vanguard  that he is a resident of the West Sacramento area and has been involved with getting to know the community better, himself, on a personal basis.
He stated that he has spoken to a lot of people in the West Sacramento area and feels that, for the most part, they still feel a sense of trust and safety from the police officers patrolling their area. But he said he knows there are some who feel betrayed and, for those, he and other officers will do what they can to restore the public trust in the law enforcement of West Sacramento.
These were interesting comments from Chief McDonald, particularly in light of the fact that he had refused to participate in the Vanguard Court Watch's forum on Police-Community relations held just five days earlier at the Holy Cross Church Auditorium in the heart of Broderick.
The Chief's comments do not square with either his actions or the content of the discussion from the previous Sunday evening, right there in his town.  Over 100 residents of West Sacramento attended the meeting, and 15 to 20 of them spoke about very personal interactions with the police.
For every high-profile story such as the ones involving the 2005 police beating of the Galvan brothers and the more recent Alvarez and Kevin Hughey cases, there are many that never reached the public's attention.
In fact, many did not reach our attention either.  One of our organizers told me that she talked to about 15 people in the Holy Cross parking lot following church services that day, and that each of them had a story to tell but none of them ended up coming to the meeting itself.
Vulnerable populations, whether they are undocumented workers caught up in DUI Checkpoint sting operations, Latinos caught in the snare of the gang injunction, or the transient population, are those most vulnerable to abuse by police but also most fearful of the consequences of speaking out.
It is easy to be appalled at the conduct of Sergio Alvarez – sexual assault is a black and white issue, there is no gray area, no ambiguity.  Even Mr. Alvarez' defense of consensual sexual relations misses key issues of power asymmetries and a true standard of willingly and knowingly consenting, rather than being pressured into acts by the color of authority.
Whether Mr. Alvarez committed forcible rape or merely abused his charge, his actions were wrong and there is little ambiguity about them.
While Sergio Alvarez committed shocking and unthinkable acts by anyone, let alone a trusted law enforcement official, the actions by Officer Christopher Wright are just as troubling.
The same day as the Alvarez case wrapped up, we ran our follow-up story on Kevin Hughey, who in July, 2012, was shot by former West Sacramento Police Officer Christopher Wright.
More typical than the Alvarez case is a case where the police officer is carrying out lawful duties when a mistake happens.  In this case, Officer Wright made two critical errors – first he unlawfully shot Mr. Hughey but then he lied and attempted to cover it up.
The difference between Kevin Hughey and the typical victim of police abuse is that Mr. Hughey is a well-educated attorney himself, and his law partner Chris Moenig refused to take no for answer.
It took ten months of badgering authorities in West Sacramento before Lt. David Delaini sent him a letter that plainly and simply stated, "The finding for the allegation of excessive force has been SUSTAINED."
However, the WSPD refused to acknowledge what was evident – not only had Officer Wright shot Kevin Hughey, but he lied about the circumstances and attempted to cover up what was likely at first an honest mistake.
More on that in a moment.
The Vanguard also received a copy of a letter from former Police Chief Dan Drummond to District Attorney Jeff Reisig, dated May 23, 2013, in which he wrote, "The West Sacramento Police Department would like to request that your office specifically review the actions of Officer Christopher Wright in order to determine if his conduct of that evening was criminal in nature."
The Vanguard has acquired correspondence between the Assistant Chief Deputy DA Michael Cabral and West Sacramento Police Chief, Thomas McDonald.
On November 15, Mr. Cabral wrote, "The Yolo County District Attorney's Office, as an independent agency, has completed its investigation and review of the above referenced officer involved use of force."  He clarified that they are only addressing whether there "is sufficient evidence to support the filing of criminal charges" against Officer Christopher Wright.
He concluded, "We conclude that the use of force in this case does not warrant the filing of criminal charges against Officer Christopher Wright."
Critically, he wrote, "In evaluating the totality of the circumstances under a reasonable doubt standard, we have considered and analyzed the opinions and conclusions set forth in the December 20, 2012 report from Hughey Moenig, Attorneys at Law."
Mr. Cabral noted, "The report reflects that on balance they believe that the use of force was unreasonable."  He cited evidence that there was a crime occurring within the residence and but also "that there is evidentiary support for the proposition that there was a struggle between Officer Christopher Wright and Kevin Hughey prior to the discharge of the weapon" and "that there is evidence that Officer Christopher Wright believed that he had an injured victim and that if he was disarmed he and his partner were at risk of suffering death or great bodily injury."
This was a shorter version of the letter that we saw in the case of the officers involved in the pepper-spray shooting.
The problem is that the facts do not back up Mr. Cabral's contention.  When he notes evidentiary support of a struggle, the only evidence is Mr. Wright's statement itself, accepted in best possible light, with no scrutiny.
The video and audio tell a different tale, as Officer Wright is banging on the door with his foot when he busts open the door and his gun went off.  There is no evidence on the video or audio of a struggle.  Instead, mid-sentence you hear Officer Wright ordering the Hugheys to open their door, and you hear a bang.
Immediately, you hear Officer Wright concocting a cover story – he reached for my gun.  But the police who investigated this know that this could not have happened, not based on the audio.  Officer Wright lied and, unlike in the Alvarez case, authorities are willing to allow him to get away with it – at least criminally.
A few days before the Vanguard's meeting in West Sacramento, the DA's office held their own public meeting in which they introduced to a much smaller audience the roll out of West Sacramento's version of Neighborhood Court.
But our experience last week in West Sacramento should lead authorities to pause on pushing forward with such a program in West Sacramento.  What we heard from speaker after speaker is distrust and anger.
Unlike in Davis, many citizens from West Sacramento who will get caught up in the Neighborhood Court system will carry with them this distrust and anger.  The question is how will this manifest itself – will people simply refuse to participate in the quasi-restorative justice approach or will the approach open an entire can of worms that authorities and volunteers are not prepared to deal with?
The Vanguard plans to return to West Sacramento in May for its scheduled monthly meeting and we will once again meet at the Holy Cross Auditorium.  We hope that this time Chief McDonald can join us, and help start the discussion and rebuild some of the trust that has been lost along the way.
—David M. Greenwald reporting