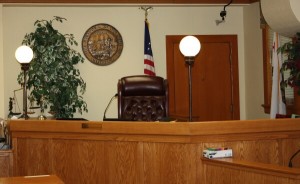 The Vanguard operates on a principle of openness and transparency and therefore has opposed motions by Deputy Public Defender Ron Johnson to close the court proceedings to the public.  While we understand the public defender's office's trepidation about the sensational nature of both the case and media coverage tainting the jury, we believe that there is a bigger threat to a fair trial for their client.
We go back to Judge David Reed's courtroom on Friday.  Judge Reed, the only judge on the Yolo County bench who was once a defense attorney, would ordinarily seem to be a fair judge for a defendant.
The public defender's office and Deputy Public Defender Andrea Pelochino put forward a very strong argument that the interrogation and subsequent confession of 16-year-old Daniel Marsh was not "voluntarily, knowingly and intelligently" made.
As they laid it out, Mr. Marsh was taken into the police station under false pretenses.  He was told his mother would be called, but she was not.  He was greeted by Officer Ellsworth, who had formed a measure of trust with the youth, and then after being read his rights he was interrogated for five hours without parents or attorney present in a room full of officers and veteran FBI Special Agent Chris Campion.
The Vanguard is working a story featuring expert analysis of the interrogation, but in the meantime, let us argue that, while the confession and interrogation were videoed, at the very least the defense had a strong case to suppress this evidence.
During the break, someone asked if the judge would grant the motion, and immediately I knew that the answer was no.
Here we have a room full of press – one of the highest profile cases to hit Davis and Yolo County, a gruesome double murder, and a superior court judge was going to step up in Yolo County and suppress the key confession?  That was not going to happen.
In our interviews with the four judge candidates, I asked each of them if they thought they could stand up to political pressure.  But really, while it's an important question to ask and to know, it's an impossible question to answer.  No one really knows how they will respond when the light is on them.
The problem here is not political pressure, it is the implied pressure of the Yolo County DA's office that can be exerted on any one of the independent judges.  Perhaps David Rosenberg, with his years as a political operative, could avoid some of this with his considerable political skills, but the typical judge is a sitting duck.
To illustrate this problem, we take you back to the summer of 2011.  Judge Paul Richardson was a few months away from presiding over the biggest case of that time, a death penalty case involving the shooting of Sheriff's Deputy Tony Diaz by Marco Topete.
In 2011, Judge Richardson ruled against the DA's office on some motion, and the DA's office proceeded to "paper" judge Richardson, taking case after case for removing the judge under Code of Civil Procedure section 170.6.
Under 170.6, "A party to, or an attorney appearing in, an action or proceeding may establish this prejudice by an oral or written motion without prior notice supported by affidavit or declaration under penalty of perjury, or an oral statement under oath, that the judge, court commissioner, or referee before whom the action or proceeding is pending, or to whom it is assigned, is prejudiced against a party or attorney, or the interest of the party or attorney, so that the party or attorney cannot, or believes that he or she cannot, have a fair and impartial trial or hearing before the judge, court commissioner, or referee."
In short, at least ten days before the date of the next hearing, an attorney can effectively disqualify a judge.  They can only do this once and they can do it summarily, by simply declaring prejudice.
While the DA's use of 170.6 against Judge Richardson clearly served as a warning – and it may have worked, as Judge Richardson had several key motions before him in terms of jury conduct and other key questions, on all of those the judge ruled in favor of the prosecution.
However, one of his predecessors was not so fortunate.
The story of Judge William Lebov is an interesting story.  He was a former prosecutor and was seen to rule often with the defendants.  So the DA's office, under David Henderson, began to "paper" him, or use point-six motions to get cases out of his courtroom.  Eventually, he had no cases left in front of him and was forced to retire.
The threat that the DA's office could retaliate against a judge for making an unpopular ruling in a key case is not some fictional conspiratorial account.  It happened with Judge Lebov and it effectively removed him from the bench in Yolo County.
To be both fair and clear in the matter at hand, we have no evidence that Judge Reed was swayed by any implied or actual threat, but like everyone else, he knows or should know of the possible consequences of ruling against the DA's office in key cases.
But that is the point.  Any moment when we find ourselves questioning whether the judge is making a ruling based on the law or on office politics, we have to question whether the defendant can get a fair trial from him.
Research on confessions has shown that the impact of a confession is so critical that the jury has often ignored all other evidence that points toward innocence, out of a mistaken belief in the veracity of confessions.
Because we cannot be sure that Judge Reed ruled on this case because he believed that the prosecution met the legal standard for proving, under a standard of totality of the circumstances, to a preponderance of the evidence that the confession was made voluntarily, knowingly, and intelligently, we have to question whether Mr. Marsh can get a fair trial in this county.
Indeed, Judge Reed acknowledged that he knew and had worked with one of the victims, Chip Northup, who had practiced law himself until his untimely death allegedly at the hands of young Mr. Marsh.
Mr. Marsh may well have committed the crime he is charged with.  However, at least to date, the only evidence that we have seen presented came out of his mouth and was the result of five hours of interrogation by a number of veteran law enforcement officials.  We have to at least question those circumstances and it may be that Judge Reed, in this county and with the way this DA's office operates, cannot render such decisions in a fair manner.
In our view, at this point, the case is too notorious and volatile in Yolo County and should be moved to another county where a judge can weigh the evidence without fear that the DA's office would use 170.6 to remove cases from his department in retaliation.
—David M. Greenwald reporting