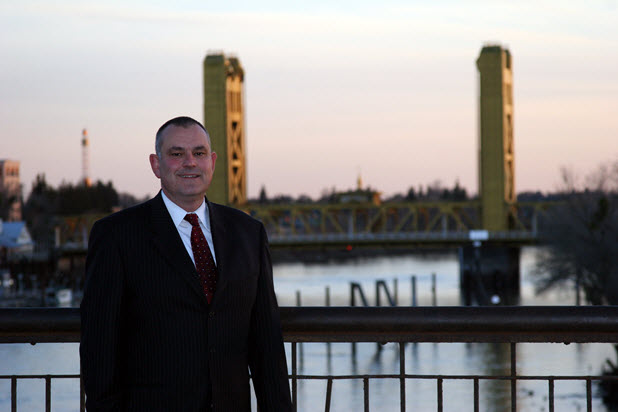 When John Brennan announced his candidacy for judge, he had become the fourth candidate to seek to replace Judge Stephen Mock, following Janene Beronio, Rick Cohen, and Larenda Delaini.
A graduate of St. Mary's College and Ohio Northern Law School in 1993, John Brennan began his career as a prosecutor in the San Francisco District Attorney's office in the mid-90s. He quickly went to Kings County and finally Sacramento County's District Attorney's office.
In Kings County, he prosecuted mainly felony cases and was lead prosecutor in the Domestic Violence Unit and the Prison Prosecution Unit, where he would supervise younger attorneys and staff members.
He said he was looking for a bigger county after that experience, and he moved to Sacramento and then nine years ago he moved to West Sacramento.
In Sacramento County he started in the felony trial team and advanced to the Domestic Violence Unit and eventually the Gang and Hate Crime Unit. Mr. Brennan was with the Superior Court Review unit and handled thousands of felony cases for early resolution.
In 2005, the went to the other side, partnering with another former prosecutor in forming the Brennan Wise Law Group, which focused on legal defense. In 2010 he started his own Brennan Defense firm, where, among other notable cases, he defended a juvenile accused in the Amtrak train attack in West Sacramento.
We sat down to talk about his candidacy.
"Both of my parents are from Europe, they came over about 50 years ago.  My father is a contractor, he's worked hard in construction all his life to support me and my brothers and sister," John Brennan explained.  "Growing up, education was one of the most important things to us.  Just automatically, you didn't know any different – you went to high school, you went to college, you went on to law school."
"When I was in college, I figured out fairly early on that I wanted to be a lawyer," he said.  "I was fascinated by the legal system, just the whole aspect of it."
When he went to law school, he said at that point in time that he really wanted to be a prosecutor.  He ended up working as a Deputy District Attorney for about ten years, at which point he opened up his own practice, running a successful business.
"Now it's the next step for me to take, it's the next challenge for me and my career," he said.
As a prosecutor, "you start off and you learn the basic trial skills, you develop them over the years."  He said, "Since leaving, it's been a unique experience.  As a DA you're focused in on the crime and the victims.  On this side (the defense), you see more of the impact it will have on society, on the defendants, on society in general."
"You don't really see that as a DA," he explained.  "It's very time consuming but I do a lot of trials.  I do everything on this side from DUIs up to murders."
In 2006, in a case that drew heavy media attention, three youths were alleged to have stood on the tracks in West Sacramento in front of a train, causing it to slow down.  One defendant hurled a rock at the engineer, striking him in the head.
The engineer then got off the train to get the youths to move, the engineer confronted them, attacked then throwing punches while the conductor came off the train with a fire extinguisher and sprayed the assailants to get them to leave. Immediately, the defendants began attacking both the conductor and the engineer.
John Brennan was one of the defense attorneys in that case. "It was a unique case, I had never done a train hijacking case before in my life."
"It was interesting to see the dynamics of (the Yolo County justice system)," he said.  "That was my biggest case in Yolo County, my first long and involved trial.  It was just a different system."
He said he had been up and down the state and "seeing and observing the different court rooms was unique.  Everyone has their own different set of rules."
"We tried the case in front of Judge Fall," he explained.  "My opinion, the case was overcharged.  I think that the jury came to a very fair decision.  They found a lot of the allegations not true."
"It's different in every county, every judge has their own procedures," he explained.  In Sacramento County, for instance, trial is Monday-Thursday, allowing attorneys Fridays free to conduct other business.  In Yolo County, however, trials are five days a week.
He noted, "They transport your clients through the hallway in shackles in front of the jury.  I know they're getting a new courthouse to take care of that problem."
Judge Fall's courtroom, he noted, was not really set up for five defendants.  It is small and cramped.
Mr. Brennan, who lives in West Sacramento, has done a handful of trials in Yolo County.  He has handled quite a few cases in Yolo County which pled out during the course of working through the system.
He currently is one of the attorneys in an 18-defendant Yolo County drug sale, Broderick Boy case that began as a justice department raid on a number of supposedly known Broderick Boys.  His portion of that case is set for trial on March 10.
In terms of challenges, John Brennan believes that "the population growth (that has occurred over the last decade or two) is putting a strain on Yolo County in terms of (that) it's getting larger and more diverse, that's a challenge for the court system."  He said, "There's a gang problem in Yolo County as well as any county in California."
In reforming the judicial system, he said, "I think you need more judges with more experience."  He added, "It appears to me that most of the appointees, not only in Yolo, but throughout the state, are attorneys… about 90 percent of the business is criminal law."
He continued, "You have a lot of judges that do not have the criminal law experience and that's where you can are going to spend most of your time."
"I don't know if you necessarily need to reform the system, I think you need somebody who knows what they're doing," he said.  "I think that's what the bench is lacking.  That's why I decided to run.  I have the most experience; I have the most diverse experience of everyone."
"I thought long and hard about how I would describe myself," John Brennan told the Vanguard.  "I've done both sides of the fence, and I think the best way for me to describe myself is that I'm going to be fair, but I'm going to be tough."
"Tough and fair," he said.  "My biggest thing I'm going to be fair.  Certain crimes deserve certain punishments.  The statutes are pretty clear on most of the things what you can and can't do.  The triads on sentencing are not for me to decide, they're obviously decided by the legislators."
"I think what I would bring is fairness to the bench," he said.  "Not everyone deserves life in prison."
John Brennan then described his temperament and how he would respond to frustrating situations when on the bench.  He said, "I'm 45 years old so now a lot of things don't bother me."
One of the things he has noticed is how life has changed since switching from prosecution to defense.  He said, "A buddy of mine who's a defense attorney said it's going to be like you're walking into a gunfight with no bullets.  A majority of what I would say as a DA was taken as gold.  On this side, I'm making the same motions and now they're denied."
"It was hard, but now I can deal with it and there are no issues, I just take it in stride," he said.
As a judge, there will be times when there is pressure to render popular decisions.  Mr. Brennan, however, discounted that pressure stating, "I've never been a fan of the politically correct thing."
"I don't like doing that," he stated.  "I'm going to do the right thing.  I don't cave to pressure.  I don't support people or do things that I don't believe in.  I understand I'll get political pressure, there will be unfavorable decisions that I'll make rulings on, I tell people I have broad shoulders, I can deal with it."
John Brennan said he admires Sacramento Judge Michael Kenny.  He said, "When Judge Kenny became a judge, I was in his department.  And he had some law enforcement background, I believe he was DA for a while."
"He was a judge that was open to listen to people," he said.  "The worst combination for me is someone who's arrogant and not willing to listen to you.  Judge Kenny always would listen to both sides, still does.  He will take the time to do his own research and he is not afraid to do the right thing.  That's unique in a judge.  It's easy to do the popular thing."
AB 109 has changed California law and courtroom proceedings drastically.  On split sentencing, Mr. Brennan stated, "I think in a lot of cases (split sentencing) is absolutely appropriate."
He described a conversation he had in another county where there was a welding program and only two who graduated through that program ended up coming back into the system.
"That's obviously not Yolo County," he explained, "That's part of the process of AB 109, the program they instituted.  It's obviously a great success."
"Am I for it?  Yes, in certain cases," he said.
John Brennan joins Yolo County Commissioner Janene Beronio, Deputy Attorney General Larenda Delaini and Sacramento Family Law Attorney Rick Cohen in the race to replace Judge Stephen Mock, who announced that he was stepping down after 24 years.  The Vanguard has previously run interviews with Mr. Cohen, Ms. Beronio and Ms. Delaini.
The election will be on June 3 but if no one receives 50%, the top two vote-getters will meet in November.
Join us at the Blanchard Room of the Davis Branch of the Yolo County Library, Sunday, March 23 from 5 to 7 for a candidate's debate featuring all four of the judicial candidates.
—David M. Greenwald reporting