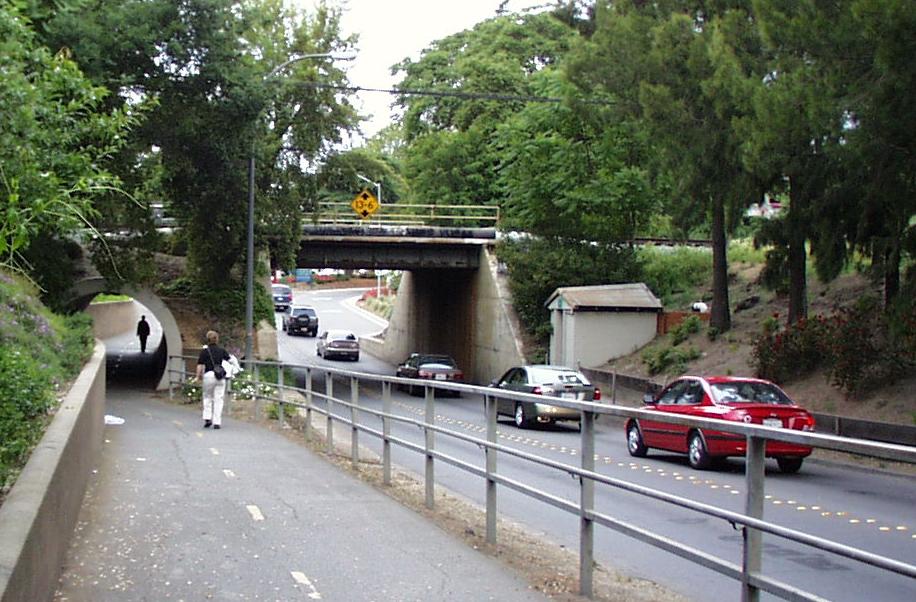 The Davis Chamber of Commerce on Tuesday sent out a press release for a public meeting on Saturday, March 15, from 1 to 3 pm.  The community meeting will discuss "The Davis Arch," billed as "comprehensive project to improve the entrance to Davis from Olive Drive to Downtown Davis."
The Davis Arch proponents envision a "welcoming, safe, and community-oriented entrance to Davis."  The proposal looks to dovetail on proposed development at Nishi that would require a Measure R vote.
In was 1997 when a proposal to widen the Richards Underpass was put before the voters.  As John Lofland noted in his book Davis; Radical Changes, Deep Constants, "the specter of a freeway-wide boulevard dumping thousands of cars an hour into the Downtown horrified progressives such as Mayor Julie Partansky and fellow participants in SMART (Save Money and Reduce Traffic)."
Professor Lofland continued, "For opponents, widening would destroy the town's 'old-fashioned, pedestrian-friendly… small town character.'"
Subsequently, voters struck down the proposed widening by a vote of 56 percent.
The proposed changes this time around are more modest and cosmetic.  The proposal follows presentations of the Nishi proposal at a city council meeting a few weeks back and at Tuesday's Chamber Luncheon.  To see the council presentation – click here.
According to the Chamber press release, "Members of the Davis community are invited to participate in an interactive community meeting to provide input on potential improvements to the Richards Underpass from Olive Drive to First Street.  The meeting will take place March 15th from 1 pm to 3 at John Natsoulas Gallery, 521 First Street."
"This private/public partnership has been made possible by a unique partnership between the Davis Chamber of Commerce, Davis Downtown, Yolo County Visitors Bureau, City of Davis and through generous contributions from several companies including the Buzz Oates Group of Companies and Cunningham Engineering," according to the release.
The meeting will also feature Roger Barry, who is a renowned Yolo County artist and designer, who along with project designers and engineers will present several proposals for the featured site.  Participants will then have the opportunity to tour the existing site and return for an interactive workshop.
The project designers envision improvements that "would meet many existing community plans and would be integral to the success of two economic development projects: a planned hotel/conference center and the UC Davis-Downtown Gateway District."
The Davis Subway, more commonly known as the Richards Underpass, built in 1917, is recognized as a historic landmark.  The Chamber release notes, "Improving safety and appearance to the Richards underpass, while maintaining its historic value, has been at the forefront of designers and engineers minds while visualizing potential proposals for site improvements."
Potential improvements include: bike tunnel on the east side of the Richards underpass, bridge with a modern Davis Arch for pedestrians and cyclists, additional landings at the top of Olive Drive and First Street, lighting for increased visibility, increased downtown parking opportunities, artwork, signage and modern design to showcase the historic Richards underpass and landscape design in partnership with UC Davis Arboretum.
This effort is part of a broader public engagement effort that will develop around the proposed Nishi Project.  At the Chamber meeting on Tuesday, city and university officials laid out a timeline that would include an environmental study and EIR that would take place over about a nine-month period later this year with the earliest that Nishi would come to a vote being late 2015.
In the meantime the city plans to embark on a public engagement effort that will examine the Gateway project as well as Nishi.
—David M. Greenwald reporting