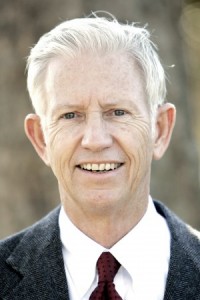 Of the five candidates in the race for the Davis City Council, John Munn is the newest entry but no stranger to the political scene, having served four years on the school board from 1997 to 2001 as well as four runs for the State Assembly.  More recently, he has joined the lawsuit against the city's water rate structure and now runs for the Davis City Council for the first time.
"I'm running to work for fiscal sustainability so that we can all afford to live here," he told the Vanguard as we sat down and discussed his candidacy this week.
"I think that the city is headed in a direction that is going to become so expensive for middle and lower income residents that some of them will not find it possible to stay in Davis," he said.  "I think that there ought to be space for all of us."
He sees balancing the budget as the biggest challenge for the city of Davis.  Mr. Munn stated, "I think that's generally acknowledged that something needs to be done now that we can no longer ignore a growing deficit between revenue and income that is going to eat up what little reserves we have in a short number of years."
"Whether it's a household or a government, unless you can print money, we have to end up balancing the budget," he added.
John Munn stated that in order to balance the budget, he needs to go through a process.  "I can't just walk into the city and tell people exactly how to do things that they have been working on for years and years," he told the Vanguard.  "Things I would need to know are: what are the current revenues?  What were those revenues originally scheduled to be for?  What are the current expenditures?  How are those expenditures supposed to be supported originally?"
He said that he needs to match those two parts up and find out what parts of the budget are really out of balance.
John Munn was one of the named litigants in the water rates lawsuit filed by YRAPUS and Michael Harrington.  This week, Judge Dan Maguire finalized his ruling that the water rates meet at least the appellate court's interpretation of constitutional standards.
John Munn explained that his original concern was that the city's residents were not getting a clear story on the current state of the city's water supply.  He said, "The best information is that we're uncertain about the size of the deeper aquifer.  Being uncertain to me didn't seem like a good criteria for spending more than $100 million to bring surface water."
He said, "I think we're basically beyond the point of debating whether the city wants surface water or not.  I don't have anything against surface water, it was really a matter of what are our needs."
"At this point we had an election on Measure I and voters basically voted for surface water," he said.  "As I see it, in Measure I we were presented with a luxury car…  People said we like that.  Now we're in the position of figuring out what we can pay for."
"When I look at the current rates, and then what's coming down the road at us, I just do not believe that it's truly affordable for middle income families and lower income residents.  Our single family residents rates are going to more than double," he said, noting that those figures are generally accepted by anyone who has looked at the rates.  In some cases he said, they might triple between now and 2018.
John Munn said that the staff presentation on the water revenues showed a doubling of the rates in the next five years based on this proposal.  He added, "For some unknown reason they showed the next five years, where they are assuming there will be another doubling of revenue in order to support the surface water project."
"So as if the rates today weren't high enough, we're looking at even higher rates in the future," he said.  "If any of these large users for irrigation were to withdraw from the city system and use their own wells… what happens when you withdraw large volumes of water from a system that set up to cover fixed costs, is what's left has to pay them."
"Those are the people that can't opt out – which are the other water users of Davis," he said.  "So we could be looking at even higher rates over the next few years if larger users were to opt out.  Lots of unknowns, all  of which are going to – if they come about – cost us lots more money."
At the same time the city is looking to increase storm sewer fees, sanitary sewer fees, garbage fees, a sales tax and talking about a parcel tax, he noted.  "For better or worse, those are all additional costs to the taxpayers and ratepayers that are going to add."
John Munn said that many people claim that sales tax is just a small incremental cost, "but when you add that with utility rates and future tax proposals with what we're currently paying not just for the cities but the schools as well, it adds up for a pretty big chunk.  He added, "I think it really can be looked at as a driving force for causing people to live in Dixon, live in Woodland, while they work at the university or other jobs here in Davis."
One of the questions of course is, if Mr. Munn accepts that the surface water project is going to happen, how does he intend to fund it if he objects to the current proposed rate structure?
He responded, "I think we truly need to look not only at what has been proposed, but what we can afford.  And find out from that investigation is, what can be done that isn't as costly as what we're doing.  I can't give you that because I haven't been there with staff."
"In order to come up with a real answer to that question is going to take a study that details which I'm willing to do," he said.
Speaking to the sales tax measure, "To say I'm unsure at this point is too much of an out.  I'm not in favor of it," he said.  "But my reasons for not being in favor have more to do with not understanding why this council is proposing what they're proposing and my concern about how it would get used."
"We have a history for how a sales tax is sold for one reason and then used for another because it goes for general government purposes," he said.  "We were supposed to be dealing with this road problem we have, road maintenance problem, with a prior sales tax.  But somehow that didn't happen."
John Munn, acknowledged he gets quite a bit of his information from reading the Vanguard, "and some of the comments in there are indicating that people are having a difficult time even getting the city to tell them how much is being raised from the current sales tax, even though the city seems to have some great idea about how much a sales tax of the same size is going to raise."
"I gotta wonder why won't the information be released of what's actually happening while we have to accept somebody's guess for an election," he said.  "I have this kind of uncertainty.  I'm also disappointed that we're being asked to act on a sales tax… so close to the election where the existing council – a majority of existing councilmembers are not even coming back."
He felt that it might be better for councilmembers to be in place for a couple of years and then go to the community with their tax proposal "so that we could have some accountability for how the money's spent.  At this point we're going to vote on the sales tax at the same election where we're going to fill at least one of the council member's seat… where another councilmember may or may not be reelected, and a third one may leave us if they're successful in a race for the Assembly – bad time I think…"
One other hand, state law precludes sales tax proposals on the ballot except during council elections, so it is unclear how that situation might be avoided in the future.
Accepting that, he noted, "It would have made a lot more sense if the Mayor and current council faced this problem two years ago."
We asked him about a parcel tax and he responded, "If a tax is needed, I would be more favorably inclined toward a parcel tax because we wouldn't be playing such extreme games on how the money is spent."
"I'm not anti-development" he said in response to a question about a business park proposal.  "But, it's got to make sense and pencil out."
As he stated in a recent piece in the Vanguard, "My position on economic development is that I would want to be sure that a proposal makes sense, including whether claims of additional revenue pencil out, the layout fits into the City's transportation and utility systems, job creation statements seem reasonable, and we can maintain a cohesive City footprint."
He added, "I don't bring a lot of preconceptions to this subject, but would insist on a review process that provides sufficient information to make a decision on behalf of the community.  I do expect that there will be more questioning about this during the campaign that will lead to more specific answers."
In our interview, he added, "Just to claim that there's going to be jobs doesn't cut it.  It's got to be demonstrated how those jobs are actually going to show up."  He is curious as to the return to the city for this kind of development.  He said, "We should be able to get some idea for what kind of revenues that that development is producing so we can see whether this is going to save us or not."
He said that, right now, "one of the reasons they are selling us this tax is they're saying well we're just going to put on this tax until we can get to the point where we get economic development to take its place.  My experience with taxes is they just don't go away like that."
"I would want to have a very good idea before I would approve a business park that is east of town, in order to provide revenue," he added.
The Vanguard will have extensive coverage of the Davis City Council election.
—David M. Greenwald reporting