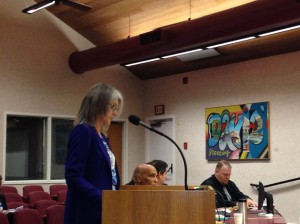 It was expected to be a routine meeting of the school board.  So much so that the Enterprise reporter was a bit surprised to see me there and told me there would likely be no fireworks.  That was literally two seconds before in walked Nancy Peterson.
The truth was that I was there to deliver the message that the community could not "move on" until the district had publicly addressed a large number of issues that arose during this controversy.
But the second Nancy Peterson showed up, the order of the day would change.  This was her first public appearance since resigning two weeks ago.  She would not disappoint.  She delivered what might have been a fire and brimstone sermon in a different venue, many times literally barely restraining herself from screaming at the board.
In our view, it seems that she is setting things up for a lawsuit – whether she has actionable issues at this point is difficult to assess.
A few weeks ago following Ms. Peterson's ill-conceived op-ed to the Enterprise, we suggested that she was not helping her case and therefore needed to stop talking.  A few days later she would resign, but the way in which this matter unfolded makes it quite clear that, had they simply shut their mouths after they filed the complaint against Ms. Crawford and allowed the district to handle things, Nancy Peterson would still be a school board member.
Her resignation may have freed her up to be more outspoken here, but to what purpose?  It is clear she is not seen to be objective about the facts on the ground or honest about the findings of the report.
She started by reading from district policy regarding retaliation, that that those engaging in "retaliation shall be subject to disciplinary action up to and including dismissal."
Indeed, she seems to almost miss that the discipline action is "up to," not necessarily "including," dismissal.
She went on to argue that the Superintendent and Board "have been issuing statements lately that speak to harming a student in order to retaliate against the parent as a simple mistake."  She sarcastically stated, "Let's just forget it happened and move on."
She made the same error as she did in her initial essay, focusing on the part of the investigator's report summarized by Matt Best which stated "coach Crawford's decision to cut (the Petersons' daughter) from the girls volleyball program was influenced, in part, by her personal feelings about Nancy Peterson."  But she forgets the second, "At the same time [the investigator] does not find that coach Crawford acted with "willful mal-intent" to harm [the Petersons' daughter]."
Whether you want to categorize that as a simple mistake, it certainly mitigates the nature of the offense.
Nancy Peterson angrily added, "To summarize, just last week the board of education voted to uphold findings of the administration regarding a parent complaint about an employee and within four days the same administration is putting the same employee forward to coach the very team in which the findings occurred.  Four days!"
She then quipped, "Is this an example of restorative justice?"
No, it is not.  For one thing, as we know Nancy Peterson refused to accept the district's offer to mediate the complaint.  A restorative justice approach would have sat down each of the parties in this case and assessed the harm and damage and then worked on remedies to restore those involved.
It is a powerful process but it takes two to participate and Ms. Peterson steadfastly refused.
Misunderstanding what a restorative justice process would entail, Ms. Peterson nevertheless continued borrowing from that language, "If so, some might be wondering about the student and what Mr. Roberson has done to heal the harm done to the student involved.  Nothing, is my answer."
This is an interesting answer which is not the full story.  As we noted yesterday in a comment, Ms. Peterson's daughter was actually given a tremendous opportunity in the aftermath of getting cut.
The Vanguard has learned and confirmed that, following the daughter being cut, she was given the opportunity to be a student-coach at Harper Jr. High. She was not to be paid for this position. The district utilizes a lot of recent graduates as coaches, but at the time she was one of two who were given that opportunity this year while still in school.
I was told that this was done – the decision – at the site level, not the district level.  It is not that I believe that the opportunity exonerates any mistreatment of Ms. Peterson, but it does remunerate some of the harm and it belies Nancy Peterson's claim that nothing was done to rectify the harm to her daughter.
"Here we all are seven months after the complaint was filed and he has never even spoken to the student.  Neither has any other administrator, principal, or athletic director or trustee," Nancy Peterson continued yesterday.  "In fact, the coach never even bothered to speak to her player of three years."
Given the situation as it developed, it is not surprising that Coach Crawford might have been reluctant to speak to Nancy Peterson's daughter.  Given the ongoing investigation and the need for the district to conduct an independent investigation, it is probably not surprising that administration officials would also want to allow the process to play out.
Ms. Peterson continued: "So President Daleiden, since your biggest issue seems to be why this wasn't handled before sending a code-3 in motion, here is my answer: that would have required someone from the district or even DHS to speak to the student and that I can assure you, never happened."
One of the things we do not know in this is what happened between the point that Ms. Peterson was cut from the team and when the family filed the complaint.  Certainly, once a complaint was filed and the district launched its $22,000 independent investigation, the opportunity was lost for alternative solutions.
This might have been a good time to go into a mediation, with a restorative justice approach.
Ms. Peterson accused Superintendent Roberson of "appeasing" Ms. Crawford.  That's an interesting take.  One of the developments yesterday was the resignation of athletic director Dennis Foster and one of the things we have learned is that Mr. Foster backed Julie Crawford originally, only to be overridden by Matt Best and Winfred Roberson.
Ms. Peterson feels her daughter was never protected, but I think this goes back to one of our initial analyses at the time, which was that Nancy Peterson put her own daughter in harm's way.
Last July, as we have noted, Nancy Peterson would be the lone dissenting vote in a 3-1 vote, with Tim Taylor not on the phone line when the vote occurred.  She then threw fuel on the fire when she stated, "My vote reflects nothing more than my continued pursuit of ideals centered on children. I cannot in good conscience vote to approve Ms. Crawford as a coach for young adults."
In our view, Nancy Peterson probably violated personnel laws and created a hostile work environment for Julie Crawford.  She then compounded that decision by sending her daughter back to the team to play for the coach, the coach she had a few weeks earlier stated she could not "in good conscience vote to approve Ms. Crawford as a coach for young adults."
Nancy Peterson was attempting to wear two hats – mom and school board member.  The moment she decided to vote against returning the coach and make the strongly-worded statement, she should have been making the decision that she needed to be a school board member first.  That meant not putting everyone in a tough spot by putting her daughter back on the team.  She should have sent her daughter to a club team in Sacramento for her senior year.  By trying to be both a school board member and a mom at the same time, she created a huge conflict of interest and, in both cases, put personal needs over the good of the school district.
More importantly, she did just as she accused the district of doing – she failed to protect her daughter.
Nancy Peterson then digresses into a strange attack on the DTA.
She cited the firing of Coach Jeff Christian from a few years ago and argued, "He removed two players from his team and was fired for that.  The technicality cited was failure to notify the players before announcing it. I wonder if he knew that technicality or was it a simple oversight through no fault of his own?"
"Perhaps the real difference is that Coach Christian wasn't a teacher and therefore the DTA wasn't backing him with all their political power and the board didn't have to worry about the impact of alienating them," she stated.  "Students and the school community should be the priorities and not the political prowess of a union out to preserve members regardless of their activities."
It is a strange comment, given the recent history between the district and the DTA, where the district had opposed the DTA on several key issues including the need for DTA to take concessions and contract status.
The same school board and district had no problem bucking the DTA back then.
This simply illustrates that Nancy Peterson is attempting to throw everyone under the bus – Gina Daleiden, Winfred Roberson, the DTA, and she referenced the DHS Principal and Athletic Director by title, but not name.
I still have yet to hear a single acknowledgement of what Nancy Peterson did wrong.  I won't hold my breath.
A few weeks ago I was told that supporters of Nancy Peterson during her 2012 election warned her that, once she was elected, she should stay away from volleyball.  Alas, she could not.  She was barely in office for two months when she instigated this incident by pulling the VSA.
This would become her undoing.  In essence she became Captain Ahab and she was destroyed by her obsession with revenge.
"He piled upon the whale's white hump the sum of all the general rage and hate felt by his whole race from Adam down; and then, as if his chest had been a mortar, he burst his hot heart's shell upon it."
Ultimately, Captain Ahab was killed by his own harpoon, a victim of his own twisted obsession and desire for revenge.  He would not be alone in this tragedy, for his whole crew is eventually destroyed by the whale and the Pequod is sunk.
Nancy Peterson has failed to learn the lessons from Moby Dick and what will be interesting to see is what collateral damage she ends up doing to herself, her family, her former colleagues on the school board, and the school district.
Watch the video of Nancy Peterson's public comment:
—David M. Greenwald reporting