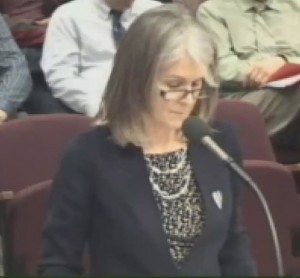 Sadness.  That was my reaction on Thursday last week when Nancy Peterson resigned from the Davis School Board.  That may surprise some in this community, convinced that I have some sort of vendetta against her.
Truth is that I have no dog in this fight.  Any negativism that you see is a reflection of my disdain for people in power abusing the community trust.
I see very clearly that Nancy Peterson used the power vested by the voters of Davis to carry out a personal feud between herself and Julie Crawford.  And, while the investigator concluded, "through no fault of her own, (the daughter) simply became a casualty of the ongoing 'volleyball drama' involving coach Crawford and Nancy Peterson'" – in fact – we all became a casualty of this drama and the blame there falls on one person and for most purposes one person alone – Nancy Peterson.
I won't lay out the chain of events, we have covered this a lot in recent weeks.  I will note, as I wrote several weeks ago, this is an abuse of power.
Being the main writer at the Davis Vanguard, not only are we an online news organization, but a non-profit one at that, and therefore I have found it best to keep my personal preferences out of the public in terms of my preferred candidates.  Sure, you can guess who I will support in a given election – but it is only a guess and you might be surprised as well.
Criticism is often the path toward improvement.  Those with the right mentality understand that and respect it.  Those with the wrong mentality for public life retreat and crawl into a hole at the first sign of trouble.
In 2012, I voted for Nancy Peterson.  At the time I did not know anything about the volleyball controversy.  I did not know that some of her biggest supporters warned her at the time to stay clear of volleyball.
On November 1, 2012, right before the election, I ran a story "Peterson's Childhood Experiences Fuel Her Advocacy of Title I Students in Davis."
In it we talked about the fact that she worked as a volunteer at Montgomery Elementary for 12 years and that she saw Montgomery become the first campus in Davis to enter Program Improvement status and has become a fierce advocate to at-risk and Title I children.
I wrote that she brought to the school board race a candidate whose own children have been at Montgomery and who has a firsthand view of what happens when a school goes through program improvement.
What the reader needs to understand is that those are my kids we were talking about.  It was in reporting about this that I began to formulate the concept of "The Other Davis."
One of my biggest complaints has been that we gear up our great schools here in Davis towards the high-end students, and the low-income children – of which perhaps more than quarter of Davis students are, the children of color, the mixed-race kids who we heard an earful about on December 1, 2012 – get lost in the shuffle.
So when I voted for Nancy Peterson, that's who I believed we were getting – an advocate for the poor and the underclass in Davis. Instead, we got someone who appears to have gotten elected to micromanage the Davis High volleyball program.
She told the story of her father, the doctor at the Columbia University's Presbyterian Hospital in New York. For 47 years his specialty was juvenile diabetes, a doctor who works with children, often disadvantaged children, does not have a traditional job where you arrive at work at 9 am and leave your work behind at 5 pm.
For Dr. Peterson, his day would begin at 6 am.
"My dad would begin his call hour at 6 am when kids would be getting up and getting ready for schools," Nancy Peterson said in the November 1, 2012, interview.  "So the phone would start ringing and my father would be talking to parents about sending their kids to school and getting ready for the day."
Her father would work with both private patients and at the diabetic clinic, which he ran at Columbia Presbyterian Medical Center for thirty years.
"His clinic patients and his private patients all had his home phone number," she said.  "Because to my dad it didn't matter what your background was, what your economic situation was, every child deserved the same treatment in order to be ready to go to school to have their life."
"I learned from a very early age that everybody's important and that your background has no bearing as to how you should be treated as a person," she added.
Many residents may believe that Davis does not have a Title I population at all.  However, there are pockets of poverty even within Davis.  For instance, Montgomery runs at nearly 50 percent Title I students and other schools have as much as a quarter of their populations being Title I students.
"As the economic downturn has lasted longer than any of us have hoped, many more families are struggling with different issues – loss of jobs, lower salaries, so there are a lot more people feeling the pinch of economic trouble," she said.
This perspective is one that Nancy Peterson believed was missing from the school district.
"As a community grows in the number of second language learners and also grows in the number of Title I families," she said, she has seen both in her youth and as a parent that impact on a community and she feels she brings that perspective that is sorely lacking from the school board currently.
I read this all and now all I have is sadness.
Sadness because Nancy Peterson let her vision and goals be destroyed over volleyball.  Look, I am not putting down sports, I love sports.  But at the same time, she did not get elected to the school board to fix the volleyball team – or at least that is certainly not why I voted to put her there.
Sadness because these are still critical issues and instead of discussing them for the last month, we are trying to figure out how we got to this point where a school board member has resigned and a community is embroiled in this controversy that, quite frankly, affects so few of us.
For me this has always been a story about abuse of power.  And for me the victims of the abuse of power are always the meek and the voiceless in this community – ironically, the very people that she told me that day in late October she was trying to help.
At the end of the day last week, there was no joy or pride, only shame and sorrow.  There is nothing that grates me more than the bitterness of lost opportunity.
Tonight, the school board has an opportunity to put this shameful incident behind us.  It won't be easy.  As we have read, there are threats of a lawsuit, perhaps no matter what the board does tonight.
The school board will have to make tough calls tonight in evaluating the investigation into the actions of Julie Crawford.  Unfortunately, it appears that she is not the only one whose actions needed to be investigated.
The use of personal power that has been authorized by the voters to achieve personal ends is a very serious offense and the reason why we have covered this issue so extensively
But there is another offense that will go un-investigated.
"There is a strong need to have a long term strategic plan for all of our schools, and particularly when things are changing or so fluid at different sites that you need to be able to react to the changes and have a strategic plan for where each is going to go," she told me, referring to the whole district, in 2012.
"I think that our long term vision has been lacking for some time," Nancy Peterson concluded.
Sadly, it is a long term vision that remains lacking and she now has a part to blame in that.
Tonight the school board gets the chance to put this to rest, but after they do so, they need to work hard to find true advocates for all of the students as we attempt to move this community back onto the right track.
—David M. Greenwald reporting