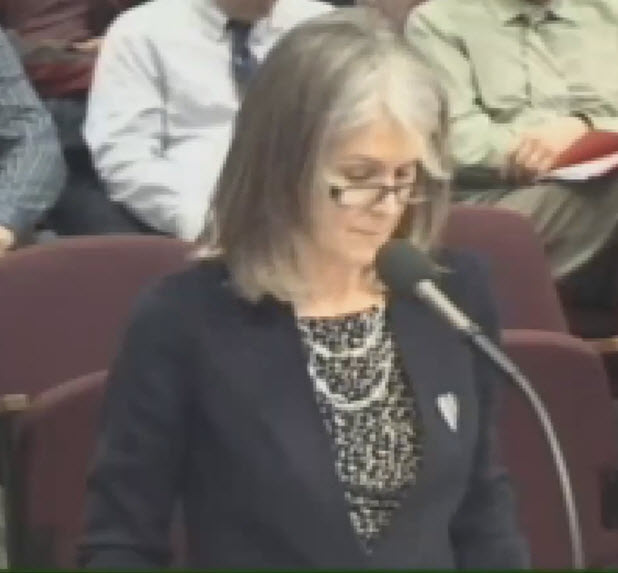 The resignation of Nancy Peterson resolves only one small issue for the school board.  This is not a case where Nancy Peterson climbed onto a plane, flashed the peace sign, and disappeared into history.  We will not have the new leader be able to address the community and state that our long nightmare is over.
The voluntary departure of Nancy Peterson does make things easier on the school board in one clear way.  They no longer have the thorny issue to grapple with of how to admonish their colleague – if they deemed that appropriate.  They had the power to censure, but that power is basically a verbal slap on the wrist.
Nancy Peterson's departure marked no act of contrition.  Keeping with previous public accounts, she admitted no fault, acknowledged no wrongdoing, and was not chastened in any way, shape or form.
On Thursday she called her daughter "the victim" in this case and stated, "my position to which I was elected has so far precluded what would otherwise be a process centered solely on the well-being of children regardless of their family's background."
She continued, "I believe that the best way to serve all students is to diffuse speculation and end further distractions so that the board can carefully deliberate the findings of the district's report."
The tone and nature of her resignation signaled to many that this battle is far from over.  There will clearly be no withdrawal of the complaint, we have learned there will be no mediation, and Ms. Peterson clearly believes by bowing out of her position, she is better positioned to fight this to its conclusion.
In a very real sense, she is doing what we have previously argued that she should have done from the start – clearly delineate the line between parent and trustee of the school district.  Had she done this in July, we would likely not be here today.
As we argued a few weeks ago and several times since then, had she made the strong statement regarding Coach Julie Crawford in July and then pulled her daughter from the volleyball program, she would have been able to act as school board member and direct her daughter away from turmoil.
On the other hand, she could have remained a parent and acted in what she saw as the protection of her daughter by recusing herself from the vote in July or, at the very least, refraining from making an inappropriate comment about a district employee when she stated in open session: "My vote reflects nothing more than my continued pursuit of ideals centered on children. I cannot in good conscience vote to approve Ms. Crawford as a coach for young adults."
By trying to do both, she conflicted herself and has embroiled the district and the community in this bitterly contentious and divisive issue.
By resigning office she may believe that she is in better position to fight this battle and she will certainly have more freedom to speak out on the issue, as she will not be legally bound by employee confidentiality issues.
At the same time, one of her great advantages over Ms. Crawford was the vast power differential that a school board member enjoys over employees.  That differential is now gone.  Moreover, while Ms. Peterson can speak out, her reputation is so badly damaged it is not clear that the community is inclined to listen to or sympathize with her.
The school district and school board have a perilous road ahead that will continue despite the removal of one key obstacle – how to deal with Nancy Peterson.
However, now they have to determine whether the $22,000 report is accurate and conclusive in terms of the question of retaliation against the Peterson's daughter.
As Board President Gina Daleiden explained on February 20, "Adopted Board policy directs the Board to hear the appeal in closed session."
She continued, "The question on appeal will be whether the Administration's conclusions are supported by a preponderance of evidence and whether the administrative remedy is appropriate to the conclusions."
As Ms. Daleiden has stated, since "the School Board is now acting in a quasi-judicial role in a current appeal process, we each have to maintain impartiality until the conclusion."
She added, "The Board does desire to be as transparent as possible.  In order to follow through with our role in the appeal, however, we must protect impartiality."
As I wrote on Sunday, I am normally the first one to cast blame on public officials for failing to do their duties or taking the easy way out because it is more politically expedient.  But in this case – at least for now – I urge patience.
On Thursday, Ms. Daleiden stated, "I know this board intends to [consider] questions about policy and the effectiveness of procedures so that we can move this district forward."
She added, "After we rule on the appeal on March 13, we will be released from the strict impartiality and will be able to comment on the entire administrative procedure of the complaint and the investigation and look at how we can move our district forward (with) effective and transparent procedures in place."
"We will have more to say after (March) 13," she added.
The key from the public's perspective is what more can they and will they say.
As we noted this week, the public's patience is wearing out.  As one poster put it, "David you suggest patience, and we have had it. They get one more week, before the real issue comes to head, and that is removal of Mrs Peterson. If the board really wants to come out with a strong statement it would be as follows."
They continued, "We are reinstating Coach Crawford to her coaching job. We find that she has been personally bullied for the past 4 years by Mrs Peterson, who has used her position as a board member to further her own agenda. Mrs Peterson's continued presence on this board will only continue to negatively affect DJUSD, and we strongly urge you to resign."
They add, "That would go a long way to restoring trust, and faith in our elected school board."
The resignation removes one complication from that statement.  No longer does the board need to admonish one of their own.
The question will be – will the board see the issue as community members and supporters of Ms. Crawford do or will they ultimately uphold the findings of the Alexander Sperry report?
That answer will largely determine whether this issue goes away after Thursday or whether it continues to fester.
The other interesting development is that the board will either have to order a special election to fill the seat or they will have to appoint someone who would stand for election fairly soon.  None of the three incumbents up for reelection have indicated they will run for reelection.  Gina Daleiden is a possibility with Sheila Allen already announcing she will not.
That means come November, there is a possibility that only Susan Lovenburg will remain on the board from the five who started the meeting there on Thursday.
A lot of questions remain, and Thursday will be a critical date in starting to answer those.
—David M. Greenwald reporting