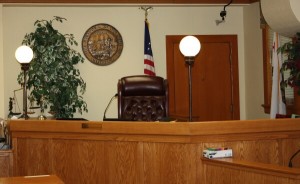 A report released last week showed that while diversity of California's judges has slowly increased, Yolo County continues to lag considerably behind the statewide average.
Overall the numbers still are not great, with only 32.2% of California's judges who are women and only 9% Hispanic and Latino, despite the increase in numbers of both Latino voters and Latino officeholders in the last two decades.
In Yolo County, eight of the ten judges currently on the bench are males and all ten are white.
At least the gender balance could change, however.  Judge Stephen Mock in January announced his retirement and two of the candidates to replace him are women: Janene Beronio and Larenda Delaini.
Statewide progress is modest, as the 2013 report from the California Judicial Council shows increased percentages of judges who are women, Hispanics or Latinos, blacks or African-Americans, Native Americans and Asians. White judges remain in the vast majority, being over 70% of all judges.
The survey, however, was voluntary with 1681 judicial officers responding in the most recent survey, and only 1.1 % of appellate judges and 3 % of the trial judges did not provide information.
Governor Jerry Brown's office supported the results, noting that his judicial appointments are following closely to the ethnic makeup of the State Bar membership.  However, some judicial groups object to using the Bar as the comparison, saying the state's population should be the baseline.
UC Davis Law School Dean Kevin Johnson told PBS last week, on KQED's The California Report, "I think that there is some positive, and there's some issues to be concerned with, in terms of the data. I mean it is amazing, and many people have observed that we have a California Supreme Court that is a majority female. And that's quite a difference from what it used to be and what it's like in many different states."
"However, we still see a basically 2-to-1 margin of males to females on the Court of Appeals and the trial courts in the state of California," he continued. "And that's compared with about 50 and sometimes higher percent of women graduates of law schools in recent times. The other thing that jumped out at me as I looked at the data was that there are zero African Americans and zero Latinos currently on the California Supreme Court, which in the past has seen people from those backgrounds on the court. But it currently does not."
Responding to a question asking whether the or really ought to appoint a Latino or an African-American, Kevin Johnson responded, "Well, I think that there's not a litmus test or a racial litmus test, but I do think that if you're concerned about the representativeness of the state's highest court, there should be some effort given to trying to achieve some kind of diversity on the state's highest court."
He would add that, while it is difficult to say whether there has been a direct impact on the outcome of cases, he does believe "it does have an impact on people's view of the justice system to the extent that the judiciary is not fully representative of the population. It looks less legitimate to many people out there, including many Latinos. We're talking a situation today where basically 60 percent of K-12 students are Latino, and less than 10 percent of the trial court judges are Latino."
"When justice appears to be meted out by unrepresentative judges, I think that there's a concern about the legitimacy of the results and the possible racial injustice of it all," he added.
Locally there are concerns overall about the very large pool of Latino defendants compared to the lack of Latino judges and the under-representation of people of color on juries.
Given the makeup of the current pool of judicial candidates, that issue is unlikely to resolve itself soon.
While not responding locally, Dean Johnson did note, "I think it can be very important not just in terms of appearance, but in terms of the experiences, the background, the understanding and the sensitivities to the issues that come before the court. When you have a diverse court, just like when you have a diverse jury, the idea is that you have a better decision in the end bringing together a variety of perspectives, a variety of thoughts, a variety of ways of looking at the world."
He would add, "I think you unquestionably have to look at qualifications, abilities, as well as background and ancestry. I think it's important to have very smart people on the bench. I think it's important to have people schooled in the law, trained in the law and able in the law. And I don't think anybody would really dispute that. I think people would also agree that those qualities can be found in women and in men and in minorities, and people from a wide diversity of backgrounds."
He concluded, "And we should pay some attention to try to make sure that we look at all of the qualities of the potential judge. Nobody would suggest that excellence and diversity are totally separate and apart. I think people would say that you should consider many different criteria in deciding who should be a judge. But few would say that we should compromise on excellence, that's for sure."
—David M. Greenwald reporting